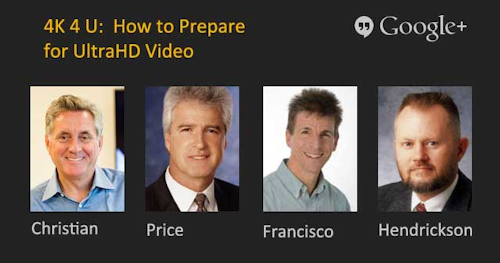 4K/UltraHD video is coming - consumers are buying the TV sets, and more content is becoming available. But actually delivering 4K video presents some significant challenges for service providers. Where will the bandwidth come from? What capacity planning needs to be done? And what's the best way to secure that high-value content from piracy? Experts from Comcast, the Ultra HD Forum and Verimatrix will address these questions and more in an exclusive Google Hangout sponsored by Verimatrix.

The video will be available immediately following the event on this page, and via Google+ and YouTube.
Click here to follow us on Google Plus.

Meet the Speakers:


Steve Christian, Senior Vice President, Marketing, Verimatrix
Steve Christian has a wealth of experience in the digital media and Internet technology space and is a speaker on media technology and business trends at industry events around the globe. At Verimatrix he is responsible for product strategy, marketing programs and management of brand equity. Prior to joining Verimatrix, Steven was VP Marketing at streaming media specialist Nine Systems and has also run his own "virtual VP" technology marketing consultancy, helping the growth of a variety of software, wireless and Internet security ventures. His background includes product and services management at Wind River, ST Microelectronics and Raytheon. Steve has a 1st class degree in Physics from the University of Bristol and an MBA from the Open University in the UK.

David Price, Vice President of the Ultra HD Forum
David has driven transformational activities providing advanced technology in the multimedia industry since the transition to digital technology. He has driven aggressive top and bottom line growth as an executive in a number of leading communications technology companies around the world. Currently he is Vice President, Business Development, TV and Media at Ericsson based in Silicon Valley, USA.

David is also on the Board of Directors of the Ultra HD Forum. He was previously on the Board of the DASH Industry Forum and is past-President of the MPEG Industry Forum. David is also the only person to have ever been selected three times as one of the "Euro 50" by Cable & Satellite Europe.

Prior to Ericsson, David was a member of the executive team at Harmonic Inc and helped profitably grow revenues from less than $60m to over $500m when he left. David was previously Vice-President with TV/COM International and prior to that, Vice President at M/A-COM Linkabit (Hughes).

Mark Francisco, Fellow, Comcast Innovation Labs
Mark Francisco has been evolving video solutions within Comcast's advanced technology organizations since July, 2001.

His current focus is the delivery of television and other video content to the latest consumer devices spanning smart phones to UltraHD TV. Mark's accomplishments within Comcast include development of multi-room digital video recording, the launch of 3D television, an in-home transcoding device to deliver live TV to mobile devices and the launch of HEVC UltraHD television broadcasts. Mark has led trials in the area of automated home energy management and telemedicine for disease management and is leading the Internet of Things (IoT) vision creation for the company.

Previously, Mark spent six years leading the systems integration of CDMA Cellular Phones for Motorola. Prior to Motorola, Mark spent nine years developing microwave communications hardware for communications and meteorological satellites while at Lockheed Martin. Mark has a BSEE degree from Rutgers College of Engineering and an MSEE degree from Drexel University. He lives with his wife and two children in central New Jersey. Mark is an avid triathlete and active with the Boy Scouts of America.

Mark has been granted eight and filed an additional 12 patents in the areas of communications systems and advanced video products and is currently serving as a promoter for the Digital Living Network Alliance (DLNA). Mark has successfully completed the Comcast Executive Leadership Forum (ELF) program and the SCTE-Tuck Executive Leadership Program.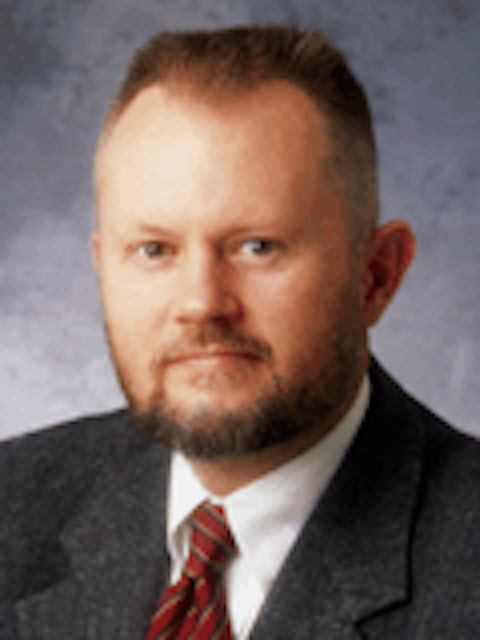 BTR Managing Editor Ron Hendrickson
Moderator: Ron Hendrickson, Managing Editor, Broadband Technology Report
As BTR's managing editor, Ron keeps the editorial wheels from coming off. He gathers and posts daily news, interviews cable's movers and shakers, maintains BTR's social media, and generally keeps his finger on the pulse of the industry. He joined BTR in 2010 and got his start in cable in 1998.