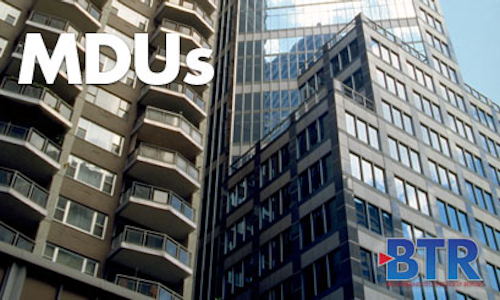 Comcast's (NASDAQ:CMCSA) MDU division Xfinity Communities has strengthened its managed Select WiFi offering and overall solutions portfolio with its June acquisition of Epproach Communications - a Wilmington, N.C.-based provider of multifamily technology, including managed WiFi and Internet.
The improved Select WiFi solution places access points throughout a property, providing the service through Xfinity Communities' Advanced Communities Network while eliminating the need for residents to have Comcast customer premises equipment (CPE) in individual units. Rather, residents are given access to the network upon move-in.
"Property managers and owners, particularly those in the off-campus student housing space, are seeking box-less, managed Internet solutions that more precisely meet the needs of their residents," said Michael Slovin, vice president, national field sales, at Comcast. "The Epproach acquisition earlier this year has allowed us to expand our managed services offering to provide residents with the constant connection they value and property managers with greater control to make managing their communities easier than before. We have seen a very positive response from residents and property managers in offering Select WiFi at properties such as the Vantage, and others in our network."
Vantage, an off-campus housing property for Temple University students in Philadelphia, paired Select WiFi with Xfinity Stream to provide its residents with connectivity and entertainment solutions that are both "box-less."
"By partnering with Xfinity Communities, property managers, owners and developers have access to the robust offerings of its Advanced Communities Network for smart communities, Internet, managed WiFi and entertainment solutions to meet - or even exceed - resident demand for the latest amenities," said Marty Hollingsworth, former CEO of Epproach Communications and now vice president of Xfinity Managed Services. "Managed services like Select WiFi are ideal for those communities that wish to offer residents the simplest possible connectivity, including off-campus student housing, senior residences and luxury communities."
In other Comcast news, the company has named Dennis Mathew senior vice president of the company's Western New England Region, which employs more than 1,600 people and encompasses 300 communities in Connecticut, western Massachusetts, Vermont, western New Hampshire and New York. Mathew is responsible for all aspects of the business including sales, marketing, operations, financial performance and the customer experience. He will be based in the region's headquarters located in Berlin, CT.
"I'm thrilled Dennis has accepted this role, and I am confident his strong leadership and commitment to excellence, combined with his passion and proven track record for delivering superb products and services, sets our Western New England team up for continued success," said Kevin Casey, president of Comcast's Northeast Division, which includes 14 northeastern states from Maine through Virginia and the District of Columbia.
Mathew most recently served as vice president and general manager of Xfinity Home at Comcast's Headquarters in Philadelphia and previously held management roles on the Xfinity Internet product team launching new products and services and Comcast's audit organization. Prior to joining Comcast, Mathew held management positions focused on technology risk consulting with both PricewaterhouseCoopers and Arthur Andersen.
"This is an exciting time to be part of Comcast and the Western New England Region, with amazing product innovation taking place every day and tremendous progress toward delivering a world-class customer experience," said Mathew.