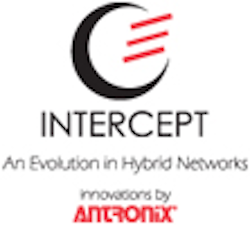 Antronix is a market-leading designer and manufacturer of broadband products in North America. The company's innovative products – 1.2 GHz multi-taps, residential amplifiers, splitters, drop passives, and grounding hardware - have set industry benchmarks for cutting-edge technology and performance.
The new Intercept eHFC family of products, scheduled for commercial release in 2018, brings the latest innovation in broadband delivery technology. The platform includes end-to-end solutions for RF and optical signal transmission architectures: Node + 0, FTTC, and FTTP. Intercept utilizes DOCSIS-enhancing XPON technology to provide the answers for cost, scalability, and flexibility as subscribers demand more data.
Please visit us at www.antronix.com/antronix-solutions-intercept.php
Request More Information
Fill out the form below to request more information about Antronix.
---