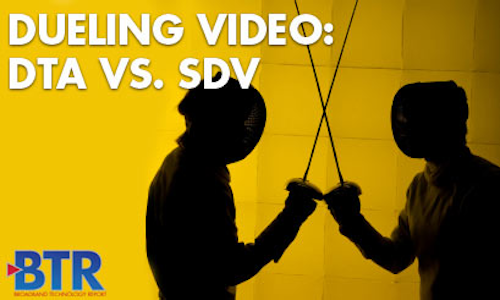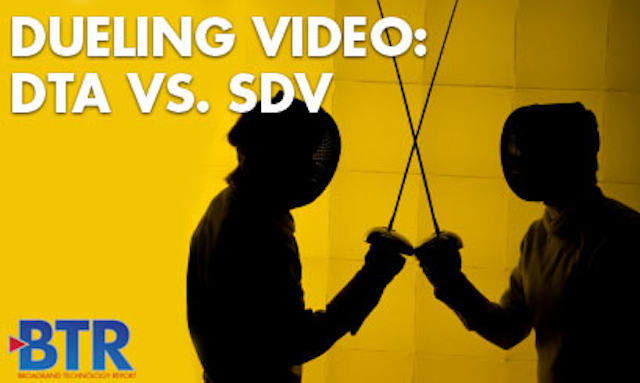 There are three main ways that cable operators can get the extra bandwidth that they need: Traditional measures such as capacity upgrades and node splitting, switched digital video (SDV) or digital terminal adapters (DTAs).
Expanding bandwidth always has been a goal of the industry. It is becoming ever more critical as operators struggle against two forms of competition: established telco and satellite video programmers and more ad hoc - but increasingly formidable - over-the-top (OTT) providers. At the same time, non-video opportunities such as home automation and extended broadband services are also lining up for their share of the operators' capacity.
Upgrades and node splits have been part of planners' equation for decades and are well-known. The latter two options - DTAs and SDV - are comparatively newer options that provide operators with a different set of plusses and minuses.
In an SDV scenario, the savings is in a vast reduction in the amount of video that is sent by shifting a portion of the available spectrum from broadcast (in which the content is sent to all subscribers for use by the minority who want it) to multicast. In a multicast approach, some programming - usually the lesser viewed channels - is not broadcast. When they are requested, a single stream is sent to that household. Subsequent requests for that channel tap into the stream created in response to the original request.
DTAs are aimed at the vast universe of analog TV sets that sit in dens, bedrooms and elsewhere. In many cases, these are second or third sets, supplementary to the main set in the living room. A DTA accepts the digitized signals and converts them to analog. The bandwidth savings are significant since more standard- and high-definition channels can be squeezed into the 6 MHz slot formerly occupied by a signal program stream.
Each of the approaches has its downsides, however. SDV is said by observers to be complex to implement and manage. Since the number of channels in the SDV pool is not set, the services that are intended to use the available capacity that is created may not be able to take full advantage of it since the boundaries may change. The channels that remain in the broadcast realm and those put in the switched pool likely will differ from system to system, which can create challenges to smaller operators with multiple systems, especially if they are geographically dispersed.
Likewise, DTAs have their drawbacks. Decisions must be made on what type of DTA - standard definition or high definition. The amount of bandwidth that is liberated may prove insufficient over the long haul. More immediately, the capital expenditure to buy and distribute the DTAs is high. In most cases, the actual installation of the DTA is done by the subscriber. In some ways, that's an advantage because truck rolls are avoided. Chris Egan, the CEO of DTA provider
Evolution Digital
, said the self-install success rate is 90% or better. Still, any operation that depends on subscribers being proactive must be a cause for concern.
Both approaches seem to be alive and well. Egan said there are almost 30 million DTAs in the field. In addition to Evolution, the DTA sector is mainly served by Pace, Motorola and Technicolor. He said Comcast is a champion of the approach and, since the same neighborhood can be served by DTAs from any vendor, the competition and thus the category is healthy.
One of the main players serving the cable industry on the SDV side is
Adara Technologies
. The company's pitch is that it has eliminated a good deal of the complexity that has led operators to shy away from SDV by marrying it to the cloud. In this scenario, said CEO Joseph Nucara, the heavy lifting is done by Adara.
Both Nucara and Egan suggest that the two technologies are not mutually exclusive and can complement each other. Of course, it's not difficult to guess which each thinks would have the prominent role.
CASSCOMM, a 17,000-subscriber system in west central Illinois, is gearing up to implement an SDV system from Adara. Indeed, testing was slated to start at the end of last week. COO Tom Allen said DTAs were considered, but the decision was made to go with a cloud-based SDV approach. A "slow rollout" will follow, he said.
"We think it will be fantastic," Allen said. "We will be putting new Cisco boxes out to everyone with advanced with features. We don't have to give everyone a DTA; we can leave the Moto boxes out there, we will have unlimited channel capacity, unlimited HD capacity. If it all works, it is going to be fantastic."
The bottom line clearly is that both DTAs and SDV are useful tools in MSOs' toolboxes and that both have applications for which they are most appropriate.
Carl Weinschenk is the Senior Editor for Broadband Technology Report. He can be reached at carl@broadbandtechreport.com.