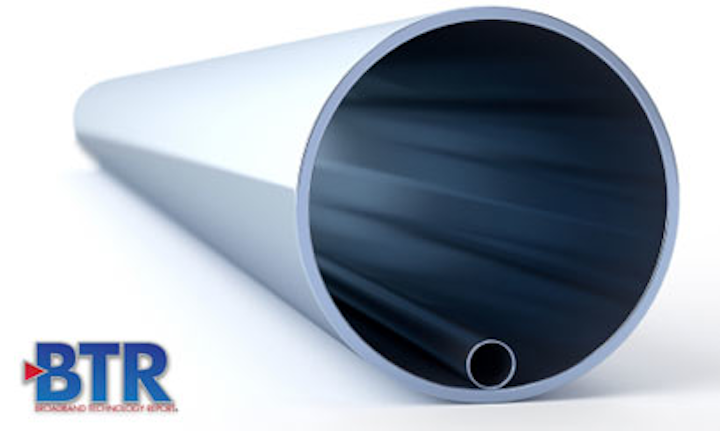 CableLabs celebrated its 30th anniversary in June, marking three decades of industry cooperation and innovation.
"The level of cooperation amongst the cable operators in jointly working on the next generation technologies has no compare," said Phil McKinney, CableLabs president and CEO.
The economy of size and scale has played out nicely. For example, cable modems began as a high-priced item at $300-400, but now can be purchased off the shelf for around $50, McKinney said. And the culture of cooperation has stayed the course and gone global. Today, CableLabs has 60 members from 35 countries. More than 50% of U.S. homes have at least one form of cable service, and half a billion people worldwide touch cable technology each day.
Over the past three decades, CableLabs has notched a lot of successes on its belt. The organization was a developer of MPEG and also behind the patent pool model that led to the creation of MPEG LA (a packager of patents). Then, of course, there is DOCSIS.
With DOCSIS 3.1, gigabit speeds are now readily available in many markets with access to services rising from 4% to 50% in the last two years. In the United States, 93% of homes are passed by cable, and cable also has orders of magnitude more fiber in the ground than any other provider, McKinney said.
Today, one major focus is in access network technologies, McKinney added, particularly coherent optics. In the lab, CableLabs is showing speeds of 8 Tbps, and the path is leading toward 50 Tbps.
"It uses the exact same fiber in the ground. The ability to meet the growing need for speed and capacity for consumers and businesses wanting more capacity and access to services is achieved without having to dig up the street or disrupt traffic," McKinney said. "We can take fiber optics to speeds never before heard of with any other technology."
Yet, one of the largest research areas at CableLabs in terms of dollars is wireless. Twenty-eight of CableLabs' members are mobile network operators as well as cable operators. About five years ago, CableLabs began ramping up research work with the FCC granting multiple experimental licenses, for which the organization has been testing everything from antenna systems, to consumer devices, to access points (APs) to small cells.
"We are looking at 5G and how it will get deployed," McKinney said.
Regarding unlicensed spectrum, CableLabs has been doing work with spectrum authorities and led the effort to get additional bandwidth released by the FCC in the 5 GHz spectrum. The success came from showing the impact the extra spectrum would have, balanced with the fact that there would be no resultant interference to the providers of satellite phones that operated in that spectrum.
"The same scientific research is being used by regulators around the world to free up additional megahertz," McKinney said.
In the WiFi realm, CableLabs is working on Proactive Network Maintenance (PNM). The concept is similar to PNM in the cable network where algorithms in modems allow the operator to ping them for information to determine where an issue is. With WiFi, customers can buy a wireless AP fat retail, and then when they get into a jam, nobody but the consumer has the mechanisms to look into the issue.
"We have been working with WiFi silicon makers to standardize a series of data that the access point could share to help with the diagnosis," McKinney said.
Security is another important topic right now and into the future, McKinney said. The Open Connectivity Foundation is just one of the approximately 30 standards bodies in which Cablelabs participates.
"CableLabs established the security model for cable. Other industries come to us to use the same structure," McKinney said, noting that CableLabs has 550 million data keys globally and has never had a key revoke.
"OCF is … pushing hard on securing IoT devices. That is some of the biggest security risk into the network," McKinney said.
But the bottom line is that CableLabs has been working for the last 30 years to fulfill the founders' vision of an industry that could work together to create and innovate at a pace no other industry has been able to do, McKinney said. "Our job is to make sure CableLabs is here for the next 30 years to drive innovation at a pace to meet the needs of consumers and businesses."