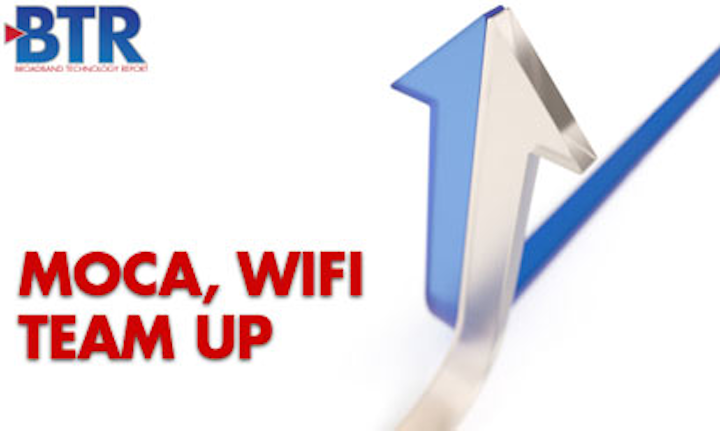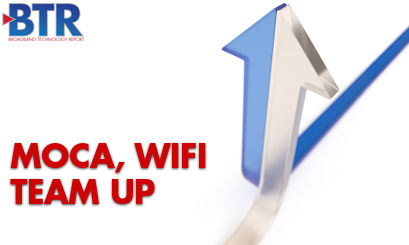 The future of in-home video networking in North America for all service providers - not just cable operators - will be dominated by a combination of coax cable and WiFi, with other approaches, such as home networking over electrical networks, playing secondary roles. The situation in other regions worldwide, however, appears likely to be more varied.
The North American WiFi/coax combination will be dynamic. The coaxial element of the duo is called MoCA, which takes it name from
The Multimedia over Coax Alliance
that advocates on its behalf. Its family of specifications is on the verge of providing speeds of up to 800 Megabits per second (Mbps). The current version, MOCA 1.1, is widely deployed. It offers net throughputs of 175 Mbps. MoCA 2.0, which is on the point of service provider deployment. MoCA 2.0 has two modes. One has net throughput of 400 Mbps and the other 800 Mbps. Deployment to consumer electronic devices is a ways off.
Wireless is speeding up as well. The next iteration of the 802.11x family will be 802.11ac. The emerging standard – which could be finalized next year – uses beam forming, MIMO (multiple in multiple out) antennas and channel bonding to radically increase throughput.
In general, MoCA will be the preferred conduit for stationary TV sets and desktops, while mobile gadgets will best be served by WiFi extensions. The wired element of that dynamic duo is on the verge of significant growth, according to
Infonetics Research
. A report released earlier this month by the firm projected that sales of MoCA-equipped set-top boxes rose 33% in the first half this year compared to the second half of 2011.
Infonetics Senior Analyst Jeff Heynen, the report's author, said in an email response to questions that MoCA is particularly well-positioned in the United States and Canada. "I believe it will be dominant in North America, because of the fact that coaxial cable drops in homes are so much more abundant than anywhere else in the world," he wrote. "The average home has an average of one coaxial drop per bedroom and living room, with newer homes often having more. That certainly makes it an easy decision for all pay TV providers to use MoCA to deliver video between multiple devices in the home."
While cable and other telecommunications services are becoming more international, it is interesting that MoCA may not be as dominant elsewhere. "It certainly is [predominant] in North America," said Heynan. "But in Europe, HomePlug is currently the technology of choice. These home networking technologies are very region-specific, owing largely to how homes have been built."
Rob Gelphman, MoCA's marketing workgroup chairman, said the technology - and the coaxial cable that it rides upon - are in the predominant position. One reason is that they are used by all three classes of providers. Though coax is most closely associated with cable operators, it is available in the home for all providers to use. "It is good for cable MSOs, of course," he wrote, also in response to emailed questions. But, he added, "MoCA is the only wired technology in use by all three pay TV segments - cable, satellite and telco/IPTV - worldwide."
Gelphman wrote that MoCA's speed puts it in the driver's seat. "MoCA is winning because when it comes to video, reliability is king. And MoCA is the king of reliability," he wrote. "MoCA is the Elvis of performance in the connected home."
Operators can expect products that support this wired/wireless combination to proliferate. For instance, at Cable-Tec Expo 2012 last month in Orlando,
D-Link
introduced the WECB and ECB MoCA Bridges. The two devices, the company said, are designed to manage both wired and wireless support of streaming to wireless devices. At the highest level, the products suggest that the holistic management of these two platforms is a far more efficient approach than handling them discretely.
Carl Weinschenk is the Senior Editor of
Broadband Technology Report
. Reach him at carl@broadbandtechreport.com.