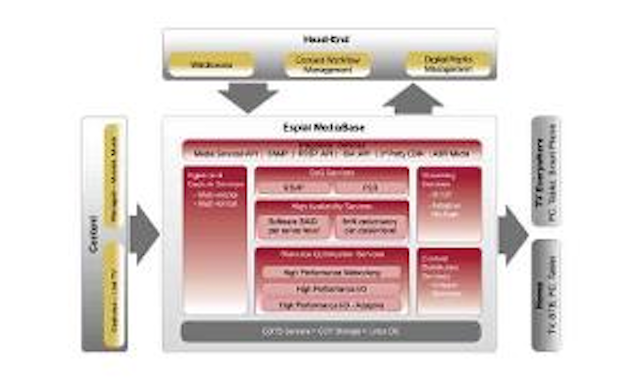 At the
Cable Show
2012,
Espial
(TSE:
ESP
) will demonstrate its latest end-to-end cable solutions, including demonstrations of TV Everywhere and smart TV.
As part of its live TV Everywhere demo, the company will focus on the Espial Media Service Platform and Espial MediaBase, two solutions designed to enable operators to deliver live TV, time-shift TV services, and VOD services across multiple consumer devices. The first part of the demo is intended to show the Media Service Platform's content security, user account administration for parental and purchase controls, unified search tool for live TV and VOD, and support of multiregional deployments and cross-device services like place-shifting and remote DVRs. The second part of the TV Everywhere demonstration will focus on the HTTP-adaptive streaming capabilities of MediaBase for multiscreen services including live TV, time-shift TV, and VOD.
A second demo will feature the Espial TV Browser, which is a WebKit and HTML5 browser designed to support the browsing requirements for connected TVs, set-top boxes, gateways, and Internet devices. The demo will feature viewing Web content, remote control navigation of the browser, and support for DTCP-IP for remote user interfaces (RUI), in-home content security, and HTML5.