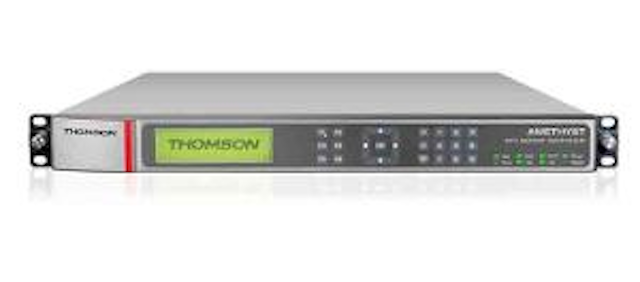 Thomson Video Networks
has launched a new version of its Amethyst III Redundancy Switcher with new IP input and output. It has four GigE interfaces for automatic transport stream switching over IP networks, with built in bypass for continued operation in case of power failure. Its new IP interface is intended to allow headend operators to migrate to an all-IP architecture.
Amethyst III's 1+1 switching between streams transported over IP networks is based on simultaneous monitoring of all incoming signals, using user configurable tests such as TR101 290 Priority 1/2/3, bitrate limit, scrambling information, service plan, and SFN MIP.
The 1RU chassis has dual power supplies and configurable input/output bypass, for signal delivery on IP output ports. The standalone network-agnostic solution is designed to be configured through its front panel interface or remotely via web browser. It also includes an embedded SNMP agent.