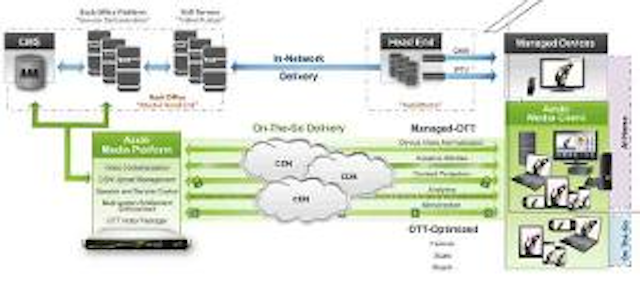 Azuki Systems
is announcing the availability of its next generation managed OTT live and on-demand video delivery solution framework for the Azuki Media Platform. It's designed to help service providers augment their existing managed networks and monetize on their own OTT content delivery to multiple screens at home and on the go, with equivalent user experience and no impact to existing DOCSIS and IPTV infrastructure.
The solution is designed to make unmanaged networks behave like managed networks, with no disruption to existing video operations. It's intended to enable anywhere, anytime, any device session-shifting; end-to-end entitlement control per subscriber, device and content; dynamic multiscreen ad insertion; HTML5 compatibility; and consumption analytics and metrics from all device types.
Azuki manages OTT video delivery by automating the process of normalizing and unifying media preparation, adaptive streaming, DRM, entitlement enforcement, analytics and monetization, including ad-insertion, across all consumer-owned devices.