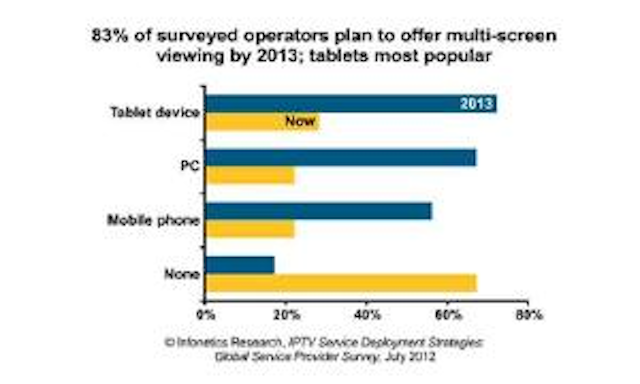 According to a an IPTV provider survey by
Infonetics Research
, 83% of the pay TV operators (cable, satellite, and IPTV) surveyed plan to offer some type of
multiscreen video
by 2013. Other competitive differentiators that pay TV providers are looking into include social networking and content discovery and recommendation services. Other findings from the survey include:



Operators surveyed most often deliver linear broadcast TV over a pure IP network.



The majority of IPTV service providers interviewed do not currently support video streaming services such as YouTube, Hulu or Netflix.



Only one-third of IPTV operators surveyed currently offer social networking capabilities for the TV.



Subscription VOD (S-VOD) is the money-maker among VOD offerings; 83% of respondents offer S-VOD for access to premium channels, and that number is expected to grow to 89% in 2013.