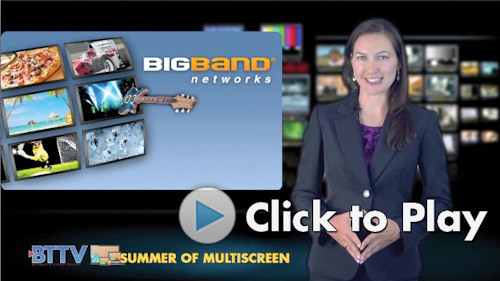 Bigband_V3-360p

BigBand Networks' continues to power innovation for multi-screen video services and advanced advertising with the BigBand MSP Platform.

BigBand says the MSP is the only platform architected to give operators the scale and flexibility to deliver highly differentiated and personalized services that leverages existing infrastructure and offers a path to video convergence… regardless of access network.

As the industry's most advanced video processing and ultra dense QAM platform, the MSP's modular blade architecture simplifies operations and meets the capacity requirements for broadcast, SDV, VOD, and IPTV video delivery to "the three screens". MSP further supports full spectrum agility and dynamic bandwidth allocation across multi-applications.

The MSP lowers the cost and complexity of digital ad insertion. Operators can maximize advertising revenues by delivering traditional advertising to the three screens or by targeting specific ads to specific screens.

BigBand claims the MSP delivers "wire once" investment protection, "pay as you grow" model, and ultra-density to conserve rack space and power. BigBand…bridging the gap to multi-screen. Learn more at http://www.bigbandnetworks.com

Return to Part 2 of BTR's Multiscreen Leaders 2011 Report. Click here to watch part 1.