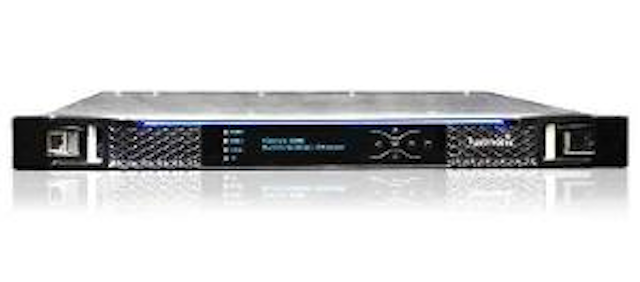 At IBC in Amsterdam,
Harmonic
will be featuring its new Electra 9000, a multicodec, multiformat video encoder designed to simultaneously support broadcast, mobile and Web formats in a 1-RU chassis. The integrated broadcast and multiscreen compression platform features scalable architecture and is designed to integrate with existing broadcast infrastructure and enable new multiscreen services.
The Electra 9000 delivers HD and SD video services via Harmonic's MPEG-4 AVC (H.264) and MPEG-2 compression algorithms. It provides up to four audio/video processing modules per chassis, with each module supporting combinations of up to four SD/HD inputs, with up to eight broadcast output profiles and 32 multiscreen aligned output profiles. It also has a dual power supply support option and field replaceable modules.
The Electra 9000 can be combined with the company's ProMedia Package adaptive streaming preparation system and ProMedia Origin HTTP and RTMP streaming video server, with support for
Apple
HTTP Live Streaming,
Microsoft
Smooth Streaming,
Adobe
RTMP and Adobe HTTP Dynamic Streaming.
Shipments are expected to begin in the first quarter of 2012.