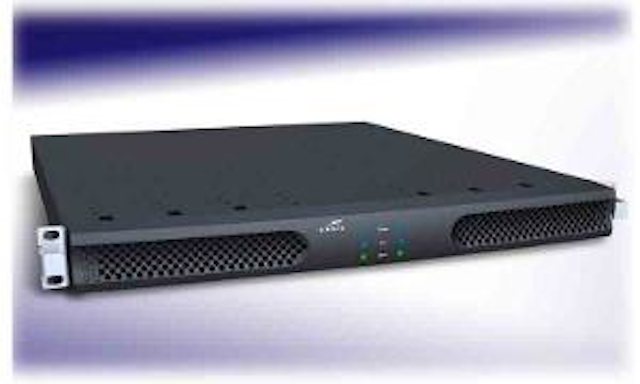 ARRIS
' VIPr 6000 is the next generation in the company's VIPr transcoding platform. Through recent advancements in silicon, the VIPr 6000 delivers a threefold improvement in channel processing capacity to reduce per-stream powering needs and rack space used in the headend.
The 6000 release retains the ability to transcode channels from MPEG-2 to H.264, from H.264 to MPEG-2 and to compress four HD MPEG-2 video channels onto one QAM channel and adds increased density for improvements in HD channel compression. The VIPr 6000 platform offers integrated transcoding, multiplexing, ad-splicing operations and is designed to process up to 24 QAMs of video per rack unit. Other 6000 platform enhancements include a redundant power supply, and added ASI options.
In addition to the VIPr 6000, ARRIS is also introducing the VIPr Element Manager 1.1 release, which monitors and controls all VIPr 2000, 4000 and 6000 platforms. It brings two new data-logging features for the VIPr's EBIF-based advertising and audio level normalization (ALN) features.
In other ARRIS news, the company has completed trialing an approach for multiscreen ad insertion using its AdManager platform to enable dynamic ad-insertion into live and VOD content delivered to portable devices and traditional set-tops, using embedded
SCTE
-130 and Video Ad Serving Template (VAST) messaging on advertising availability. The open solution, at its core, consists of a Playlist Manager and Placement Order Information System (POIS) components that integrate with the
Envivio
4Caster multiscreen encoder and Envivio Halo network media processor, as well as with the ARRIS VIPr Encoder platform.