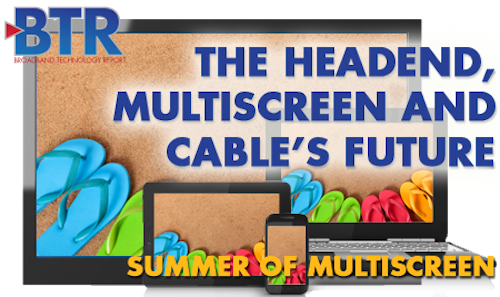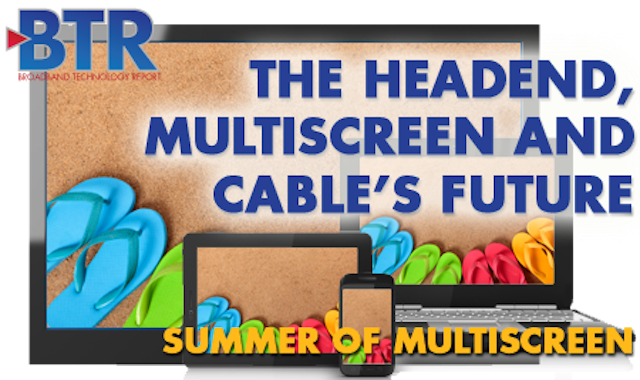 It is not surprising that multiscreen video is leading to a transformation in the way in which headends are architected. The fact that things are changing isn't new. There is, however, an acceleration in the re-thinking that was underway before IP networking became as widely available as it now is.
Quite an acceleration it is. The traditional headend, of course, sent all programming in one direction over operators' managed networks. Some data was sent upstream to do such things as order VOD movies. Clearly, that basic paradigm was slowly changing -- EBIF, for instance, greatly enhances the flexibility of legacy STBs -- and the amount of upstream data was increasing. The birth of IP networking and the amazing creativity of the folks using it are broadening those changes as operators must accommodate user-generated content and an army of new and diverse devices.
Cable operators must keep up -- and that process starts in the headend. "Traditionally it was DOCSIS, DOCSIS, DOCSIS, everything from CableLabs, not a lot of discussion," said Shane Eleniak,
CommScope's
vice president of advanced broadband solutions. "We are seeing a change [to] IP-delivered media with IP in the headend, at the premises and an intelligent edge to do the service adaptation."
What Is a Headend?
It is clear that the role of the headend is fundamentally changing due to IP. Neeraj Sinha, the director of product management for
Motorola
Mobility's Medios Xperience, broke the changes down into four categories: He sees changes to the way in which metadata is handled; means of fulfilling content rights management duties; alternative ways to transmit the content; and changes to the way in which end users control that content (such as pausing, rewinding and fast forwarding).
Each of these involves complex adjustments to the old way of doing things. In addition to traditional transmission, operators must be able to send programming over managed and unmanaged IP networks. These networks utilize a variety of adaptive bitrate streaming techniques from
Microsoft, Adobe
or
Apple
. There also are more ways in which the content is processed and protected. "There is some type of offline and real-time transcoding, offline and real-time encryption, offline and reality chunking, and a CDN," Sinha said. It is important to note that the these tasks are additive, since older processes aren't abandoned.
Amit Eshet, the senior director of media processing for
BigBand Networks
, also sees significant changes in the mandate of a headend from the past. He agrees with many of the areas of transition indentified by Sinha and points out that the headend is serving consumer electronics devices with a wider variety of operating architectures than in the past. These devices must support a much broader array of video types, and the originating source can be the operator or a third party.
More specifically, Eshet -- in response to an emailed request for information from BTR -- said headend changes extend from the back office, content management systems, content storage and caching, content delivery, and ad insertion.
CommScope's Eleniak agrees with many of these granular changes and concerns of the modern headend. He also offers a higher level view on how the concept of the headend itself is changing. In short, a more efficient way of implementing changes is necessary as the number of choices and possible configurations multiplies. Cable operators are meeting this challenge with what Eleniak refers to as a "smart edge." This, he said, is the use of more fluid and software-based systems to replace older scenarios in which changes were physically made.
To Eleniak, the move to an IP-based network and the ability to drastically raise the automation level of the headend aren't synonymous -- but go hand-in-hand. "Operators are taking this as an opportunity to do more software-driven architecture for moves, adds and changes," he said. "It allows software control to make changes to the Ethernet, MPEG and RF parts of the network without having to touch the cabling."
The goal for cable operators is to leverage the industry's great advantages -- its substantial back office infrastructure, marketing and programming clout and customer relationships -- without losing to new entrants. These providers can offer services and harness entrepreneurial and creating thinking much more quickly.
"One of the pressures on an MSO in standard CATV mode is that he had a high volume, high capacity and efficient headend that did its thing in a hard-coded way," said Alan Lefkof, the corporate vice president and general manager for Motorola Mobility's software solutions group. "Now he is being outmaneuvered and outgunned and out-innovated by a variety of people who develop using web services backends and an HTML5 front end and have the ability to bring up a new service in five weeks as compared to 12 to 15 months [for cable operators]. It will be fun to watch various MSOs react. Some want to control everything ... others are saying we need third parties to help us."
Carl Weinschenk is the Senior Editor for Broadband Technology Report. Contact him at carl@broadbandtechreport.com.