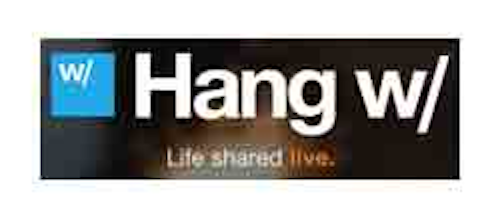 Live streaming social media company Hang w/ has upgraded its Digital Ticketing Platform to enable users to create live pay-per-view video events with nothing more than a mobile device.
The Hang w/ app is designed to connect users through interactive live-streaming video, allowing anyone with an iPhone, iPad, Android device or desktop computer to broadcast live to a potential audience of millions of viewers around the globe. The latest version of the app lets users zoom in and out while broadcasting.
The Digital Ticket feature is intended to let users set a price against their live broadcasts and promote them in the run up to filming. Viewers can purchase the Digital Tickets using an in-app coin system. In its beta phase, the application of live streaming has been further enhanced to allow for easier creation of Digital Tickets and better promotion of the tickets themselves. Users can now promote the ticket to their followers on Facebook, Twitter and Instagram from directly within the Hang w/ app.
"Digital Tickets enable anyone with content of value to offer that content to anyone around the globe - at a price they decide is fair," said Andrew Maltin, CEO of MEDL and Hang w/. "We've already seen the feature used successfully for instruction, education, musical performances and even guided meditation. One of the nice touches we added with the update is a 'Cha-Ching' sound each time someone buys your ticket."