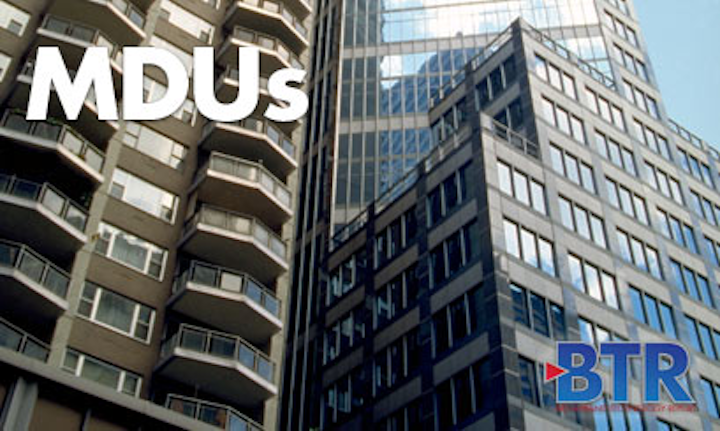 Comcast's (NASDAQ:CMCSA) Xfinity Communities continues to expand its solutions portfolio and enhance its offerings. The company recently bolstered its managed WiFi offering with the acquisition of Epproach Communications, which Mike Slovin, VP national field sales, Comcast, has said will offer even greater to control to property managers.
The company's Select WiFi places access points (APs) throughout a property, which eliminates the need for residents to have CPE in their units. This is particularly attractive in the off-campus student housing market, Slovin said. For example, Vantage, an off-campus housing property for Temple University students in Philadelphia, has combined Select WiFi with Xfinity Stream to offer "boxless" connectivity and entertainment. Senior residences and luxury communities are also prime targets for a simple connectivity solution.
"We can accelerate the move-in and move-out process. There is no need for truck rolls," said Adrian Adriano, VP strategic initiatives, Xfinity Communities. "We work with big property owners to deliver the speed the property owner and students want."
"There is no difference in the speeds that Xfinity Communities can deliver with a box or 'boxless' access point solution," Adriano said. "(While) Xfinity Communities did have other properties with the Select WiFi offering before the acquisition of Epproach … the addition of Epproach strengthens the offering with an additional high level expertise."
Xfinity Communities also recently announced that the Wyatt FOCO, a 12-building, 368-unit luxury community in Colorado, is the first fully connected community powered by Xfinity's smart home automation solution. The connected living experience will begin with thermostats, lighting, locks and leakage detection.
Smart locks reduce rekeying costs, which can be more than $50 per unit, and thermostats and lighting offer additional cost saving to residents and managers.
"We found that leak detection is the most sought-after smart home monitoring solution; moving forward, we plan to connect even more smart home devices to our app for Xfinity Communities across the country," Adriano said.
"The platform from Xfinity Communities simplifies our daily property management task as we no longer need to manually visit each vacant unit to ensure the temperature is set correctly or to double-check the faucet is not dripping," said Estefania Amaya of WestCorp, the Wyatt's property management company.
In July, Kass Management announced that it would use the Smart Communities platform in two properties in Chicago. Through that partnership, 50 units were outfitted with smart thermostats and lighting. That is a more limited deployment than Wyatt, but Adriano said that feedback thus far from property managers has been positive.
"The manager can manage devices on a vacant unit, and as soon as somebody moves in the ownership is transferred to the resident via the app," Adriano said.