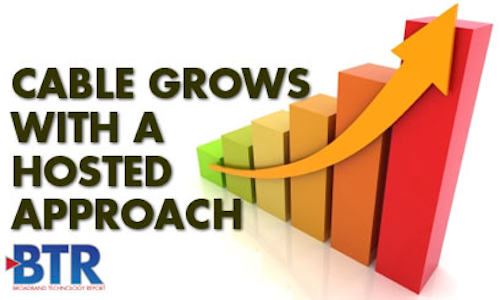 While smaller cable operators face the same competitive pressure as larger operators to provide more bandwidth, more channels, more services, they do not have a resource pool anywhere near as deep.
Yet many, including Fenelon Falls, Ontario-based
Cable Cable
, are finding inventive ways to run with the big dogs, so to speak, and provide the technology and line-ups to keep consumers happy.
In fact, within the last couple of years, the company has been able to quadruple its HD offerings to more than 100 channels, double its SD offerings and launch VOD. The result? A tripling in digital subscriber base. And, as General Manager Michael Fiorini puts it, the two direct-to-home satellite providers operating in the region are "sharing a lot less of our lunch."
To accomplish this, Cable Cable contracted with
Adara Technologies
, which offers hosted digital remote headend solutions in order to do switched digital video (SDV). "We are small enough that we couldn't afford to do it on our own," Fiorini said. He estimates that by not having to purchase the digital network control system (DNCS) or digital addressable controller (DAC), the initial capital investment was half of what it would have been if his company had gone with a fully owned system.
There were operational savings, too. Being located in such a remote area, left to its own devices, Cable Cable would have found it difficult to lure the proper technical staff to its community. "The salaries would have been beyond our capacity," Fiorini said. "Adara had what we needed and was willing to lease the work to us."
The relationship has proven to be so fruitful that Cable Cable is looking to further it by adding a hosted solution that will allow the company to offer TV everywhere. "We are hoping that what Adara (and) the
Cisco
Videoscape product will enable us to do is offer a fixed broadband wireless video service to our customers," Fiorini said.
As for other challenges smaller operators face, Fiorini said one of the biggest is digital rights management (DRM) and broadband distribution rights to linear and on-demand content. "Currently, there is no clear picture on how linear programming will be handled, and being a small system, we don't have the savvy or the resources to conclude these negotiations," he said, noting that Cable Cable is part of the
Canadian Cable Systems Alliance
, the Canadian equivalent to the
NCTC
.
"We work with them to foster these agreements with programmers," Fiorini said. "Additionally, Adara's experience and technical resources will play a key role in allowing us to place a cost-effective platform to deliver this content once the arrangements are solidified."
Monta Monaco Hernon is a free-lance writer. She can be reached at mcmhern@yahoo.com.