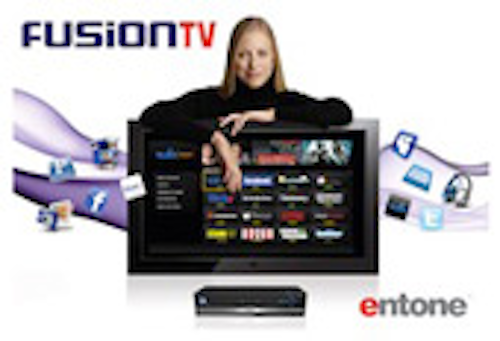 Entone Courts Cord Cutters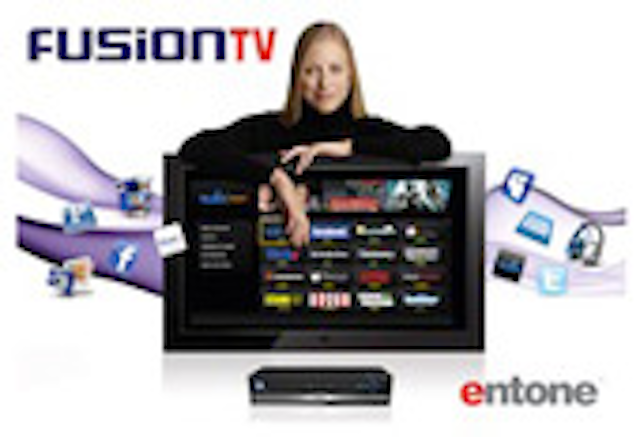 Entone
(
www.entone.com
) has unveiled FusionTV, a managed service designed to offer over-the-top (OTT) content blended with linear HDTV programming. FusionTV is a hybrid TV service that combines linear HDTV programming and OTT media into a single, unified user experience. Linear HDTV is delivered by traditional programming sources such as cable TV, IPTV, or OTA broadcasts. Live HDTV programming is complemented with online media services such as VOD, music streaming, photo sharing, social media, and other web content and services.
The IPTV Edition of FusionTV is based on Entone's recently announced WebVOD solution which allows IPTV operators to offer web-based VOD services with a simple software download to Entone's media hubs. The service includes high-speed Internet, live HDTV programming, DVR and EPG, web media services (VOD, photo sharing, music streaming), personal media sharing within a home network, and place shifting of content throughout the home or on-the-go.

Technicolor Upgrades Digital Home Tablet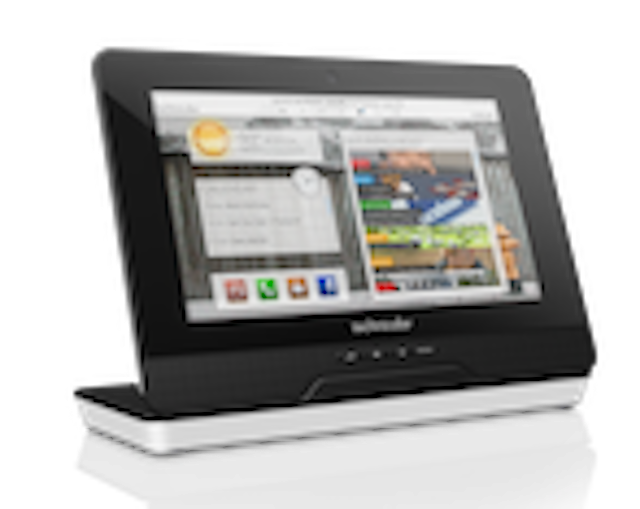 Technicolor
(
www.technicolor.com
) is launching the second generation of its Media Touch tablet, a 7-inch home screen designed to be fully integrated into the digital home ecosystem. The product is primarily designed to consume online and home audio and video, access the web and its applications, as well as interact with other equipment, such as home automation, via open interfaces. It uses an Android operating system.
The tablet features a microphone and camera for native online chat possibilities, voice over IP telephony and high-end video communications, integrated with users' favorite social networks. Its media assets are designed to let end-users consume online and personal audio/video content with multi-screen synced media. Open interfaces are intended to make the tablet a remote control for digital home services and devices, such as set top boxes and emerging services such home automation.
ECI Telecom Aims to Ease Fiber Migration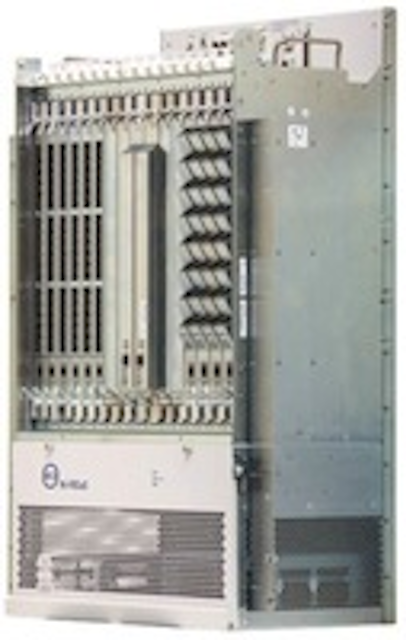 ECI Telecom
's (
www.ecitele.com
) newest addition to its 1Net fiber access solution is a next-generation integrated OLT (I-OLT) platform. The I-OLT is designed as a versatile fiber migration solution, allowing service providers the flexibility to choose any service mix over any FTTx architecture as they evolve or build their access networks. The scalable platform is designed to reduce financial and technological risks through a common solution for both residential and business applications.
It caters to any mix of FTTx architecture, flexibly supporting GPON, active Ethernet/point-to-point, and full traffic aggregation capabilities from a single platform. The solution allows flexible slot assignment so that the service mix offered by the access network is adaptable to customer requirements - whether residential, business, wholesale or wireless backhaul.
IBBS Pumps Up Network Management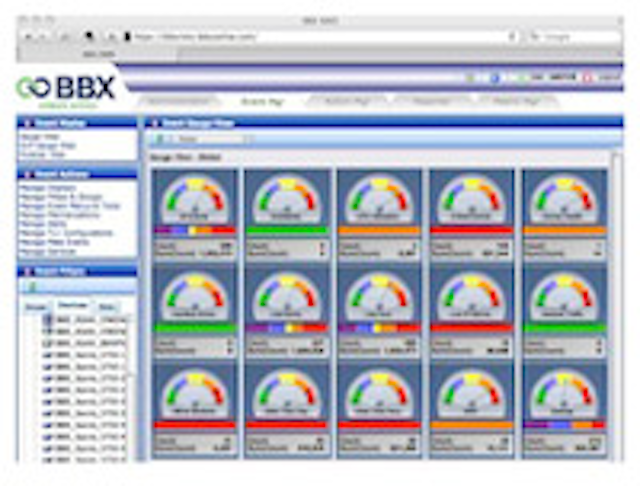 IBBS
' (
www.ibbs.com
) NetVantage is a web-based network tool based on technology from
Monolith Software
(
www.monolith-software.com
). Monolith is an IBBS partner and provider of network management software for service provider and large enterprise networks.
NetVantage is designed to give broadband providers insight, control and predictability of their networks' performance and availability. The tool features role-based views, dashboards, self-service performance and availability reporting. With the deployment of the tool, IBBS customers will have access to the same data and information that IBBS NOC personnel use to manage network performance and monitor network events. NetVantage is intended for tier 1 and tier 2 cable operators that choose not to deploy system-wide solutions.
IBBS NetVantage was built to let users access real-time network statistics any time through any web browser, and to provide role-based views. The user-specific architecture allows IT executives, technicians, CSRs and engineers to access just the information they need in their respective functions.
AMT Hops Over the Top
AMT
(
www.amt.com
) has announced a broadcast grade live HD video streaming platform designed to quickly allow operators entry into the over-the-top (OTT) video delivery market to PC and mobile devices. The
RayV
(
www.rayv.com
) powered technology is designed to reduce the monthly streaming and operational costs with a managed Optimized Cloud Streaming architecture. The optimized streaming platform is a complete end-to-end solution, with all the features of streaming, back office business rules, targeted advertising, billing, DRM, adaptive bit rates, real time monitoring and control.
Operators can provide HDTV over DOCSIS, fiber, DSL and wireless network (Wi-Fi, 3G, LTE) devices over IP anywhere, anytime. The technology creates a unique and significant advantage in quality, reliability, scalability and efficiency in IP broadcasting. It's designed for 80% greater network efficiency than other streaming solutions and to reducing the capital expenditure by up to 10 times in a managed network.
PPC Intros All-in-One Drop Solution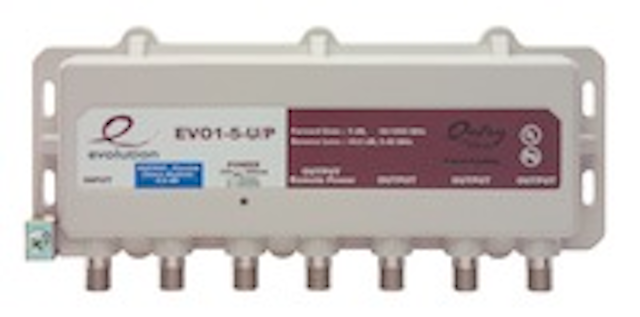 PPC
's (
www.ppc-online.com
) Entry Series for multi-service drop installations combines an entire drop installation into one compact unit and is designed to dramatically reduce installation time and operational costs, and also eliminate 60 percent of failure points.
Offered in five- and nine-port versions, the UL-listed devices combine four or eight active unity gain (no loss) ports with a completely passive voice modem port for lifeline voice service. Critical communication signals passing to and from the voice modem are never jeopardized by having to pass through active components.
The circuit design, featuring Return Loss Saver technology, maintains SCTE-recommended RF performance on the input and voice modem ports even if power is lost or in case of IC failure. It's surge-protected and features dual LED indicators, patented conical seizure mechanisms, and excellent corrosion resistance. The RoHS-compliant devices are also available with a stand-alone power inserter or a power supply with integrated power inserter.
RFMD Expands HFC Component Portfolio
RF Micro Devices
(
www.rfmd.com
) announced the expansion of its broadband product portfolio targeting HFC transmission network hardware, cable headend, cable hub equipment, and MDU/MTU equipment. The new broadband products are intended to support HDTV, 3D HDTV and "mid-split" DOCSIS networking.
RFMD's newest HFC RF components include amplifiers and wide bandwidth passives. The amplifiers include linear amplifiers, low noise amplifiers and return path amplifiers, and the passive components include couplers, two-way splitters and transformers.
Sunrise Automates Digital Video Testing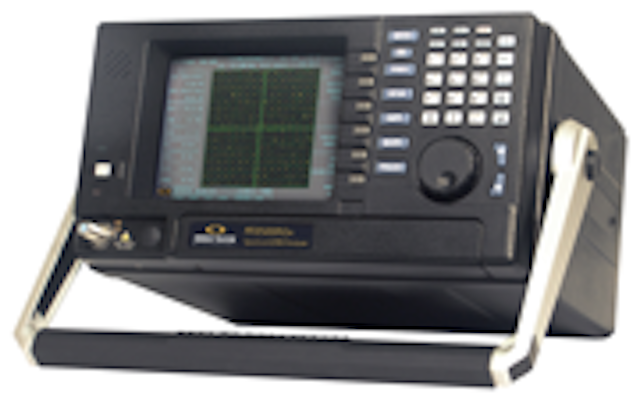 Sunrise Telecom
(
www.sunrisetelecom.com
) enhanced its AT2500 Spectrum Analyzer with automated digital proof of performance test capabilities. The AT2500 now troubleshoots issues that impact QAM-supported digital video offerings, allowing operators to catch impairments before they escalate into major service interruptions.
For digital proof of performance tests, the user can a push a button to test all QAM channels to a pre-set threshold. The digital proof of performance enhancement is a new feature that is part of the WebRemote option introduced in May. The WebRemote option allows a single technician to diagnose issues such as group delay, distortion and amplifier alignment. It also enables an operator to remotely identify issues impacting both upstream and downstream traffic in remote areas or during off hours.
The digital proof of performance capabilities and WebRemote option are also available as firmware upgrades to existing AT2500s.
ANADIGICS Ups the Bandwidth for FTTH and RFoG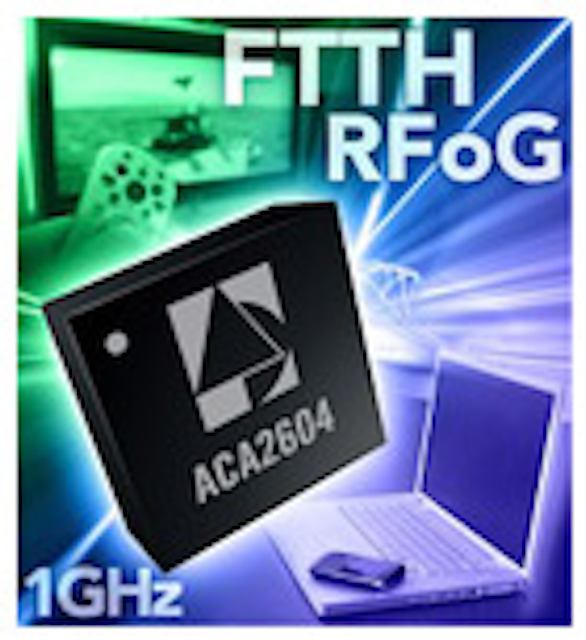 ANADIGICS
(
www.anadigics.com
) upgraded its ACA2604 RF amplifier supporting operation to 1 GHz to provide greater bandwidth for FTTH and RFoG systems.
The ACA2604 is designed for use in fiber-to-coax equipment, such as optical network units for FTTH and RFoG systems incorporating RF overlay, and FTTB optical receivers for MDUs. The amplifier, driven by the forward path photodiode in a fiber-optic RF receiver, forms the optical-to-electrical interface and boosts overall output to the in-home coax wiring.
The ACA2604 is manufactured using GaAs technology, operates from a single +5 volt supply and is offered in a 5 mm x 5 mm x 1 mm surface mount package. It has an operating frequency between 50 and 1,000 MHz; CSO/CTB of - 65 dBc (@ 79 Chan.), 21 dBmV/ch; and input noise is 4.5 pA/rtHz.
Evolution Launches TiVo Portal for Cable
Evolution Digital
(
www.evolutionbb.com
) has launched a
TiVo
(
www.tivo.com
) Operator Portal for managing TiVo DVR activations. Evolution, who partnered with TiVo last May to provide independent cable operators with broadband-enabled TiVo DVRs, is now selling TiVo Premiere boxes to more than 30 cable operators throughout North America.
To help support operators make the process easy to deploy and promote TiVo Premiere to their subscribers, Evolution Digital has created the TiVo Operator Portal. Through the Operator Portal, cable operators are able to login and have access to their entire list of active TiVo customers. Operators can upload new activations, download entire activation list, update subscriber information and deactivate subscribers when necessary. Operators have access to the latest TiVo news as well as logos, screenshots and product images for promotional material including troubleshooting and support links.
Verismo Makes an OTT Play
Verismo Networks
(
www.verismonetworks.com
) announced its next-generation HD VuNow Internet TV platform, designed to allow MSOs, ISPs and telcos to bring linear channels combined with value-added Internet applications over the Internet to their subscribers. By using the Internet as a distribution method, service providers can rapidly expand their existing footprint and reach new global markets with minimal investment in infrastructure.
Service providers can now enhance current services by offering linear channels, combined with over-the-top (OTT) Internet videos, VOD, and live channels from around the world. The new platform also brings social networking applications like
Twitter
,
Facebook
, and
MySpace
to the TV set. Personal media is easily accessed over the home n