Cable Still King ... for Now
Jun 25th, 2012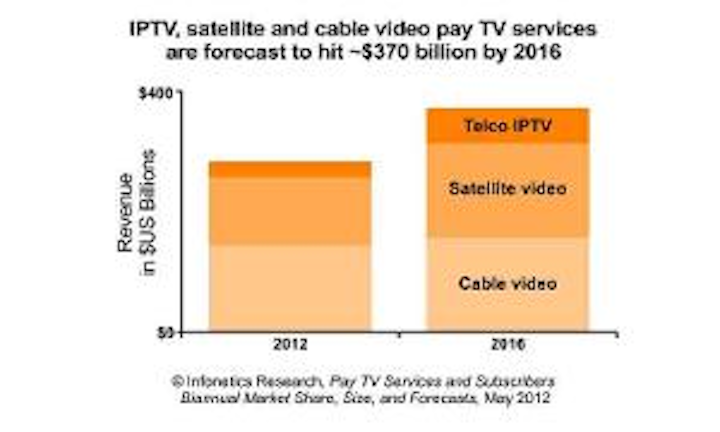 According to
Infonetics Research
, cable video still makes up more than half of the global pay TV market, but revenue growth and new subscriber additions are slowing, especially in North America. The research house ascribes cable's losses to competition from satellite and IPTV operators, as well as OTT offerings from
Netflix
,
Hulu
, and others.
Other highlights:



The global pay TV market, including cable, satellite, and telco IPTV video services, totaled $261 billion in 2011 and is forecast to grow to $371 billion by 2016.



North America is again the highest-value video market due to high ARPU, but Latin America and Asia are gaining ground as a result of expanding subscriber bases.



DirecTV and Comcast remain the global market leaders for pay TV revenue and subscribers.



DirecTV enjoys the highest ARPU due to the high take rate of its value-added services and premium content such as the NFL Sunday Ticket.



Comcast is the global pay TV subscriber leader, with more 22 million subscribers in 2011.



In 2011, the top 20 pay TV revenue leaders accounted for 50% of the revenue, while the top 20 subscriber leaders represented just 30% of subscribers.