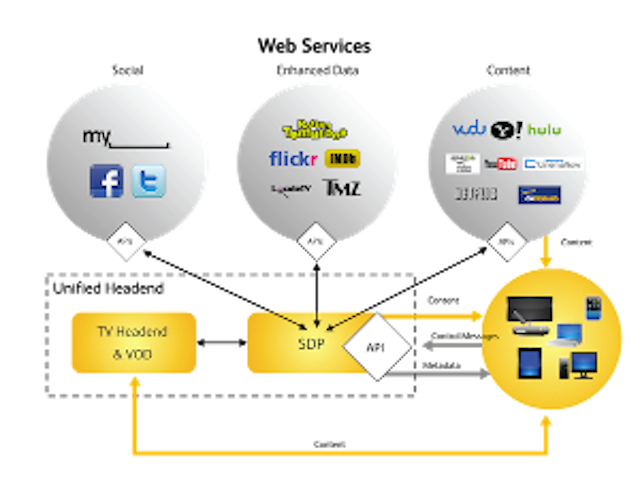 NDS
' Service Delivery Platform (SDP) is a scalable platform designed to enable TV operators to extend their offering to companion devices through third-party applications. It provides an open API that acts as an interface between apps on devices, a service provider's TV platform and social networks or other Internet content. It provides a standard web services interface to enable the development of applications to complement or control the TV viewing experience.
The SDP is designed to facilitate the contextual delivery of additional content, information and social networking features from online sources. It uses intelligent mechanisms to ensure that content and metadata are retrieved from the most appropriate source, whether the operator platform or web services such as movie databases or catchup TV sites. It recognizes individual devices and subscriptions, allowing the delivery of content to device specification and in keeping with the user's pay-TV subscription. The SDP is compatible with existing TV platforms and set-top boxes.
In other NDS news, the company announced the launch of
Infinite TV Exchange
, a global B2B content marketplace and delivery system designed to bring together service providers and content owners to build special interest channels and expand the operator offering by leveraging over-the top (OTT) delivery.
The system is designed to enable the monetization and delivery of high-quality, specialized content to pay-TV platforms. It's intended to provide seamless integration of specialized content, in the form of channels, with an operator's existing offering to satisfy the individual interests of the subscriber.