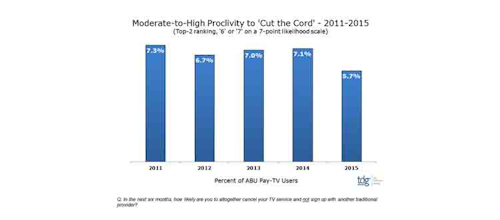 According to research conducted by the Diffusion Group in the first half of 2015, the percentage of adult broadband users moderately to highly likely to cancel their pay TV service declined 20% between early 2014 and 2015.
Michael Greeson, TDG co-founder and director of research, wrote: "Cord cutting proclivities have held steady for several years, with approximately 7% of ABU pay TV subscribers moderately or highly likely to cancel their service in the six months following the survey. In early 2015, however, this number declined to 5.7%. This is the first time in five years we've seen significant change."
The research house expects the trend to continue in the second half of 2015.
Notably, the percentage of consumers saying they "definitely will cancel" their pay TV service in the next six months has been cut in half, down from 2.9% in early 2014 to 1.4% in early 2015, accounting for all of the top-2 regression. "The fact that the decline occurred among those most likely to cut the cord was key, and ultimately translated into lower losses in Q3."