Multiscreen Drives Program Guide Challenges
May 16th, 2012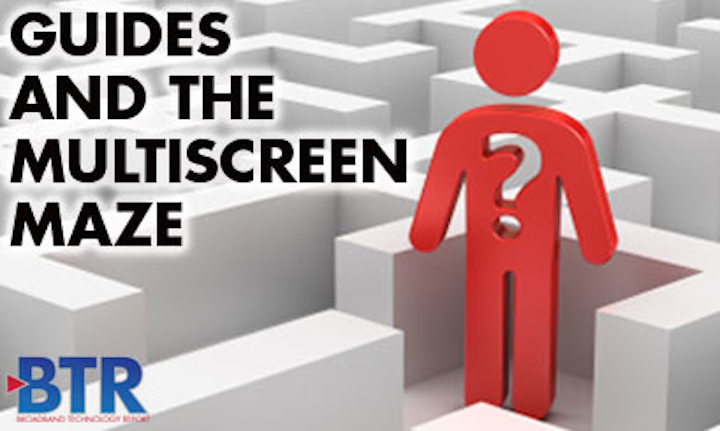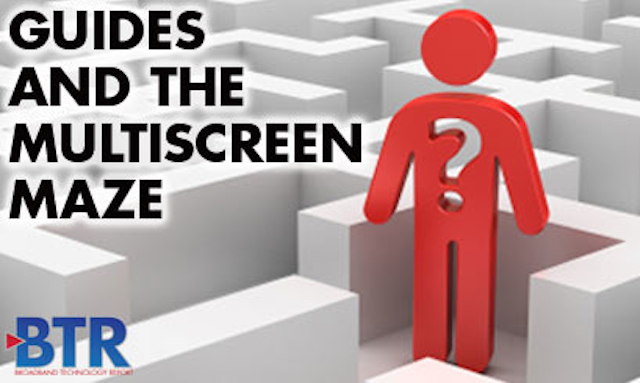 The cable industry has a long history with program guides. The challenges gradually grew during the 1980s, 1990s and early 2000s as the industry added channels and
VOD
offerings to the point that presenting a linear scroll of what was on became impractical. Operators, vendors and programmers struggled to find the best way to inform subscribers about what had grown to hundreds of choices.
Then things became difficult.
The emergence of the
Internet
, mobile devices and
multiscreen
services for cable operators has taken the same basic question -- How do operators get their subscribers where they want to go? -- and made it orders of magnitude more complex from both the logical and technical perspectives.
"The biggest change is that cable operators and for that matter any traditional video provider is going through is that the traditional guide always more or less resided on the set-top box," said Harish Reddy, a principal of
IBB Consulting
. "All of a sudden they have the need to provide access from multiple locations."
Indeed, the transitions pile atop each other. During the past decade, people became accustomed to using Web browsers, search engines and downloading apps. The idea of proactively reaching out for the media they want to consume became second nature. At the same time, they expect their service providers to remember what they ordered and to make recommendations as to what they may want.
All of these changes must be reflected in the relationship with multiscreen subscribers. And it must be made in ways that are appropriate for devices that have operating characteristics that are as different as a smartphone and a PC.
That's a great challenge -- and a great opportunity. It is important to remember that the same challenge exists for all video providers, not just cable. Cable operators have an advantage in their existing relationships with subscribers and established and sophisticated infrastructures.
At the end of the day, the changes are working both backward and forward: The second and third screens -- tablets, smartphones and PCs -- use browsers, app stores and have users that employ the new thinking. But the legacy service -- what marketers call the "10-foot experience" of watching a traditional TV set connected to an STB -- must share design elements with the multiscreen variants to make it immediately clear that they related.
For instance, the versions of
SeaChange International
's (NASDAQ:
SEAC
) Nitro user interface software aimed at second and third screens will be based on the emerging HTML5 markup language. However, the legacy guides will use C++. It will be used, however, in such a way as to make it look like the Web-based experience, said Anthony Landamia, SeaChange's general manager for product management.
Thinking Ahead -- and Behind
This world is new and, thus, is full of surprises. Chuck Stucki, the vice president of IP video systems for
Cisco
(NASDAQ:
CSCO
), said more traditional approaches -- such as grids -- have proven to be an effective way of telling people what recently was on. Indeed, in this new world, when something was first released can become somewhat irrelevant. "An interesting thing that we discovered is that the EPG is a more effective way to find programming that was missed than search is. If someone is able to look at a guide for time periods that were passed, that person is much for likely to pick a show that essentially is a VOD."
The industry has a huge job ahead as it seeks to maintain its position as the interface between its subscribers and the massive amount of content on which they want to draw. "One of the things we've been suggesting is that the service providers who make it easy for consumers to get to the content they want regardless of whether it is linear or on-demand or OTT and makes it appear as the two-second change we are used to today will have a huge advantage," said Jeff Brooks, the vice president of IP video product management at
ARRIS
(NASDAQ:
ARRS
). "Part of that is going to be recommendations, some of it is consistent look and feel, and part of it is consolidating things that have been disaggregated."
The bottom line is that the operators and their vendors will have to simultaneously have their feet in the old and new worlds. To some, the pivotal device is the tablet. Today, the tablet seems to be the device with the most momentum," said Thierry Lehartel, the vice president of product management for
Rovi
(NASDAQ:
ROVI
). "Will that change? It's hard to make a prediction."
It isn't going to be easy. The initial challenge for operators built over years. "The overarching goal is consistency integrated across a wide variety of platforms," Lehartel said. "That is the goal our customers are building their strategy around .... We see operators at various stages of executing on that plan."
Carl Weinschenk is the Senior Editor of Broadband Technology Report. Contact him at carl@broadbandtechreport.com.