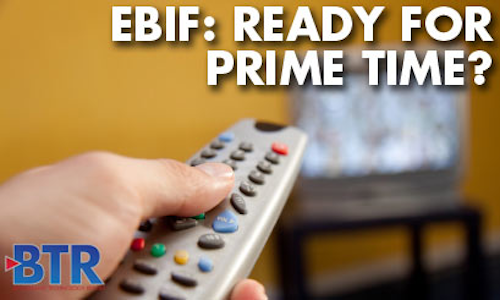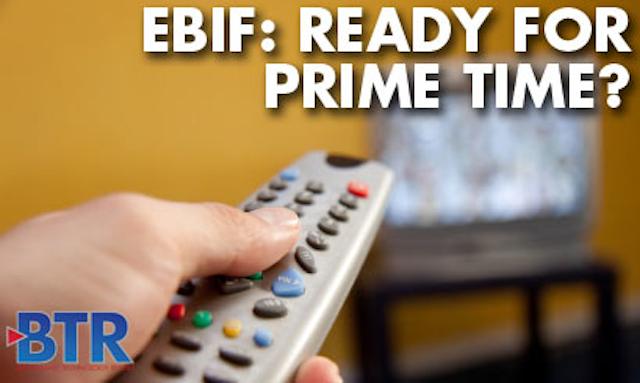 With perhaps one exception, the key technical issues related to the Enhanced Binary Interchange Format -- EBIF -- have more or less been settled. Experts say that the technology has firmly entered the deployment phase and that it is getting a lot of distribution among the big cable operators.
That sounds like a success story: The platform is ready to go and is being deployed. But a closer look reveals that perhaps the biggest challenge is ahead. Simply, will people use EBIF? Jeff Brooks, the vice president of business development for
ARRIS
, put it succinctly: "As always, the technology is the easy part."
The key question now is simply whether EBIF will win the hearts and minds of advertisers and their agencies -- and, of course, the viewers they serve -- before other and more sophisticated ways of providing interactivity take control. That question became a lot more pointed with the failure of
Canoe Interactive
in February.
Even before Canoe sank, so to speak, it was clear that EBIF was on a shorter leash than other innovations. It was designed from the outset as a transitional technology aimed at enabling set-top boxes (STBs) developed before the onslaught of interactivity to not be completely left behind. Thus, EBIF's strength isn't glitzy, expansive interactive capabilities. It is on the other end of the spectrum: EBIF can provide a base level of interactivity to the vast universe of deployed STBs.
That's a big deal, since there are millions of such STBs in the field. But it means that it must realize its promise quickly, since the older STBs will gradually be replaced as a matter of course.
Brooks said EBIF probably is before 20 million subscribers. This, he said, is something of a threshold that should put EBIF on the agenda for agencies and, of course, the subscribers who have to press the button on their remotes.
It also is important to recognize that while deployment is strong, it is not necessarily consistent. The cable industry is led by the largest operators. Others follow. To date, it may be that the rollout of EBIF is too heavily weighted to the largest of the operators. "We would have guessed smaller operators would have jumped in," said Ramin Farassat, the vice president of product marketing and business development for
RGB Networks
. "We have not seen tier 2 and smaller [deploying EBIF]. I would have expected it to expand to every operator, but haven't seen the growth in that area."
The coming months are pivotal. "The next thing is developing the business around it and the way in which people use it," Brooks said. "And that takes time. For the most part, that's not up to us; it's up to the consumer or whoever is in charge of dollars to decide to use dollars in different fashion" than traditional advertising.
EBIF could be in a bind. The idea is that if it doesn't gain traction among end users and the advertising community in that timeframe, the sector may bypass it since the older STBs will gradually be replaced. It also is likely that those using the older STBs may not be as likely to participate in interactive activities.
The situation could get serious quickly. Indeed, Jeremy Edmonds, the director of technical business development for
ActiveVideo
, said EBIF's window is more or less 18 months. "If it has critical mass [for deployment] among operators but is not gaining traction, as future technologies roll, operators may not see the benefit in integrating EBIF. They will weigh the cost between the two, and if EBIF is not generating revenue, it will be on losing end of that equation."
Though the focus has shifted fully to deployment and marketing issues, there still is at least one significant technical issue. Today, Farassat said, EBIF streams use a fixed amount of bandwidth. That isn't a problem as long as the amount of data is relatively small. Once it grows, however, it becomes an inefficient transmission method. A statistical multiplexing -- "stat mux" -- approach will solve this nascent challenge. Farassat said that the "Mux 3.0" initiative focuses on implementing statistical multiplexing either where the operator initially receives the content or at hub locations.
Handling an overload of streams is a problem that companies that have put money into EBIF would like to have. At this point, however, it is unclear whether the technology will thrive. "It's been evolving and solidifying as spec … for a long time and should be at a point where there is large-scale rollout and people start to use it," said Edmonds. "We have our fingers crossed that consumers use it and it generates value."
Carl Weinschenk is the Senior Editor of Broadband Technology Report. Reach him at carl@broadbandtechreport.com.