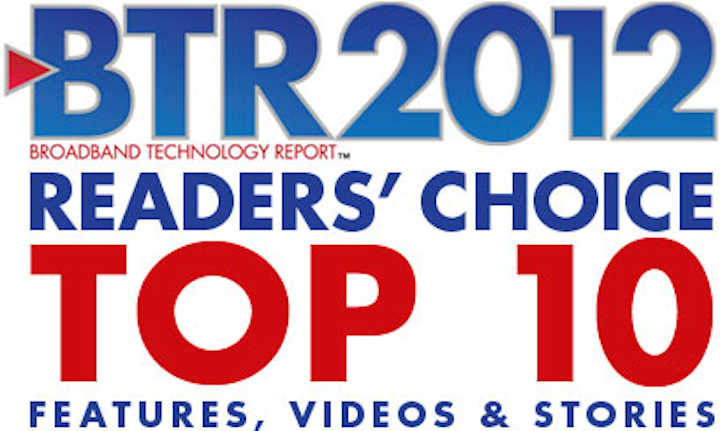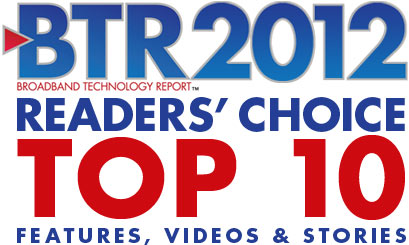 'Tis the season of top 10 lists, so here are some of ours. These are our top-scoring stories and videos for the last year based on data from our web site and e-letters. Together, they make for a dandy barometer of what the cable industry's movers and shakers (aka: our readers) found interesting and important this year.
Top 10 Features
Multiscreen
video
has been a hot topic in cable for the last few years, and that trend continues. Interestingly,
WiFi
,
cell backhaul
and
smart home
topics have moved higher on the collective radar this year.























Top 10 Blogs
Another change this year is that
BTR
's
blogs
are getting much more traction than in the past. (Astute readers may recall that we didn't list them
last year
.) We're extremely pleased with this change.























Top 10 Videos
Our videos continue to run strong. In editorial videos, show coverage rules the landscape, even more so this year than in 2011. Several of our sponsored videos also made the top 10, with topics related to multiscreen and
EAS-CAP
garnering the most reader attention.























Honorable Mentions
Our new
Best Practices series
has been hot right out of the gate, posting impressive numbers from the start. These are multimedia presentations, featuring videos, eBooks and quizzes. Look for more of these in the year(s) to come.











And that wraps it up for this year. Here's hoping you enjoyed 2012 as much as we did, and best wishes to you all in the new year to come.
Ron Hendrickson is BTR's managing editor. Reach him at ron@broadbandtechreport.com.