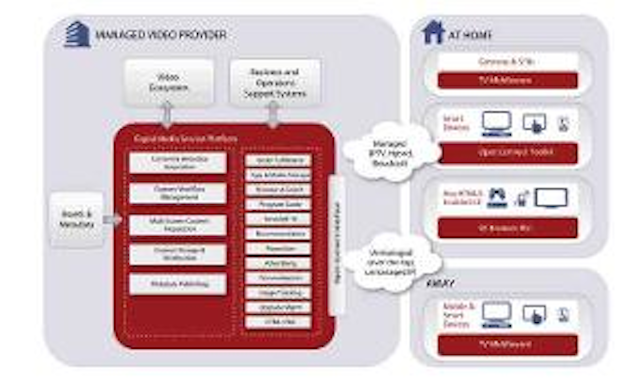 Espial
will demonstrate its latest headend and browser technologies at the 2012 International CES in Las Vegas. Visitors to the Espial suite at the Las Vegas Hilton will see a TV Everywhere demo showcasing the Espial Media Service Platform and Espial MediaBase solutions.
The Espial Media Service Platform is designed to allow carriers to introduce, manage and monetize a unified video experience across multiscreen devices. Intended for delivery of a range of video applications from the cloud, the platform's capabilities include system administration, unified authentication and authorization across devices, and an application toolkit. Operators can use the solution to introduce live TV, time-shift TV, and VOD services across consumer devices including tablets, mobile phones, PCs and smart TVs.
Also on display at the Espial suite will be Espial's MediaBase on-demand video platform. It's designed to support TV Everywhere services including live TV streaming, time-shift TV, remote storage DVR and VOD. With its recently introduced HTTP-adaptive streaming capabilities, Espial MediaBase is now available in several new configurations including origin servers, Internet servers, and unified servers. Its content delivery networking engine, configurable using the Espial MediaBase Manager, is designed to allow operators to optimize system design.