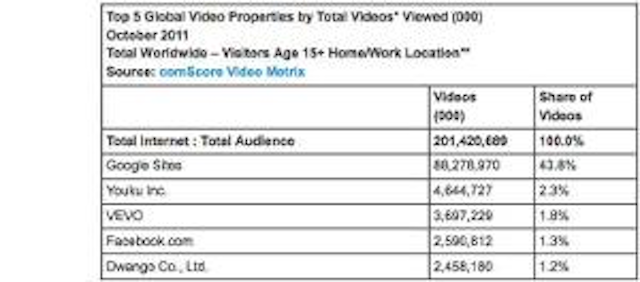 Data on worldwide online video viewing from the
comScore
Video Metrix service indicates that nearly 1.2 billion people age 15 and older watched 201.4 billion videos online globally during October 2011.
Google
Sites, driven by
YouTube
, ranked as the top video destination with nearly 88.3 billion videos viewed on the property worldwide during the month.
In October 2011, 201.4 billion videos were viewed online from a home or work location, with the global viewing audience reaching 1.2 billion unique viewers age 15 and older. Google Sites led as the top global video property with nearly 88.3 billion videos viewed on the property during the month, accounting for 43.8% of all videos viewed globally. YouTube was the key driver of video viewing on Google Sites, accounting for more than 99% of videos viewed on the property.
An analysis of selected online video markets by engagement indicates that viewers in Canada and the United States averaged the highest number of videos per viewer in October, at 303 videos and 286 videos, respectively. Viewers in the UK averaged 268 videos per viewer during the month, while viewers in Turkey and Germany both watched an average of 250 videos.