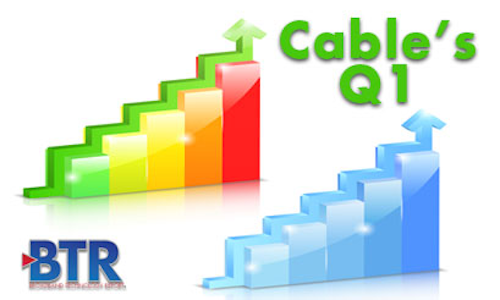 The big three cable guys (soon to be big two?) were pleased as punch with themselves this week as they announced first quarter results.
Time Warner Cable (NYSE:TWC) reported 236,000 net customer relationship adds, which is the company's best quarter ever, said William Osbourn, Jr., SVP, controller, and chief accounting officer. Video growth continued with 21,000 net adds, and broadband saw 314,000 net adds. On video, 83% of connects came from preferred TV with around 12% coming from the starter package, and the balance from expanded basic.
TWC Maxx is progressing at pace. By the end of the quarter, digital conversion and broadband speed increases were complete in half of the company's footprint, with another quarter of the footprint underway. TWC's IPTV trial in New York has provided "encouraging" positive feedback, said Robert Marcus, TWC chairman and CEO, noting that the customers involved "really appreciate that we're attuned to what they are looking for."
"The IPTV trial and where the world is going in terms of allowing customers to experience our products without necessarily leasing CPE from us, I think that's just one example of an overriding trend, which is that our industry is increasingly following the consumer," Marcus said.
The FCC recently circulated a proposed order that would approve TWC's merger with Charter Communications (NASDAQ:CHTR) and Bright House Networks, and the Department of Justice filed a consent decree completing its role.
"This brings us two steps closer to the consummation of the merger. We now await the final votes at the FCC and the California PUC. And we are optimistic that the transaction will close sometime next month," Marcus said.
Thomas Rutledge, Charter president, CEO and director, noted that at the California PUC, the administrative law judge assigned to the case has recommended that the transactions be approved. The vote is expected on May 12. If the FCC does approve, the merger is expected to close shortly after that date.
"After a lot of creative thought, we've decided to call the new company Charter. Our first priority is to get our people in the right roles and reporting structures with the right responsibilities," Rutledge said.
At close, new digital rollouts will be paused briefly at TWC and Bright House, and then restarted, deploying fully enabled two-way set-top boxes "everywhere" and discontinuing DTA deployments. At this time, there will be new packaging and pricing across all 36 million passings at the two companies. Charter's all-digital transition is already completed, and secure two-way boxes have been installed on every residential outlet.
"This change in practice allows us to fully scale our self-install practices beyond what we did during all-digital. Electronic disconnects and self-installs will provide significant benefits to Charter systems in the coming years," Rutledge said.
For its part, Charter reported that total video customers grew 15,000 during the quarter, with 10,000 of those being residential. The TV app for mobile devices and media players has been fully deployed for content delivery in and out of the home. The cloud-based UI was launched in St. Louis recently, in addition to Reno, NV. The plan is to have it rolled out in all historic Charter markets by the end of 2016. The guide rollout plans for TWC and Bright House markets are being worked out, but Rutledge did say that the guide rollout will be coordinated with market-by-market plans for all-digital and new pricing models.
Meanwhile, at Comcast (NASDAQ:CMCSA), Brian Roberts, chairman and CEO, reported 53,000 video customers added in the quarter, making the company video net add positive over the past 12 months.
"This important milestone has eluded us for nearly a decade, and we have now accomplished it within the context of an unprecedented pace of change in this industry, including the steady drumbeat of new competitors and new offers," Roberts said.
Roberts said voice-controlled remotes are the "latest example" of how Comcast is differentiating itself in the market. Six million have been deployed. There have been 160 million commands on the voice remote.