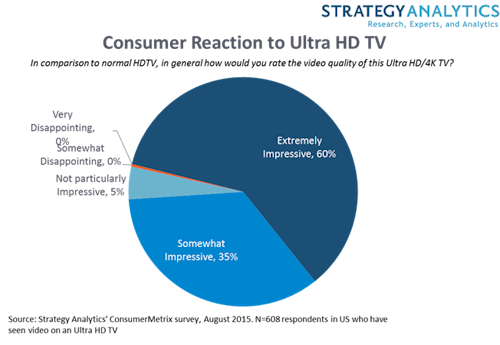 Market research firm Strategy Analytics predicts that by 2020, 61% of TV sets sold worldwide will have UltraHD capability. The technology will begin its climb to dominance this year, as Strategy Analytics believes that global sales of UltraHD-equipped sets will surpass 30 million units in 2015.

The market analysts cite price declines, growing retailer support, and strong customer satisfaction as driving near-term success for UltraHD. On this last factor, Strategy Analytics says an August 2015 survey of 2,000 U.S. consumers revealed that, of those who had seen an UltraHD broadcast, 95% said they were extremely or somewhat impressed.

Nearly two-thirds of survey respondents said they had heard of UltraHD, and 30% said they had seen an UltraHD TV in action somewhere.

"UltraHD is rapidly becoming a de facto standard in the large-screen TV market," commented David Watkins, director, Connected Home Devices, at Strategy Analytics. "As prices fall, Tier 1 vendors like Samsung, LG, and Sony are now looking to entice customers with enhanced UHD TVs which add wider color gamut and high dynamic range capabilities."

"Early consumer reaction makes it clear that UltraHD is here to stay," added David Mercer, principal analyst. "Service providers in pay-TV and online video are now responding to this demand by launching new UltraHD services, and we expect this to be a major trend in the TV industry in the next few years."