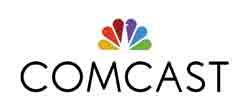 Comcast (NASDAQ:CMCSA) is upgrading its services in the Santa Cruz, CA, area. Starting Aug. 11, the MSO plans to launch 30 new video networks, increase the speeds of two of its residential Xfinity Internet tiers at no additional cost to customers, and introduce four new tiers of Internet service for commercial business services customers.
Comcast is increasing the speeds of its residential Performance Internet tier from 16 Mbps downstream and 2 Mbps upstream to 75 Mbps downstream and 5 Mbps upstream. The Blast tier speed is increasing from 25 Mbps downstream and 4 Mbps upstream to 150 Mbps downstream and 10 Mbps upstream.
Area Xfinity TV video upgrades include two new HD channels, 23 new SD channels and five new international channels.
Comcast Business is also launching four new Internet tiers in the area. In addition to the previously offered Starter (16/3) and Deluxe 50 (50/10) tiers, Comcast Business will now offer Deluxe 25/10, Deluxe 75/15, Deluxe 100/20, and Deluxe 150/20 speed packages to small and medium businesses in the area.
The new programming and Internet offerings will be available to residences and businesses in Aptos, Ben Lomond, Boulder Creek, Bonny Doon, Brookdale, Davenport, Felton, La Selva Beach, Lompico, southern Los Gatos, Mount Herman, Santa Cruz, Scotts Valley, Seascape, and Soquel.