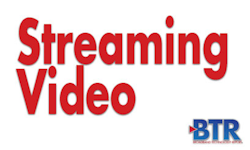 24i has launched a suite of applications and subscription video on demand (SVOD) services for BroadwayHD, a U.S.-based video streaming service for live theatre.
BroadwayHD is available online at broadwayhd.com and via a dedicated app on iOS, Android, Apple TV, Amazon Firestick and Roku.
"We're committed to providing the very best Broadway streaming experience to our growing global fanbase," said Stewart F. Lane and Bonnie Comley, co-founders and co-owners, BroadwayHD. "We're extremely pleased with the OTT solution provided by 24i, which has enabled us to launch our next-generation video service across multiple platforms and devices, introduce new business models and refresh and enrich our user experience. The high performance of this new platform enables us to concentrate on the quality of our content and growing the global audience for BroadwayHD."
24i has worked in partnership with the subscriber retention management company Cleeng to deliver BroadwayHD an end-to-end OTT video solution that simplifies the management, marketing, and monetization of its content while providing subscribers with a personalized experience on any device.
"The quality of the BroadwayHD OTT video service is a testament to their dedication to operational excellence, maximizing their content investments and providing subscribers with the best video experience possible," said Martijn van Horssen, joint CEO of 24i. "Our Video Experience Platform is purposely designed to facilitate the creation of end-to-end OTT solutions with ecosystem partners such as Cleeng, so that our customers can accelerate business growth and focus their resources and expertise on creating great content for their subscribers."
BroadwayHD is using 24i's Video Experience Platform to create branded video experiences and applications while being able to manage and monetize its content on any platform and device. Cleeng's subscriber retention management feature is intended to help BroadwayHD analyze, predict and optimize its video services through churn intelligence and payment solutions.