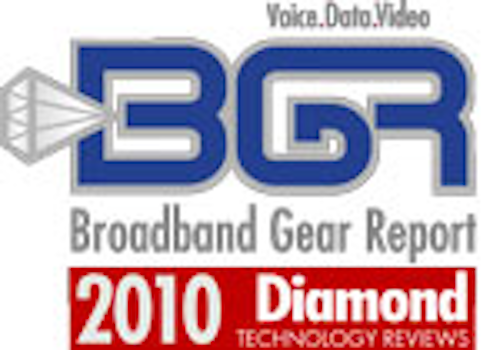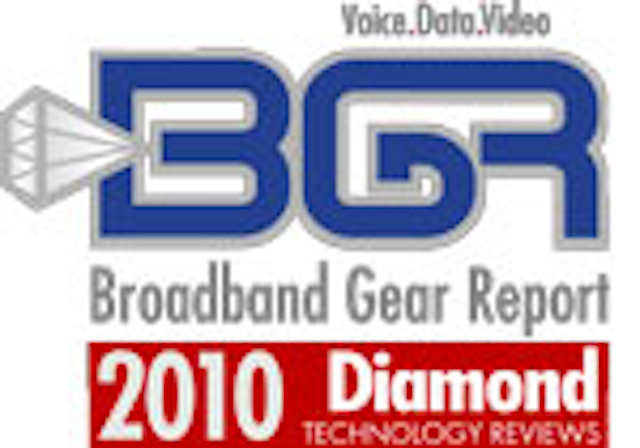 [SWF]http://broadbandtechreport.com/wp-content/uploads/2010/08/1-banner.swf, 250, 205[/SWF]
BGR's
Diamond Technology Reviews, now in its sixth year, is a technology recognition program wherein vendors serving the broadband cable industry are invited to submit information about products that had been released or upgraded since last year's
SCTE
Cable-Tec Expo (which was held in October 2009). We assigned each entry to at least three of our eight volunteer judges who are listed below. To help ensure fairness, similar products from different vendors were reviewed by the same group of panelists. Judges based scores/comments on written material provided by vendors, as well as their own experience with or knowledge of the specific technologies.
BGR's staff played no role in the judging of the submitted products. Review panelists were informed that scores/comments would remain anonymous.
Expo is all about the technology. So that's why BGR always releases the results of its annual Diamond Technology Reviews program ("The Diamonds") at SCTE's show, which is taking place in New Orleans, Oct. 20-22. With much of the industry's engineering brain trust gathered, there simply is no more perfect a venue than this confab to announce the much-awaited Diamonds results.
This year, cable engineering stalwart Steve Johnson of
Johnson Telecom
(formerly of
Time Warner Cable
) headed up the program and recruited a stellar panel of judges. They were frank and open with their opinions, and certainly didn't pull any punches. What follows are the Diamonds 2010 entries they named as most worthy of the industry's careful consideration.
SPONSORED PRODUCT ALERT
Three Screen Transcoding & Ad Insertion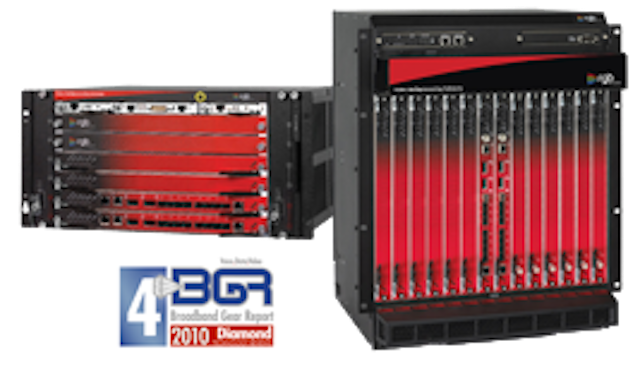 Come learn why RGB's integrated
Video Multiprocessing Gateway (VMG)
was given a coveted "4 diamond rating" by BGR's distinguished panel of MSO engineering executives.
We believe it has everything to do with the VMG's unique merging of a powerful transcoding and ad insertion engine with carrier-class reliability and scale, which allows operators to easily deliver video to TVs, PCs and mobile devices from a single, high-capacity platform, while generating new revenue.
Click here to learn more now
or visit us at
Cable-Tec Expo – booth #2025
.
Diamonds Judges 2010
(in alphabetical order)



Jeff Chen: Senior VP Advanced Technologies, Bright House



Tom Gorman: VP, Field Operations, Charter



Jim Kersnowski: VP Technology Integration, Video Support, Time Warner Cable, Advanced Technology Group



Bob Legg: VP of Technical Operations, Suddenlink



Patrick O'Hare: Senior VP Field Operations, Comcast



Tim Templeton: Engineering Manager, Sunflower Broadband



Alan Tschirner: VP Hardware, NCTC



Ken Williams: Director, HFC Architecture, Cox



Judges used the following scale to determine Diamonds scores:
0-1:
Useful product, yet commodity
2-3:
Solid product with viable attributes that set it apart
4:
Excellent product with technical features and performance that provide clear and substantial benefits
5:
Superb product that sets new standards for performance and provides groundbreaking and new technical milestones
Each product's scores were averaged and rounded to the nearest full or half Diamond. Note that products are grouped by score (with the highest Diamonds ranking first), and then in alphabetical order.
Scores of 4 or above are considered superlative and reflect a very positive opinion from the panel. Only products receiving 4 Diamonds or above are included in this article.

NEW - BelAir Strand Picocell

5 Diamonds | Booth #951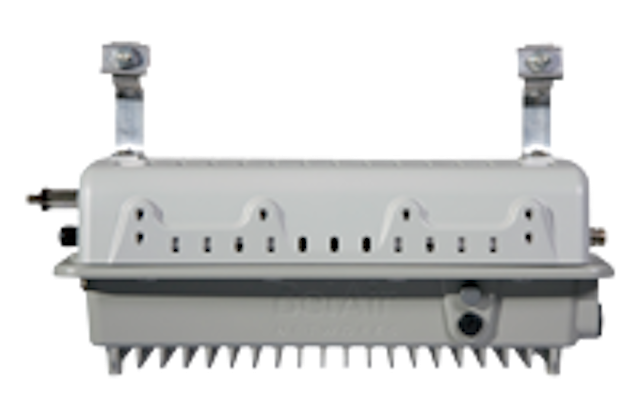 One of only two products to receive five Diamonds this year, the BelAir100SP is the industry's metropolitan Picocell that leverages existing aerial, pedestal, cabinet or vault HFC plant for power, mounting and backhaul, the company says.
Judges lauded the new product for offering the opportunity to provide new revenue sources, while reducing the operational expenses associated with traditional cellular network deployments. Cable operators are already leveraging their HFC infrastructure to backhaul mobile traffic from mobile carriers' 2G and 3G macrocells. The BelAir100SP enables ops to extend and solidify this relationship, and increase revenues, by becoming a managed wireless service provider with a hosted base station offering for their mobile carrier customers. The product leverages the carrier's own licensed spectrum to deliver small-cell, high-capacity voice and data coverage that integrates with the mobile carrier's 3G macrocell network, BelAir Networks reports.
The new product also enables the cable operator to locally offload the mobile carrier's data traffic via Wi-Fi further reducing congestion in the cellular network. Ops also can leverage the same BelAir100SP network to deliver WiFi services to their own customers, as a fee-based service or as an on-the-go complement to their residential broadband service.
In addition, Diamonds judges were equally impressed with the product's design. "Providing wireless services from the cable infrastructure is brilliant. Leveraging cables, transport, powering and location is the perfect union for wireless spot and fill-in delivery of service," one Diamonds judge says.
According to BelAir, other unique features include:



Combination of licensed and unlicensed bands on a single base station



Carrier-grade edge based security



Edge-based policy enforcement integrating with cable operator's policy management systems



Network-wide mobility and QoS.



www.belairnetworks.com
Upgraded - Imagine ICE System With Video Quality Assurance

5 Diamonds | Booth 431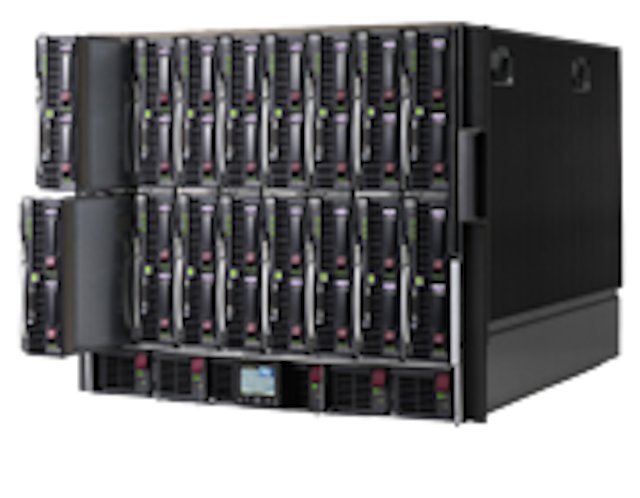 According to Imagine Communications, its ICE Broadcast System -- an upgraded product since its inception in 2007 -- is the first video processing product to combine the digital and IP networked interfaces of statistical multiplexers with the video quality and compression efficiency of high-end encoding platforms.
The system reportedly helps broadband cable engineers reduce operational expenses and develop new revenue sources by:



Enabling up to 50% more streams over the existing network. This benefit can be used to add or expand new revenue generating services, or to reduce edge QAM expenditures associated with each individual service



Improving per‐program video quality and service reliability, reducing churn and quality related truck‐roll costs



Reducing rack‐space and power requirements



Cutting labor, materials and core router port use costs by up to 97%



"This product effectively solves video bandwidth utilization vs. traditional video encoding systems. Compression of high-definition video at 3:1 without negatively affecting video quality allows operators to offer a more competitive lineup without the cost of expensive system upgrades," one impressed Diamonds judge reports.
More specifically, Imagine says the product offers cable operators the following:



Video quality: The ICE Broadcast System has been tested by video quality professionals and subscribers, and is ranked as a top product for HD and SD high-density multiplexing and bit rate clamping.



Video quality assurance (VQA): ICE VQA is fully integrated into the ICE Broadcast System. The benefit of that integration is that quality grading is not a separate and adjunct process. The quality grades reported by the ICE VQA are used to more efficiently compress the streams. It is physically impossible for the grading mechanism to reflect anything other than the moment to moment "truth" of the system performance, Imagine says.



SW flexibility:The ICE Broadcast System is a unified platform for a wide array of advanced video processing applications. MPEG‐2 statistical multiplexing and rate‐clamping, multi‐codec transcoding, real‐time and off‐line file processing, multi-rate, multi‐resolution and multi‐screen stream adaptation, IP aggregation, 3D stream synchronization and processing and many other applications can all be loaded on to the same unified hardware infrastructure.



Operational efficiency: The system offers stream‐count density, QAM density, IP cabling, rack‐space and power savings and hot‐swap system components.



www.imaginecommunications.com
NEW - ARRIS ServAssure Live!

4.5 Diamonds | Booth 1053
ARRIS' ServAssure Live! deserves 4.5 Diamonds, says one judge, because it is a "proactive vs. a reactive network management" tool.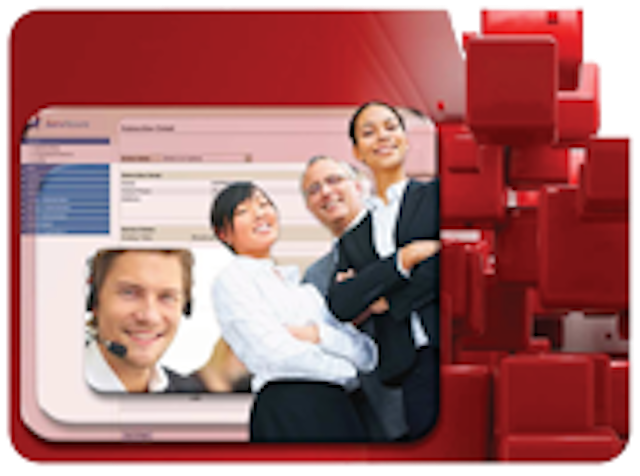 Essentially the product is a real-time, subscriber-centric troubleshooting tool that offers technical/customer service reps (TSRs/CSRs) real-time data to help them instantly detect service degradation, perform diagnostics and remotely repair devices. As ARRIS says in its marketing materials: "Rapidly identifying service issues and their cause means TSR/CSRs spend less time eliminating the possibilities and more time resolving issues and satisfying subscribers."
Other Diamonds judges agree. This is an "excellent CSR tool that consolidates performance of all network devices in a customer's home with the potential to become the "red" or "green" light of visibility into the home," one of our panelists explains.
ARRIS reports that the product also helps MSOs reduce the length of subscriber service calls and improves issue resolution during the first call, enabling more resources to be allocated to revenue generating activities. Other features of ServAssure Live! include:



Gathers real-time data from network devices for instantaneous service and network visibility



Offers a subscriber-centric view for rapid troubleshooting of customer issues



Provides real-time network discovery for minimal impact and no scheduled polling of devices



Includes Web services for flexible integrations with existing OSS systems



Provides a consistent source of data for all OSS tools



www.arrisi.com

NEW - ARRIS Whole Home Solution

4.5 Diamonds | Booth 1053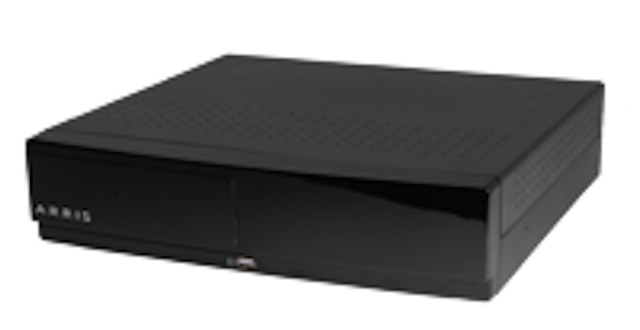 Home gateways are the future for cable operators, as a Diamonds judge notes, so it's no surprise ARRIS' Whole Home Solution was ranked so high among this year's entries.
With the Whole Home Solution as the access point for a true triple-play consumer experience in the home, ARRIS says operators can drive increased revenue via media sharing as an added service, revenue share with OTT providers, increased VOD library purchases with search integration and premiere placement of available titles, and targeted advertising possibilities. At the same time, the technology can allow them to separate the network infrastructure updates from the subscriber experience.
Leveraging open standard DLNA technology while adhering to DRM and CableCARD conditional access requirements, the product also enables subscribers to access media from existing CE devices for playback anywhere in the home. Some supported devices include gaming platforms, PCs, NAS or portable DLNA devices.
The hub of the Whole Home Solution, the ARRIS Gateway integrates DOCSIS 3.0 high-speed data (eight channels downstream, enabling up to 320 Mbps, and four upstream channels enabling up to 120 Mbps; six MPEG-2 tuners; whole home HD DVR with 500 Gigabyte hard drive for recording storage; Ethernet home networking router (optional 802.11n), MoCA 1.1; CableCARD security; two lines of carrier class telephony; and an industry standard DLNA server to personalize the experience with the subscriber's own content.
"The features with this platform provide the stickiness needed to keep subscribers happy and ensure an increasing QoE," a Diamonds judge says.
www.arrisi.com
Upgraded - Harmonic's ACE Any-to-Many Transcoder

4.5 Diamonds | Booth 1251

How do you foster the "any video to any device" environment demanded by consumers today -- in a cost-effective and scalable manner? Harmonic puts forward its ACE Any-to-Many Transcoder as the answer. The solution is an upgrade that extends the density and functionality of Harmonic's ProStream 1000 stream processing platform.
According to Harmonic, the ACE transcoding technology offers the industry's first truly converged high-density, high-quality transcoding platform, supporting MPEG-2 and MPEG-4 AVC (H.264) transcoding of up to 20 HD or 80 SD video and audio channels in a compact and power-efficient 1RU chassis.
This scalable IP-based transcoder supports a number of applications including real-time transcoding for digital turnaround (DTA), mobile video, Internet TV and digital program or advertisement insertion. In addition, ACE's power-efficient design helps operators reduce OPEX and their carbon footprint, using only 10W per HD and less than 3W per SD channel, according to Harmonic.
The ProStream 1000 with ACE offers other features including:



"Any-to-Any": Transcodes any combination of MPEG-2, MPEG-4 AVC, HD, SD and numerous audio codecs, including HD to SD down-conversion.



"Any-to-Many": Multiple output streams per input service to simultaneously support broadcast digital simulcast/triplecast, switched digital video and VOD services.



Support for mixed statistical multiplex pools of transcoded and encoded services with Harmonic's DiviTrack statistical multiplexing.



Enhanced audio processing including transcoding and level adjustment, able to transcode any broadcast audio codec.



Control and management: ACE can be configured and operated either through a standalone Web interface or with Harmonic's NMX Digital Service Manager for mass configuring, monitoring and automated redundancy in centralized or distributed architectures.



www.harmonicinc.com
Upgraded - Harmonic's Electra 8000 3D Capability

4.5 Diamonds | Booth 1251

Harmonic's Electra 8000 encoder also garnered an impressive 4.5 Diamonds. This upgraded product, which was known for its ability to deliver high-quality HD, now supports new applications such as 3D television. Currently Harmonic powers DIRECTV's new 3D HD channels and ESPN 3D service, which can be viewed on compatible 3D-ready TV sets.
"This is a nice evolution of a current product. It is already close to being the best in this space. Adding 3D makes it better," a Diamonds judge says.
The Electra 8000 supports 3D, HD and SD compression, in MPEG-4 AVC and MPEG-2 formats. A full range of HD formats up to full-resolution 1080p 50/60 are supported, as well as integrated statistical multiplexing, broadcast quality up/down-conversion and other features such as Jünger Level Magic automatic audio leveling adjustment, Harmonic says. Electra 8000's architecture, featuring up to four channels in a single rack unit with simultaneous secondary output, reduces operational costs with its high density and power efficiency, and facilitates the launch of new value-added video services, the company adds.
www.harmonicinc.com
NEW - IneoQuest Expedus DVA

4.5 Diamonds | Booth 2139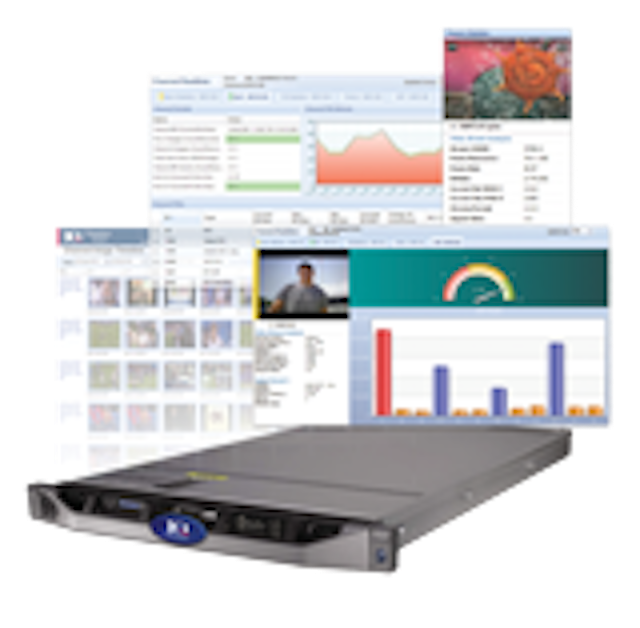 The Diamonds panelists hail IneoQuest's Expedus DVA as a "system standout." It's easy to see why.
The Expedus DVA digital video analyzer provides the full perspective, correlating QoS and QoE to detect transport degradation trends proactively before they have a visible impact on the subscriber's experience. Additionally, the system provides powerful tools for ad insertion analysis, loudness compliance, EBIF and PSIP verification. With this system, network engineers can ensure total video integrity in all points where the video content is modified, and integrated with the iVMS management system, IneoQuest says.
"This is indispensible technology for digital video transportation, monitoring QoS (link performance) with QoE (multiple channels and parameters) with network topology awareness," one Diamonds judge says.
Another judge adds: "This is a cost-effective system approach that addresses end-to-end performance enhancement and impairment correlation. There is a huge customer experience benefit delivered through having real-time analysis of source material to each network segment."
www.ineoquest.com
Upgraded - InnoTrans Communications Chromadigm

4.5 Diamonds | Booth 2215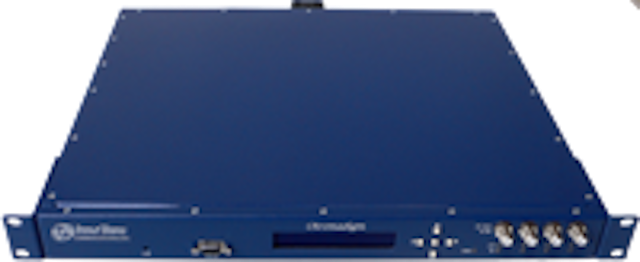 The Diamonds judges were impressed with InnoTrans' Chromadigm technology. As one panelist puts it: InnoTrans has "really come up with some powerful tools to migrate to advanced RF and optical architectures," at a lower cost – and most of the other judges who reviewed the product concur.
InnoTrans points out three distinct features of the solution:



Unlike other O-Band and 1,550 nm direct modulation transmitters, InnoTrans' "Chirp Free Technology" results in distance independent performance and is immune to optical filter ripples. Its patent-pending technology is not based on specific link distances.



InnoTrans' transmitters offer a higher OMI (optical modulation index) than the industry standard, ensuring a higher performance at a lower optical power. These lower powers reduce the cost and improve the reach while allowing more wavelengths to be launched in the fiber.



Chromadigm has a built-in circuit that minimizes laser clipping. This benefits the cable operator in two ways, InnoTrans says. It allows for higher OMI transport and it results in the industry's highest QAM specification of 38 MER and BER < 1E-09.



"This product breaks previous technical barriers to multi-wavelength AM links. Now the cable operator can operate up to 8 full load analog links up to 20 km while not only maintaining performance, but actually improving link performance. Before this product's availability, operators faced technical performance hurdles or had to use dark fibers, if available, to leverage existing fiber routes," one Diamonds judge notes.
www.inno-trans.com
Upgrade - JDSU's PathTrak and MACTrak Technology


4.5 Diamonds | Booth 1644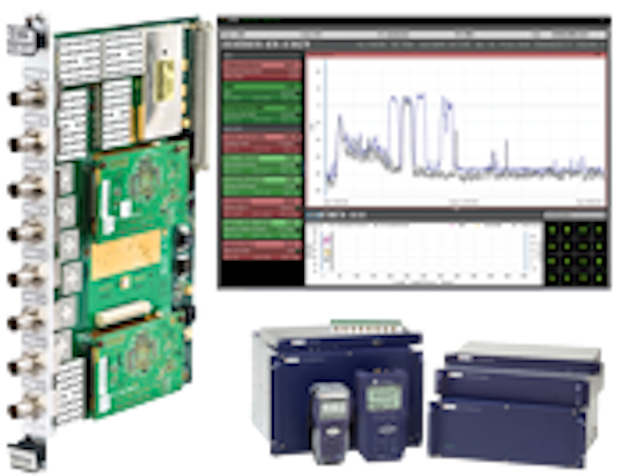 As operators continue DOCSIS 3.0 rollouts, they are discovering that better tools are needed to troubleshoot which impairments are causing service impairments and how to quickly determine root cause to keep customers satisfied. JDSU's PathTrak 2.5 and RPM 3000 MACTrak technology does just that.
This upgraded product allows "the technician to identify impairments to service and to filter on a customer's MAC address. The tech can determine when the problem occurs and if a problem fixed was really the one that was causing the customer's issue. "The operator's arsenal of weapons to combat repeat service calls just grew larger," one Diamonds judge explains.
PathTrak builds on JDSU's capability to demodulate live customer modem packets in bursty DOCSIS upstreams by adding MACTrak capability in WebView 2.5. With MACTrak, operators can see the MAC address for each packet demodulated allowing localization of certain impairments down to a street address using their existing back-office billing systems.
In addition, WebView 2.5 adds codeword error detection to indicate which impairments are impacting packets at the data level. Operators can know, not guess, which impairments are affecting their customers experience and see the impact in real time with codeword error detection.
NEW - JDSU Fiber Inspection and Test System


4.5 Diamonds | Booth 1644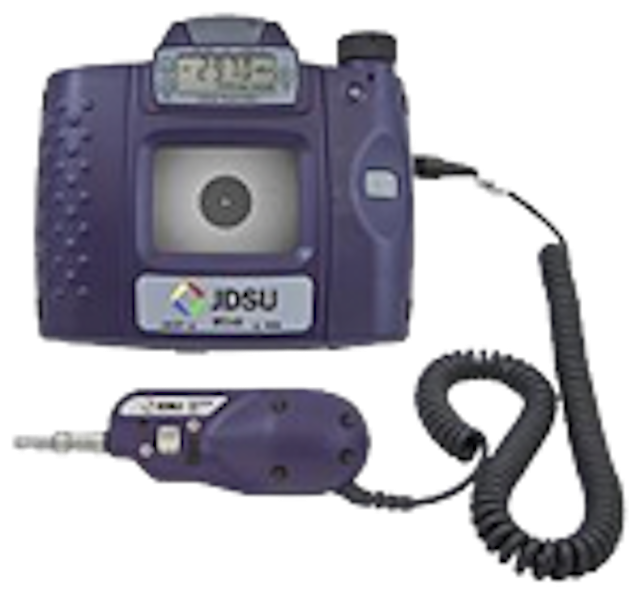 Contamination is often the number one source of troubleshooting in optical networks. However, many technicians do not proactively inspect for contamination because of the extra time it takes to do so. A single particle mated into the core of a fiber can cause significant back reflection, insertion loss and equipment damage. Visual inspection is the only way to determine if fiber connectors are truly clean before mating them.
With proactive inspection, broadband engineers can reduce network downtime, reduce troubleshooting, optimize signal performance and prevent network damage. With JDSU's new HP2 Series, engineers get a portable fiber inspection and test system that combines the two most fundamental fiber optic test tools – an optical power meter and an inspection microscope. This pairing gives operators a low-cost product for inspecting and testing fiber in a single device, JDSU says.
For broadband engineers, the result is a significant increase in workflow efficiency. The HP2 streamlines inspection-test procedures, reduces cycle times and improves throughput. Furthermore, it costs less than purchasing those devices individually.
"JDSU's fiber inspection and test system makes it easier than ever to keep contaminants out of optical networks," a Diamonds judge says.
Upgraded - Spirent Tech-X Flex Field Solution


4.5 Diamonds | Booth 604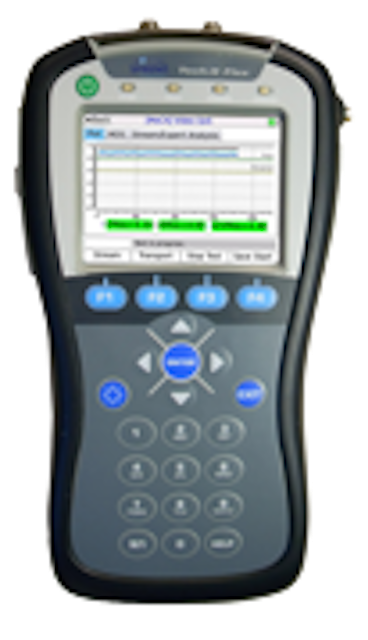 Cable providers have spent billions of dollars on both network and access infrastructure, but the in-home network can of course be a potential stumbling block without proper test devices. Operators could face large numbers of CPE returns, extended install/troubleshooting times, and customer churn without the right testing products, Spirent says.
That's why the company created the Spirent Tech-X Flex, which offers operators a field test product with a modular architecture that provides measurements for cable services delivered using DOCSIS 3.0 over HFC networks and MoCA home networks. Specifically, Spirent reports that the solution helps cable engineers:



Reduce operational cost: The modular platform enables field technicians to test multiple in-home networking technologies such as RF, DOCSIS 3.0, MoCA WiFi, CATV and IP video, which ultimately reduces the cost of maintenance, upgrade and handling in the field.



Reduce capital costs: Field technicians no longer need to invest in separate and expensive field test tools for RF, DOCSIS 3.0, MoCA WiFi, CATV and IP video.



Improve technician productivity: The unit's technology increases technician installation and maintenance productivity through automated test scripts with pass/fail thresholds, backoffice integration, trouble-ticketing and cutting-edge test features.



Improve problem identification and resolution: With features such as MoCA, WiFi, and IP video, technicians can now verify proper CPE functionality before returning units for repair.



NEW - ARRIS CORWave DW


4 Diamonds | Booth 1053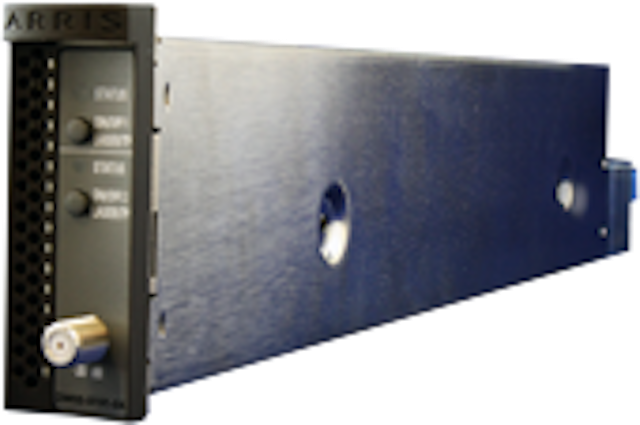 Judges gave ARRIS' CORWave DW a notable 4 Diamonds citing its impressive energy and heat efficiency. The new product is a forward optical transmitter with two lasers in a single wide application module. This feature allows the cable operator to immediately reduce rack space needed for forward transmitters by 50%. In addition, the new design consumes roughly 7 watts of power per transmitter, which ARRIS says is the lowest power consumption among comparable forward transmitters in the industry.
The CORWave DW is available in both front and rear fiber connections, providing flexibility based on the cable operator's headend design. It's also optimized for both analog and digital channel loading, supporting cable operators' efforts toward the digital transition. Backwards compatible with legacy CHP chassis, it does not require a cable operator to make a completely new investment. The CORWave DW uses the existing CHP chassis power supply and application slots. In addition, the product offers an extended linearized version suitable for European operations that value reduced footprint and powering.
Upgraded - Aurora Next-Gen RFoG Solution


4 Diamonds | Booth 1552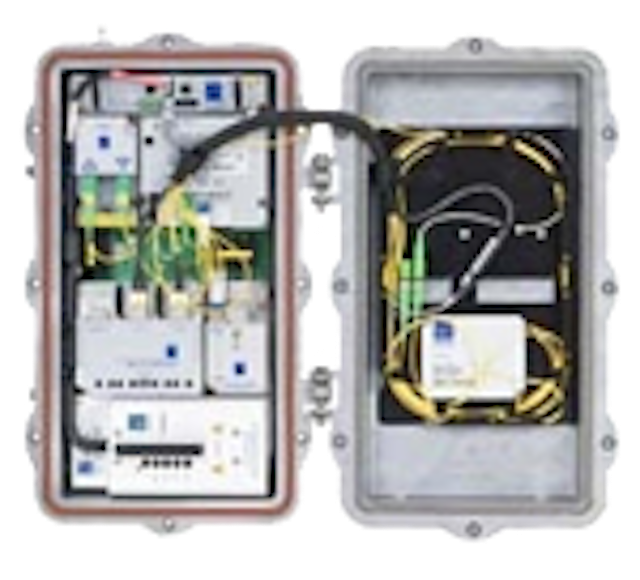 Cable operators can future-proof their RFoG deployments to support PON capabilities by introducing Aurora Networks' Node PON module into RFoG architectures. The next-generation RFoG product is an optical transmission system that brings fiber connectivity to the doorstep of residential and business customers.
By deploying the RFoG platform, Aurora says cable operators can eliminate costs associated with maintaining legacy HFC equipment by reducing the number of amplifiers and line extenders in the network. Cutting the number of actives results in reduced energy costs and maintenance/repair issues associated with these devices.
Also new for the RFoG product is the OR3144 module for direct-fed "all passive" deployments, which integrates filtering and four analog receiver functionality into a single device. The OR3144 provides low-noise performance and is optimized for DOCSIS 3.0-supported broadband services providing up to a 10 dB improvement in performance.
"Considering that no technology works if the network is down, Aurora has designed a solution that applies engineering science where it's needed the most – behind the curtain," one Diamonds judge says.
Upgraded - BigBand vIP PASS


4 Diamonds | Booth 1421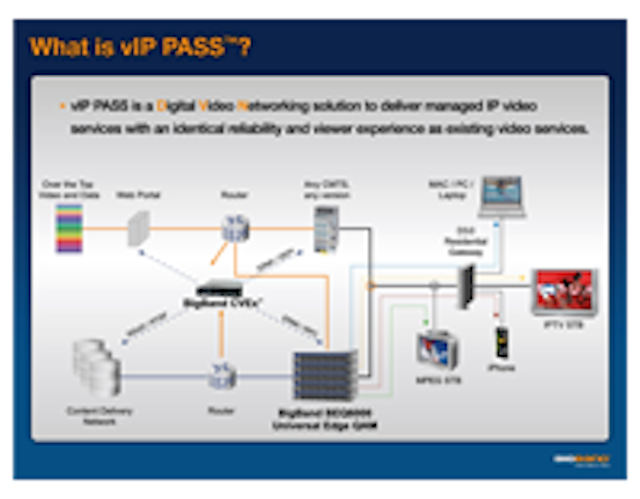 BigBand Networks' new extension to its vIP PASS product enables MSOs to manage and monetize video delivery to consumer electronic devices such as gaming consoles, the iPad, Blu-Ray, mobile devices, PCs and more. The upgrade allows cable operators to reuse existing switched digital video technology to deliver managed IP video services to IP-enabled devices within the home.
"BigBand provides a great solution to further migrate to IP video delivery schemes over multiple devices," one Diamonds judge says. Another judge adds that this product is "useful for the small operator. It offers an off-the-shelf IP video solution."
Cost savings is another reason judges liked the vIP PASS upgrade. According to BigBand, the vIP PASS approach has the ability to save the industry up to 75% of its capital expenditures for CMTS expansions, or up to $2 billion over the next two years. That's certainly worth 4 Diamonds.
NEW - CommScope BOS-RX Receiver


4 Diamonds | Booth 736

The CommScope Return Path Receiver (RPR) is designed specifically for the delivery of DOCSIS 3.0 services in RFoG applications. What helped this product score a 4 Diamonds Review were three key features:



Low equivalent input noise (EIN): The receiver has a <1.5 pA/rt Hz EIN. Conventional receivers on the market are at 8pA/rt Hz or higher.



Optimized for low optical power into the receiver: The RPR input power specification is -13 to -28 dBm, much lower than traditional receivers built for point-to-point applications, CommScope says.



Optimized for chaining receivers: Because the outputs of multiple receivers are often combined before feeding other equipment, it is important that an individual receiver not adversely impact the network, CommScope points out. To prevent this, a muting capability is implemented at the output of the CommScope receiver. As a result, there is no RF signal at the output of the receiver circuit when no RFoG ONU signal is received.



"The key features that set this product apart are increased return link budget, muting, which is very important with RX's shared by relatively few ONUs (at least initially, thus minimizing the noise contribution on combined RF upstreams in the RFoG PON environment," one Diamonds judge comments.
NEW - Harmonic Scalable Node


4 Diamonds | Booth 1251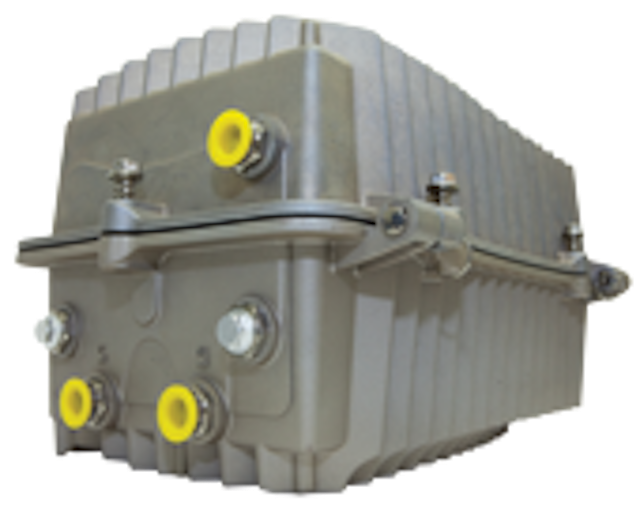 Harmonic's PWRBlazer 3142 deserves 4 Diamonds for its "superb feature set," says one Diamonds judge. The PWRBlazer is a compact 4x4 scalable optical node that addresses the need for a dense, cost-effective node with forward and return path flexibility. Redundancy and four-way segmentation options, offered in both forward and return paths, enable the PWRBlazer 3142E to economically deliver broadcast services and support narrowcast services such as VOD, data or telephony.
"While other manufacturers are reducing node sizes and cutting features/options, Harmonic has kept at the functionality of a full-sized scalable node, which is very important to retain segmentation capabilities even at fiber's deeper locations," a Diamonds judge says.
PWRBlazer 3134 also boasts the following cost-saving features:



Up to four high-level outputs enables cost-effective network design.



Four-way segmentable forward and return paths allow efficient network segmentation to support expanding interactive services.



Separate RF slope and level controls provide maximum flexibility in network configuration.



NEW - IneoQuest Cricket AdapStream


4 Diamonds | Booth 2139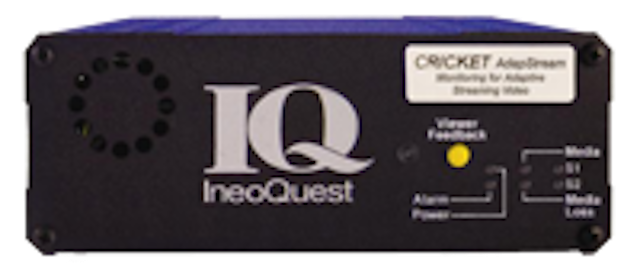 As delivery to the three screens and adaptive streaming become increasingly important to cable companies, Cricket AdapStream offers an important monitoring product for today's needs. The product helps cable engineers and operators proactively identify delivery problems before they impact viewers, and it enables root cause analysis for efficient problem resolution.
Calling the product a new enabler, one Diamonds judge says: "It will enable operators to expand offerings and the QoS required of those offerings to multiple screen types."
IneoQuest reports that Cricket AdapStream supports the top adaptive streaming protocols in the market including Apple's HTTP Live Streaming and Microsoft's Smooth Streaming. The product also integrates into the end-to-end monitoring system of the delivery network allowing for centralized management of the video and audio signal throughout all processing points for quick fault correlation and resolution.
NEW - Motorola EDGE Service Assurance


4 Diamonds | Booth 1245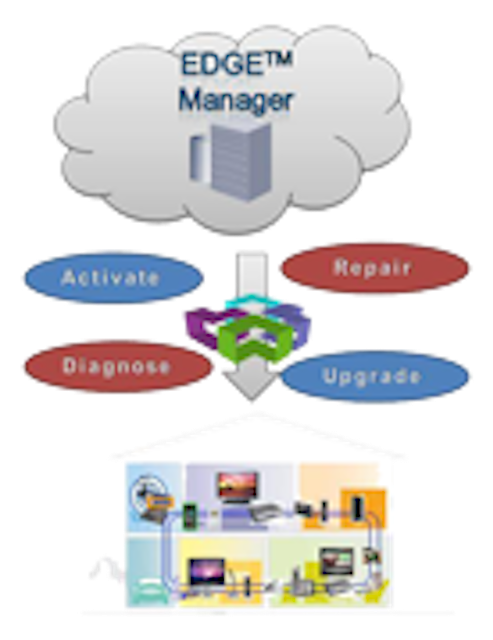 The Motorola EDGE Service Assurance Software Platform allows service providers to expand broadband service revenues, while reducing operational and support costs through automated service provisioning and comprehensive device management.
The software provides a single platform for the management of the home network, combining monitoring of deployed Motorola or third-party devices with integration into existing legacy provisioning and support systems. The software platform includes a variety of applications and including WiFi, voice and mobile manager modules, HomeNet application for home network management, HomeCenter multi-screen self-service consumer interface, video set-top management solutions, SpeedTest, DevicePortal cloud-based remote gateway interface and eCare remote PC assist tool for help desk agents.
"EDGE can give customer contact teams the ability to solve home network and customer premise issues quickly, some without a tech visit, saving money, satisfying subs, and allowing operators to target service visit efforts for quick resolution," a Diamonds judge says.
More features of the software include:






Provides remote end-to-end management software for service and device monitoring, including TR-069, SNMP, OMA-DM,WIB, Telnet and HTTP DL Server protocols



Provides visibility into the home network to other LAN devices



Automates activation and troubleshooting, monitor usage and broadband performance



Can be hosted by Motorola or licensed for on-site deployment



Dashboard console reporting



Is expandable to new use cases with built-in Java scripting



Upgraded - RGB Networks VMG


4 Diamonds | Booth 2025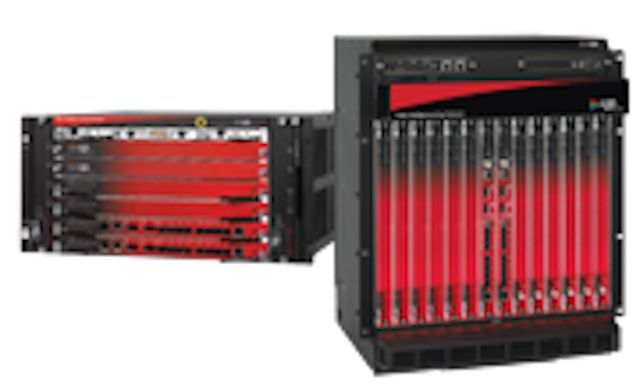 To address the challenges operators encounter as they migrate their networks to a new delivery model, RGB Networks introduced the Video Multiprocessing Gateway (VMG) — a scalable video processing platform for the cost-effective delivery of video to one, two or three screens.
RGB says its VMG provides a converged model for delivering and monetizing video across various consumer electronics devices, while delivering digital broadcast services in a modular and high-availability platform.
Its video processing capabilities include transcoding, transrating, IP video packaging, ad insertion and program substitution for HD, SD, MPEG-2 and MPEG-4/H.264 program streams. It's also available in an integrated, flexible configuration. By combining these capabilities within a single, carrier-grade chassis, the VMG reduces the costs for operators to expand their current MPEG-2 services, begin delivering MPEG-4/H.264 services and prepare their networks to deliver programming to PCs and mobile devices, RGB explains.
"This is a major product consolidation option for operators with many single function devices. The forward capability of multi-format outputs is a plus for operators," one Diamonds judge says.
NEW - Spirent TestCenter Live


4 Diamonds | Booth 604

Spirent TestCenter Live offers an industry first, says the company, by creating a product with integrated 1/10 Gigabit Ethernet (GigE) live network test, diagnostics and performance monitoring applications.
"TestCenter is one of the most comprehensive suites of performance management for Ethernet networks available. It enables SLA management and support for multiple classes of service through Layer 3," a Diamonds judge says.
According to Spirent, some of TestCenter Live's features allow MSOs to:



Perform active testing to emulate customer traffic for accurate "first-time turn-ups"



Provide sectionalization of service issues and prove restoration of service



Obtain performance metrics and receive proactive notification of degradations that allow them to ensure the health of their Ethernet networks



Deliver competitive service level agreements with proactive service monitoring



Conduct simultaneous on-demand testing and performance monitoring on a single probe.



"As cable operators find SLA maintenance and verification a requirement rather than an option, this platform offers a single solution to provide that capability both in the core and access network elements," another Diamonds judge adds.
NEW - Tektronix Video Quality Software


4 Diamonds | Booth 2127
Calling the VQS1000 software "almost indispensible to cable operators," the judges gave this product 4 Diamonds. The software enables real-time assessment of video impairments on MPEG-2 or H.264 encoded content, including stuck, black, blockiness and compression artifacts.
"The ability to display impairments via the virtualization tool is a great feature, enabling engineers to truly see and understand what is impacting their QOE," a Diamonds judge comments.
The product can be used in three different modes:



With any Tektronix network monitoring probe



Connected directly to a network switch with a video service routed to the PC running the VQS1000 software



As a standalone file analysis application for offline assessment of video quality in captured streams



Upgraded - Tektronix Sentry


4 Diamonds | Booth 2127

EBIF is an important enabler of the new interactive advertising and enhanced TV applications that cable operators want to use for new revenues. That's why EBIF monitoring is the latest capability added to Sentry, which was created by Mixed Signals (recently acquired by Tektronix). Sentry is a monitoring product that enables cable operators to detect, diagnose and repair video and audio errors.
For EBIF-based applications to work properly, says Tektronix, triggers must be embedded into program streams and when these triggers are activated -- by viewers -- the additional data needs to be delivered to set-top boxes. Unlike competing products, the company says Sentry doesn't solely rely on measuring packet loss to determine errors in EBIF-based applications. Instead, Sentry provides visibility into the underlying EBIF data -- both bound (i.e., a request for more information) and unbound (i.e., a game unassociated with a live program).
Complementing its detection capabilities are Sentry's EBIF reporting features, which allow video service providers to identify issues and trends over time. Sentry catalogs all key transactions and interactions it monitors for EBIF for up to 60 days so operators can analyze performance issues at a very high level or closely examine a particular element.
NEW - Trilithic TPNA-1000 Analyzer


4 Diamonds | Booth 1847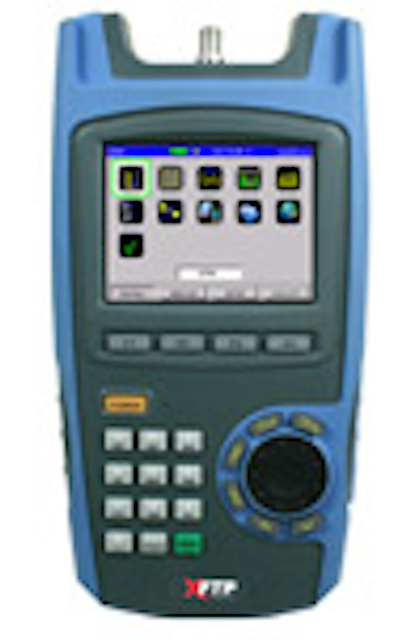 The TPNA-1000 by Trilithic received an impressive 4 Diamonds, with one judge calling it a "very versatile product at a much lower price point."
With a full range of testing capabilities and automated quality assurance tests, a simple user interface, large color screen and a price point of $1,795, the new TPNA-1000 is a cost-effective multi-function analyzer, Trilithic says.
Other benefits of the TPNA-1000 include:



Speed:Simple, quick access to measurements is enhanced by the use of a color display, soft keys and a spin knob. The analyzer performs a variety of user-prescribed measurements in automated tests that are initiated with a single key press, speeding the installation test.



Reliability:The analyzer is hand-held, designed for rugged field use and offers a battery life of more than six hours.



Efficiency:The instrument's color display makes measurement interpretation easy. Automated tests shorten the test process and automatically record measurement results. Firmware updates can be performed using the USB interface.



Capacity:The unit operates over the complete 5 MHz to 1 GHz frequency range, includes simple return path tests for ingress, and provides a set of QAM analysis/troubleshooting tools.



Diagnostic ability:The analyzer performs test functions needed to certify a home network, in addition to providing troubleshooting assistance through QAM constellations, equalizer tap graphs and error vector spectrum displays that enable seeing the spectrum within the QAM channel.



Upgraded - Triveni PSIP Generation System


4 Diamonds | Booth 125

Unique in its support of both PSIP data and DVB-SI data, the GuideBuilder PSIP generation system from Triveni Digital generates the necessary metadata that cable operators require to get channel and guide information to customers using digital televisions with built-in clear-QAM tuners, and those with basic non-decrypting digital set-top boxes. Further, supporting cable operators' shift from analog to digital, the GuideBuilder merges, generates, and manages PSIP/SCTE-65 data. In doing so, the system remaps virtual channels, merges and recreates metadata tables, and ensures the consistency of PSIP/SI information to prevent errors in the transport stream. The system's channel number virtual alignment allows channel numbers to be identical for customers with or without a box, says Triveni.
Designed with an intuitive user interface with drag-and-drop functionality, the GuideBuilder lets cable operators take on metadata management without maintaining extensive knowledge of PSIP data. Operators also can improve their profitability with GuideBuilder, says Triveni, as it supports deployment of DTA boxes with EPG information, in turn boosting revenues and opening the door to introduction of more advanced features and services.
"This is an essential product for PSIP generation into DTV content. Tight integration to various transport, multiplexing, and switching equipment set it apart," a Diamonds judge says.
The following products scored 3.5 Diamonds in this year's program, and merit an "honorable mention" as products to watch.
• Alcatel-Lucent Modular Cooling System (3.5 Diamonds): Calling Alcatel-Lucent's Modular Cooling Solution (MCS) a "well-engineered product that provides a safe, effective answer to the problem of removing heat from electronics in headends," the Diamond judges agree that this is a product to watch.
Alcatel-Lucent says its MCS has the potential to reduce the primary cooling loop energy by as much as 90%. The company says it also reduces the carbon footprint of the headend and uses a safe, non-water coolant that is eco-friendly. MCS uses low pressure pumped refrigerant in a two-phase process to transport "waste heat." The refrigerant is non-carcinogenic, non-conductive and converts to gas at standard temperature and pressure. The MCS is the only cooling product that is NEBS (Network Equipment Building Systems) compliant, and supports servers oriented front-to-back and back-to-front, Alcatel says.
This product "answers multiple needs. It reduces operational costs, it offers a better use of space in a telecom facility and it supports green initiatives," one Diamonds judge comments. (Booth 2039/www.alcatel-lucent.com)
• ARRIS VIPr 2800 (3.5 Diamonds): Converting HD video channels to SD to support SD subscribers, while also increasing local ad sales revenue, is a challenge faced by operators today. To do this, operators need to splice format specific ads into both the HD and SD programs. Currently the solution to these multi-level challenges is a combination of satellite receivers, video encoders, rate shapers and ad splicers.
But with the VIPr 2800, says ARRIS, all of these functions can be performed in a 1RU chassis. The VIPr 2800 down-converts the HD program to SD and also performs ad splicing for local ad insertion. In addition, it supports Automatic Format Description (AFD), which allows the video programmer to specify whether the down-converted SD feed is displayed in either letter-box or center cut format. Because all of these functions are available in a 1RU chassis, cable operators can realize facility savings in rack space, power consumption, and air-conditioning, ARRIS says.
"Ad splicing format conversion, AFD support and audio level normalization onboard make this product a valuable addition to an operator's arsenal," said one Diamonds judge. (Booth 1053/www.arrisi.com)
• Blonder Tongue HDE-2H-QAM (3.5 Diamonds): The HDE-2H-QAM is capable of receiving two inputs in HDMI or component formats, and to encode and multiplex the two program streams into one QAM RF channel, allowing MSOs to provide more programs streams on their existing RF networks without costly upgrades, Blonder Tongue says.
Other standard features of the HDE-2H-QAM include:



Sub-band QAM output channels T7-T14;



GUI-based monitoring and control menu via web browser;



Real-time Dolby Digital (AC-3) audio encoding; and



Supports EIA-608 closed captioning, PSIP configuration and is equipped with an EAS interface.



The Diamonds judges point to the integrated AC-3 support and the sub-return RF output channel selection, as "especially handy for operators that want to upgrade their remote LO feeds to HD." (Booth 1815/www.blondertongue.com)
• RGB Networks' BNP3xr (3.5 Diamonds): Able to simultaneously process more than 760 video streams in 2RU, the BNP3xr is a high-density product for digital video grooming, statistical multiplexing, transrating, digital program insertion (DPI) and digital overlays, RGB says. The Diamonds judges agree, calling the BNP3xr "a lot of power and flexibility in a small package."
An advantage of the BNP3xr, says RGB, is that it enables operators to use the MPEG-4/H.264 bandwidth to roll out HDTV services, while continuing to use traditional MPEG-2 infrastructures for their SD programming. RGB reports that this cost-effective approach reduces operators' cost to expand their HD offerings in a format that consumes less bandwidth than MPEG-2.
Another key feature of the BNP3xr, says RGB, are the new digital EAS capabilities, which comply with the SCTE 18 standard. This feature enables operators to fully integrate the BNP3xr with their existing EAS management systems. Beyond traditional EAS, the true value of these systems comes from their ability to support promotional campaigns, helping operators to drive viewership of new shows and channels, and improving the uptake of new services, such as VOD, RGB says. (Booth 2025/www.rgbnetworks.com)
BGR would like to thank the 2010 Diamond Technology Reviews panel of judges. Without their time and expertise, this program would not be possible.