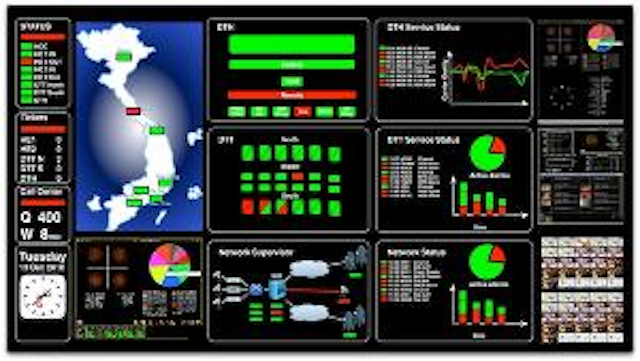 Pixelmetrix
is set to launch its Consolidator network management system, StationView monitoring solution and Electronic Couch Potato (ECP) Video Quality Index (VQI) for video quality verification.
The Consolidator is designed to provide centralized access and visibility of key network fault and performance information. Scalable to thousands of probes and millions of data points, it tracks parameters in real time through a combination of push notifications and information pull mechanisms. It can also give an aggregated view for display on a video wall, combining data collected from different monitoring points within the network. Role-based views and access permissions allow creation of different views based on application, including drill-down screens for troubleshooting and executive dashboards.
The StationView monitoring solution is designed to utilize SNMP without the complexity and hassle of heavy network management systems. Intended for remote transmitter monitoring, StationView consolidates alarms and status from up to 15 remotely located DVStation probes into a dashboard showing RF status, transport stream bandwidth alarms, transport stream health and service/content verification results. Audio and video status are also summarized for each service.
New for the Electronic Couch Potato (ECP) is Video Quality Index (VQI). The video quality measurement tool is designed to scan all channels, identify common video impairments such as macro-blocking, tiling and freeze frame, then combine them to a single integrated metric. Results are consolidated across all channels and remote sites.