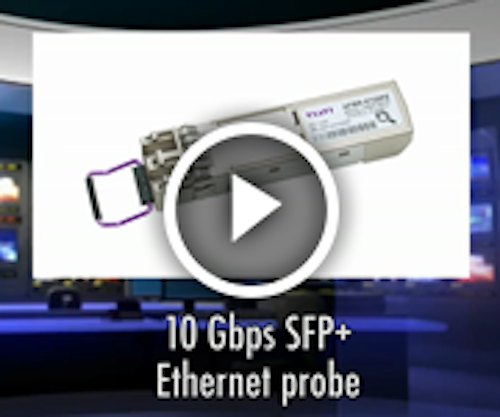 Viavi Solutions is introducing the industry's first 10 Gbps SFP+ Micro-Ethernet probe with embedded intelligence in the familiar enhanced small form-factor pluggable (SFP+) size. Network operators now have unprecedented capabilities for visibility into traffic behavior in 10Gbps mobile backhaul, metro and aggregation networks, and data center connection.
Viavi's unique solution captures and traces packets as they traverse the network to isolate problem elements using live traffic (LivePM™), in real-time, as problems occur. The 10GE smart SFPs provide network operators unparalleled visibility into their customer's actual voice, video and data traffic behavior, a capability that they are completely blind to today unless they deploy cumbersome dedicated equipment! By passively analyzing real-time traffic with PacketPortal smart SFPs customers gain a better understanding of application distribution, traffic bursts, traffic patterns and are able to troubleshoot individual network segments and network elements in order to quickly and in real-time identify problems, and arming them with necessary information to improve their customer's QoE.
Join Viavi as they demonstrate the 10GE SFP+ at Mobile World Congress February 22nd to 25th in Barcelona, Spain.
For more info, visit: www.viavisolutions.com