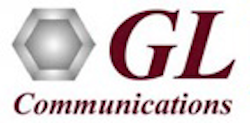 Founded in 1986, GL Communications Inc. is a leading supplier of test, monitoring, and analysis equipment for TDM, SONET, SDH, Wireless, IP and VoIP networks. Unlike conventional test equipment, GL's test platforms provide visualization, capture, storage, and convenient features like portability, remote accessibility, and scripting.GL's test solutions cover wide array of networks - OC-3/STM-1, OC-12/STM-4, up to 10G Ethernet, 4G (LTE), 3G, IP, T1, T3, E1, E3, and PSTN. Our newest products provide astonishing capacity and capture capability exceeding gigabit speeds.GL also offers comprehensive testing services to ensure quality and reliability of high-speed telecom lines (OC-3, OC-12, STM-1 etc.), VoIP, ATM and Digital Central Office Switches.
Capabilities include voiceband traffic analysis and emulation (voice, digits, tones, fax, modem), all protocols (UMTS, ATM, LTE, SS7, GSM, GPRS, etc.), with capacities up to thousands of channels. For more information, please visit www.gl.com.
Request More Information
Fill out the form below to request more information about GL Communications Inc..
---