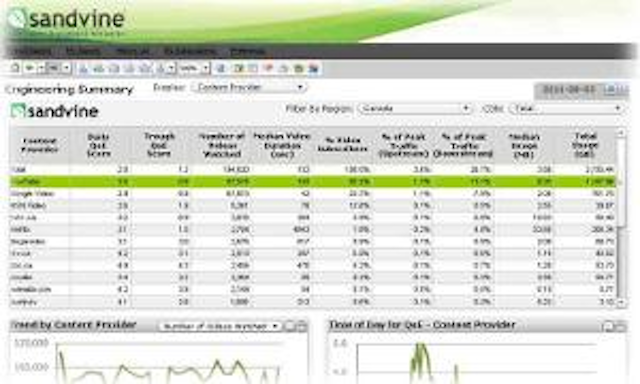 Sandvine
announced the addition of a Real-Time Entertainment Dashboard to its library of Network Analytics dashboards. The new dashboard is designed to provide business intelligence relevant to streaming audio and video traffic from providers such as
Netflix
,
YouTube
and
Spotify
, including measurements regarding the quality of the video experience, the viewing duration, and the associated revenue generated by the adoption of over-the-top (OTT) services.
The dashboard is designed to measure and report on byte consumption, quality, time, adoption and revenue metrics individually, providing insight for CSPs into the quality achieved per network location, per time of day, and per device type. It quantifies the subscriber's QoE using a patent pending QoE metric based on observable factors such as start latency, buffer stalls, resolution downshifts due to lack of bandwidth, as well as resolution compared to the capability of the device.
The dashboard leverages the entire subscriber base as a distributed network, with full coverage, generating new data-points every single time a video is watched. Interim reporting is provided during the lifetime of the video.