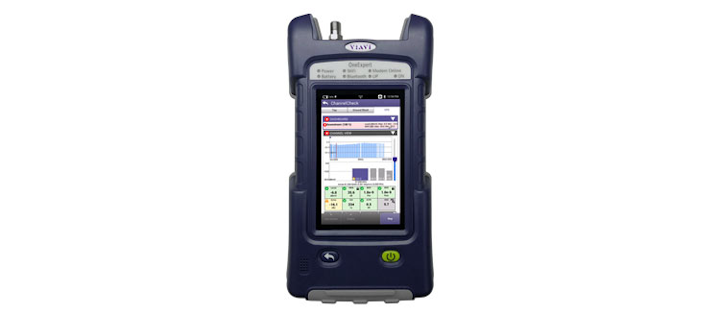 VIAVI Solutions' OneExpert CATV ONX-220 is an installer/service tech meter featuring analog and digital signal measurements including DOCSIS 3.1 OFDM, with location-based auto tests, auto-channel plans, and measurement dashboards with simple Pass/Fail results for novice technicians, while advanced techs can drill down for more detailed measurement results.
The ONX-220 is designed to support DOCSIS 3.1 or 3.0 networks with 32x8 SC-QAM plus additional 2x2 OFDM support on D3.1 units. Switchable dual diplexers support either 65/204 MHz or 42/85 MHz upstream and 1,218 MHz downstream. The meter is gigabit-ready for testing Ethernet, DOCSIS, and WiFi services. It can also test PON networks using the optional P5000i optical inspection scope, MP-60/80 optical power meter, and SmartOTDR SL. It works with the company's Seeker HL for home network "pressure testing" to detect breaches in RF shielding integrity.        
Judge's Comment: "Location information and integration with a mobile application should make this attractive to cable operators."