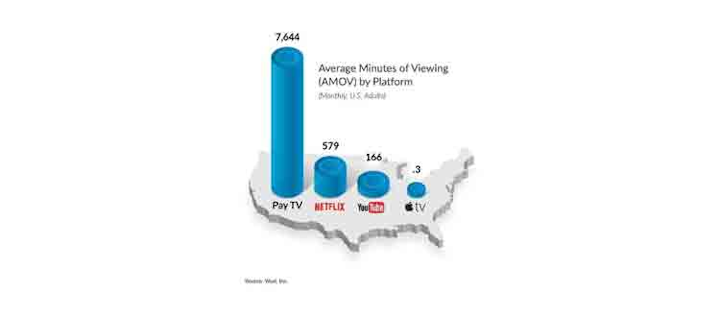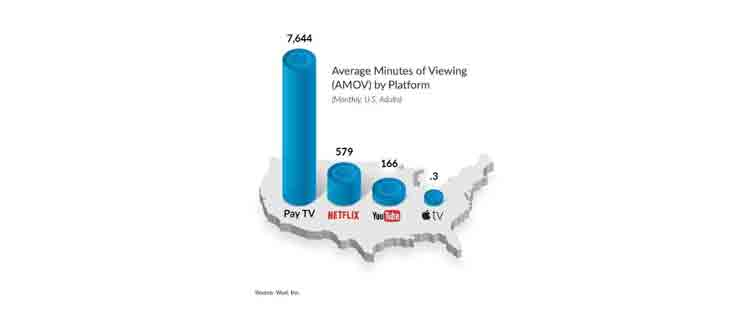 AMOV by WurlWurl, a streaming video platform for pay TV, announced a new video index that compares the usage of major video viewing services based on publicly available data. The index, called "AMOV" for "average minutes of viewing," measures the average minutes of viewing by U.S. adults on each video platform, taking into account both usage (minutes of viewing) and reach (percentage of U.S. adults that use the service). The AMOV Index measures viewing on services like YouTube, Netflix, pay TV, Apple TV and others.
The growing use of streaming video services, a proliferation of new devices for video viewing, and the declining use of pay TV have made it increasingly difficult for video publishers and advertisers to analyze the relative importance of each video distribution platform, the company says.
The Wurl AMOV Index is intended to provide a yardstick for how much video the average U.S. adult consumes on platforms like pay TV, connected devices and new streaming services. The index is is intended to be transparent, providing detailed information about the "AMOV math" behind each platform in the index, and open, wherein Wurl invites authoritative sources to provide new data to update the AMOV Index. The index and the underlying data are publicly available at wurl.com/amov.
"The importance of any video distribution platform is directly related to how much it's used. Generally available information about real usage is difficult to find, confusing and in some cases misleading," said Sean Doherty, CEO and co-founder of Wurl, in a statement. "To make informed decisions, market participants need a standard way to quantify penetration-adjusted usage for any video service."