Mobile, Broadband Bright Spots in Q3 Financials
Cable operators' quarterly financials continue to highlight mobile activity and the forward push of broadband, but there also was talk of the recent hurricanes and the impact they had on the numbers. Comcast (NASDAQ:CMCSA) ...
Oct 31st, 2017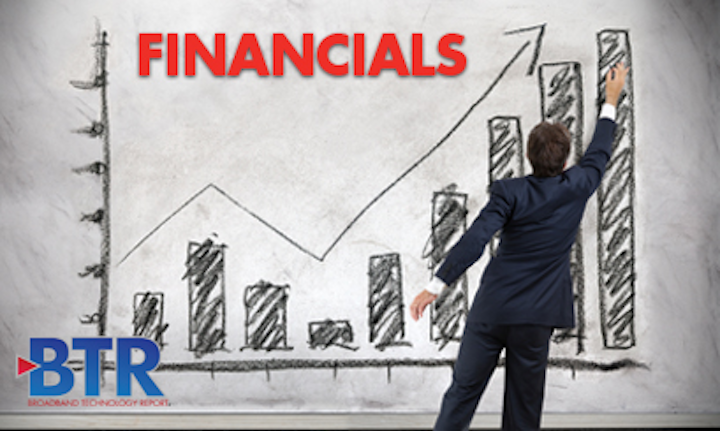 Cable operators' quarterly financials continue to highlight mobile activity and the forward push of broadband, but there also was talk of the recent hurricanes and the impact they had on the numbers.
Comcast (NASDAQ:CMCSA) estimated it would have added 150,000 customer relationships relative to the 115,000 reported due to the storms; would have lost 105,000 video customers as opposed to the 125,000 reported losses; and would have added 240,000 high-speed Internet customers compared to the 214,000 it reported.
Charter Communications (NASDAQ:CHTR) also was affected by Hurricanes Irma and Harvey. The company estimated the storms cost them about 10,000 to 15,000 net residential customer relationships, but noted it expected some of those to return in the fourth quarter. The company said its third quarter revenue was reduced by $4 million due to the hurricanes as a result of having to issue customer bill credits, and to some impact on advertising revenue. Operating expenses were elevated by $8 million related to call center labor costs and storm cleanup. Storm related capital expenditures were $20 million as a result of line and equipment replacements. Charter expects similar storm-related CapEx in the fourth quarter.
Returning to Comcast, the operator reported that XFINITY Mobile has surpassed 250,000 lines since its launch in May. In broadband, Comcast said it is on track to add more than 1 million net new customers for the twelfth year in a row and noted that broadband is "increasingly the epicenter of our relationship with customers and ultimately where we derive the majority of our profitability."
Specific to the third quarter, Comcast added 182,000 residential high-speed Internet customers and reported broadband penetration of homes and businesses passed at 45%. About 55% of residential customers take speeds of 100 Mbps or higher. Comcast has more than 1 million XFINITY Home customers, which has doubled in two years. Some 90% of these subscribe to bundles of three or four products. As for X1, Comcast says it is in 57% of residential video customer homes, up from 45% a year ago.
Charter reported that by the end of the third quarter, 41% of Time Warner Cable and Bright House customers were on Spectrum pricing and packaging. Where Spectrum has been in place at least four quarters, 52% of residential customers have Spectrum products.
Charter offers Internet speeds of 100 Mbps in more than 75% of its entire footprint. This is up from 50% at the end of the second quarter. The expectation is that by the end of the year it will offer minimum speeds in excess of 100 Mbps in nearly all of its passings.
In "a couple of months," Charter plans to launch gigabit speeds in several key markets using DOCSIS 3.1, and has more launches planned throughout 2018. Charter also plans to begin deploying the Wave 2 WiFi router, which, similar to Worldbox, has been developed, designed and specified by Charter.
Charter is still on track for launching wireless via its MVNO agreement with Verizon (NYSE:VZ). The Spectrum branded services will be offered as part of the Charter bundle.
Rogers Communications (TSX:RCI.A) led with wireless news, saying that postpaid ARPA increased 6% and blended ARPU 2%. This was driven by the ongoing adoption of the company's "share everything" plan, where churn is less than 1%. Postpaid net additions were 129,000, which is the highest the company has seen in eight years.
Rogers noted that Internet net additions of 27,000 were down 12,000 given a "hyper-competitive environment." About 52% of residential Internet customers are on speeds of 100 Mbps or higher compared to 42% a year ago. Integration of the X1 IPTV platform is making "good progress." Linear channels, VOD and cloud DVR are up and running in the production environment, and Rogers is gearing up for the launch of an employee trial next month, which will include about 1,000 Rogers employees. A soft commercial launch is scheduled for late Q1. This will include a "broader set of employees" and a "portion" of the customer base. Full commercial launch is slated for later in 2018.
Shaw Communications (TSX:SJR.B) said the addition of low-band spectrum is "critical to level the playing field." The company supports the Canadian government's proposed approach to the 600 MHz auction, saying "the framework will help ensure Canadians have affordable and competitive choices for years to come." A year ago, the company rebranded WIND with the launch of Freedom Mobile, and now 1.1 million Canadians use Freedom as their wireless carrier.
(Thanks to Seeking Alpha for transcripts of the conference calls.)