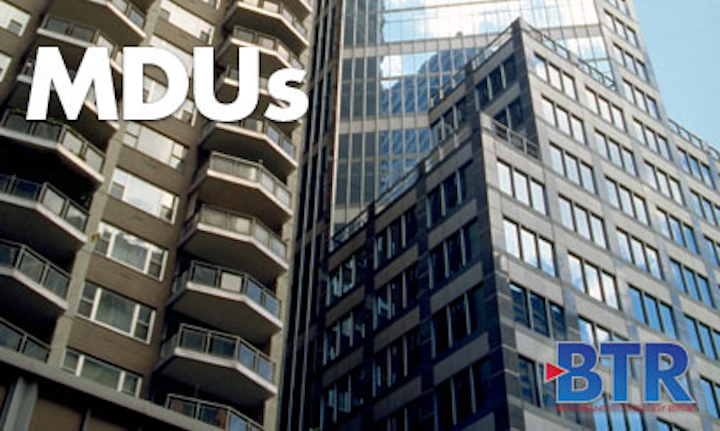 The beginning of a new year is resolution time for many, and multiple dwelling unit (MDU) property managers should be no different, said Adrian Adriano, VP of strategic initiatives at Xfinity Communities. But they should be thinking in terms of their residents' resolutions in relation to what they want out of their home.
Xfinity Communities' Networking with Residents survey indicated that MDU residents are looking for several "happiness factors," including Internet speed, accessibility, smart home solutions, and WiFi access anywhere on the property. The survey was first done in 2016. Since then, capabilities and demand for smart home tools have taken off from the perspective of residents and property owners and managers, Adriano said.
"More devices are available, and they are more reliable now, so it's not just residents who are on the cutting edge of technology that want them now. It's really the market as a whole," Adriano said.
There are voice assistants, like Amazon Alexa and Google Home, and smart thermostats, locks and lighting. "Our customers have consistently expressed that residents are looking to these new technologies as differentiators in the home rental process," Adriano said.
Smart devices could not only make MDU residents happier but also create savings for both residents and property managers. Smart thermostats and lighting, for example, can reduce utility costs for residents, and also those of the entire property by simplifying control options in common areas or vacant units. Smart locks would mean that residents don't have to pay a replacement fee and management doesn't have to deal with hundreds of extra keys.
"Even more impactful are the increased operating efficiencies," Adriano said, explaining that the managers don't have to walk through the building checking on lights and HVAC, or that the trash has been picked up.
"They can do it all from an app with a few taps on a mobile device. By simply taking care of these baseline expectations, managers can focus on attracting and retaining residents. The sooner these devices are installed, the sooner property operators can see these benefits," Adriano said, predicting that there will be "a lot of movement" to implement them this coming year.
While the demand for high-tech amenities makes sense for younger renters, Adriano said that older residents, including those in senor living communities, also want smart tech.
"When you think about it, it does make sense. All these devices are designed for convenience and to make things easier, so it stands to reason that the older demographic is benefitting tremendously," Adriano said.
The other side of the coin is troubleshooting what is not working for residents. For starters, proactive property managers can avoid issues by having a strong relationship with their residents and their tech provider. Adriano said that Xfinity properties tend to have a dedicated customer account representative, for example, who can address problems immediately.
And using the smart home technology to monitor utilities and appliances, property managers are able to troubleshoot before issues arise. A leak in the plumbing can be caught by leak detection monitoring, so that no damage is caused, for example.
"Ultimately, the question of how property managers can troubleshoot issues is a great microcosm of our beliefs as a whole: Technology will make life better and easier, but customer service will always play a part in resident satisfaction," Adriano said.