WiFi? 'Wi,' yes
With the explosion of devices and the publicity surrounding high-speed Internet services, up to a gigabit and beyond, customers are growing to expect the same reliability and speed from their WiFi.
Jul 20th, 2018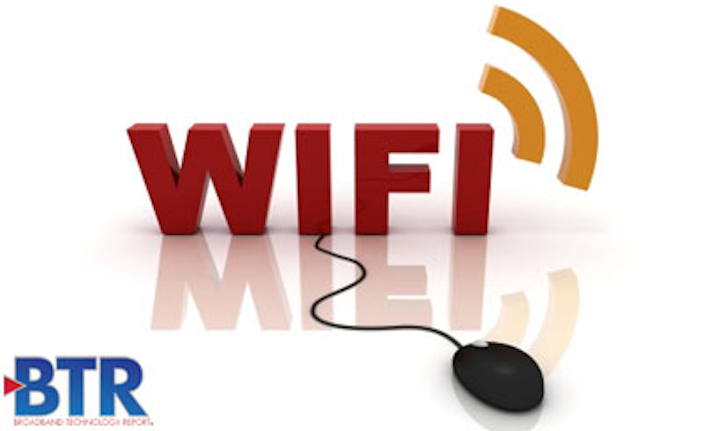 With the explosion of devices and the publicity surrounding high-speed Internet services, up to a gigabit and beyond, customers are growing to expect the same reliability and speed from their WiFi.
"Solving residential WiFi issues has become a priority for service providers selling higher bandwidth subscriptions, as WiFi is the primary means customers judge the quality of their broadband subscription and service provider,' said IHS Markit (NASDAQ:INFO) Technology Principal Analyst John Kendall.
There have been several announcements of late, therefore, about solutions that aim to increase reliability of whole-home coverage.
ADTRAN (NASDAQ:ADTN), for example, announced a cloud-managed whole-home mesh WiFi solution to solve challenges in the home around coverage interference and capacity. The solution includes the SDX 810-RG and 810-AP and it features zero-touch deployment, machine learning for maximizing performance, dynamic steering to connect with the best signal, and air-time fairness to fast-lane newer devices.
Nokia (NYSE:NOK) has introduced upgrades to its in-home WiFi solution that will expand its portfolio with meshed WiFi gateways and beacons, delivers a new WiFi Home Portal for service providers, introduces a mobile application for users, and provides new software functions and analytics that compile insights on the network, devices and interference sources to automatically self-heal and optimize the WiFi experience.
Affinegy says its CHARIOT release v6.5 delivers whole-home managed WiFi without locking broadband providers into single vendor or proprietary hardware. It features a patent-pending method of abstracting the proprietary features of WiFi gateways and access points. The CHARIOT Platform is designed to let providers choose any brand and model TR-069 CPE. It onboards new devices via the CHARIOT ACS that systematically neutralizes vendor-specific parameters and replaces them with CHARIOT Care/Home/WiFi user interfaces.
Greenwave Systems and Quantenna Communications have partnered to deliver a full duplex 4x4 802.11ac Wave 2 WiFi extender for whole-home coverage. Quantenna's WiFi technology combined with Greenwave's AXON Platform is intended to enhance the connected home offering for service providers and boost users' speeds to multiple devices simultaneously. Quantenna's 5 Ghz 4x4 802.11ac Wave 2 solution uses the QV840-based single band full duplex Wave 2 extender.
Celeno Communications has introduced the Everest 802.11ax WiFi chip. The standard includes uplink and downlink MU-OFDMA, downlink and uplink MU-MIMO, and 1,024-QAM. The solution also uses Celeno's AX.L technology for 4.8 Gbps performance.
Qorvo (NASDAQ:QRVO) is expanding distributed WiFi solutions in the home through a portfolio of pre-standard 802.11ax products designed to improve WiFi coverage, enable smaller devices and reduce costs. Products include WiFi front-end modules, WiFi BAW 2.4 GHz bandedge and LTE coexistence filters, and WiFi integrated front-end modules (iFEMs).
The vendors are not the only ones making news. Comporium recently announced that it selected AirTies Wireless Networks to provide a whole-home WiFi mesh solution to subscribers in the Carolinas. Comporium will use multiple Air 4920 Extenders, designed to ensure that consumer devices continually connect to the best available extender and frequency band based on real-time network usage. Comporium also will use AirTies' Remote View, a cloud-based platform designed to provide in-home WiFi performance data and analytics.
WiFi, of course, is not only for residential customers. Operators are also working on beefing up and expanding business services. Shaw Communications (TSX:SJR.B), for example, has partnered with the city of Vancouver, BC, to expand free public WiFi throughout the city. Speed will generally be 10 Mbps with no limit or cap on data usage. About 550 free public WiFi locations are currently active, with the remaining locations scheduled to go live over the coming months. Free public WiFi is also available at all Vancouver Public Library locations, 27 community centers, four outdoor pools, four civic facilities, three public golf courses, three theatres, two marinas and the City Hall campus.
Cox Business announced a managed WiFi service launch in the Northeast and parts of the company's Southeast region. Over the next few months, this will be extended across Cox's national footprint. The intent is to deliver speeds up to 1 Gbps for private and public WiFi networks, with the ability to choose guest speed. It can provide WiFi coverage for up to 36,000 square feet indoors or a combination of 24,000 square feet indoors and 12,000 square feet outdoors.
Cambium Networks' cnPilot e430W, a cloud-managed enterprise WiFi wall plate access point (AP), is built to the 802.11ac Wave 2 standard. This AP is intended for hotels, resorts and multiple dwelling units (MDUs). The wall-mounted AP is equipped with multiple GigE ports for indoor WiFi and wired port network access via managed portals.