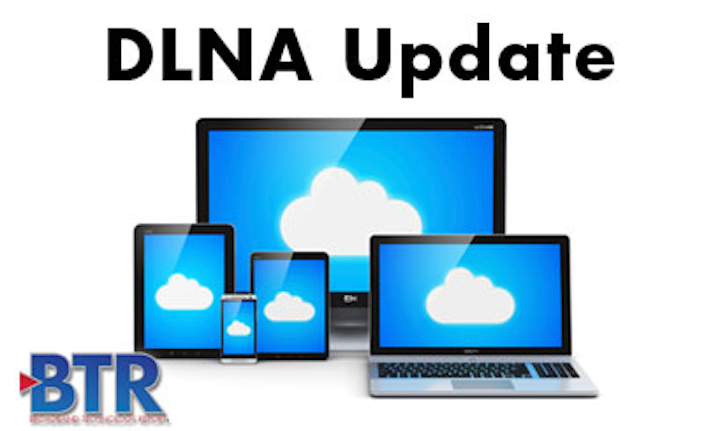 The Digital Living Network Alliance's latest guidelines, DLNA 4.0, address a top consumer headache: media format incompatibility between PCs, TVs, and mobile devices. By mandating transcoding on the media server, the new requirements should result in a more satisfying experience with a reduction in failed playback messages.
"Consumers will be able to buy products that they know will work together to the highest levels of compatibility while supporting the latest high-definition media formats and energy-saving features," said Duncan Bees, VP technology and strategy, DLNA.
Specifically, the server will make available mandatory or common denominator formats. The server will recognize if a device does not support a particular optional format and will transcode the file to the more basic one if needed.
A second feature of DLNA 4.0 is playback robustness. If a problem occurs during the process of rendering content between devices in the home, there will be backup procedures to allow the server to re-engage and resend the content again.
"If the server selected an initial media element that couldn't be rendered properly, it will back up and go to different elements that would use a lower resolution codec, for example," Bees said. "It is about making the process more error resilient."
DLNA 4.0 also will make some of the metadata associated with UP&P available to devices. This information deals with content discovery and the support of audio and video interactions. "This will allow more information about the type of content being rendered (through to) the devices," Bees said.
Additionally, there are service-provider-friendly features, including support for IPv6 and Layer 2 and Layer 3 diagnostics. The TR-069 link could retrieve information about the state of connections in the home between the gateway and devices. "Diagnostics are becoming key," Bees said. "They can help manage service calls. The quicker a service provider can resolve an issue, the better."
On the energy efficiency side, with DLNA 4.0 consumer devices will be able wake each other up from sleep mode. The device also could act as a proxy for another device. "If there is a network interaction, or another type of device wanted to discover the TV, (for example) as a playback device, it could do so via the proxy," Bees said.
The DLNA 4.0 guidelines have been submitted for adoption as an international standard by the International Electrotechnical Commission, which has published the previous iterations of DLNA.