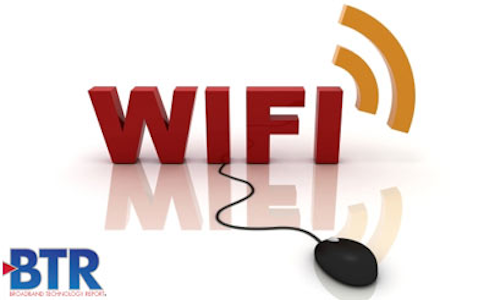 The Wi-Fi Alliance has announced a new low-power, longer-range WiFi designation, dubbed HaLow, for products incorporating IEEE 802.11ah technology. It is expected to enable a host of Internet of Things (IoT) use cases for the smart home, connected car, digital healthcare, and industrial, retail, agricultural and smart city environments.
Wi-Fi HaLow will extend WiFi into the 900 MHz band, which allows for the lower power connectivity necessary for applications like sensors and wearables. The range is about twice that of today's WiFi, and the connection is more robust, which will allow the signal to more easily penetrate walls and other barriers. Wi-Fi HaLow supports data rates between 150 kbps and 18 Mbps using 1 MHz channels for the lower rates and 4 MHz channels for the higher rates.
Wi-Fi HaLow devices will likely operate in 2.4 GHz and 5 GHz as well as 900 MHz so they can connect with the existing 6.8 billion installed WiFi devices. They will support IP-based connectivity to the cloud and will support the ability to connect thousands of devices to a single access point.
The IEEE 802.11ah standard is expected to be approved mid-2016, and the Wi-Fi Alliance certification program is set for 2018. However, early products are expected ahead of certification, perhaps within the next 12-18 months, said Kevin Robinson, VP of marketing for the Wi-Fi Alliance.
"WiFi is one of the most used forms of connectivity in the world," Robinson said. "Wi-Fi HaLow builds on the features that have made WiFi as prevalent as it is today, while offering new ones that will make it suitable for a range of new applications."
In the smart home, Wi-Fi HaLow will enable connectivity for low-power products that might not be in direct site of an access point. Examples include a basement water sensor to detect flooding or a motion sensor at the end of a driveway to warn of late-night arrivals.
"In both of these cases, Wi-Fi HaLow will deliver power-efficient connectivity to the home access point (and the Internet) despite the challenging environment caused by obstructions in the device's path or ranges involved," Robinson said.
The added range will be useful in industrial and agricultural environments. A company might need to deploy a lot of environmental monitoring devices across facilities.
"In this case, Wi-Fi HaLow will not only deliver long-range connectivity, but also support thousands of devices per facility access point, with each of these devices being able to communicate with enterprise information and monitoring systems over a multi-site IP network," Robinson said.
While battery life will depend in the use case, Wi-Fi HaLow could be capable of delivering battery life for months or sometimes even years, Robinson said.