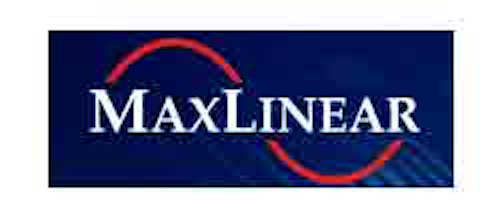 At CES 2017 in Las Vegas, MaxLinear (NYSE:MXL) is announcing several deals and collaborations, including CPE reference designs and MoCA deployments.
MaxLinear and HiSilicon Technologies announced joint reference designs for UltraHD and HD smart cable gateway set-top boxes. HiSilicon gateway platforms utilize MaxLinear's MxL214C Full-Spectrum Capture (FSC) cable receiver integrated circuit (IC), which digitizes the entire cable spectrum and performs the digital tuning and demodulation of up to four cable channels.
The smart gateway set-top solution is intended to allow OEMs to enhance cable operator operations and consumer's viewing experience by providing features such as fast channel change, multi-screen share and remote network monitoring. The reference platforms combine MaxLinear's MxL214C cable receiver with HiSilicon's 4K Hi3796 or HD Hi3716 system-on-chip (SoC).
MaxLinear's MxL3707 gigabit MoCA 2.0 bonded integrated circuit (IC) is being designed into Cambridge Industries Group's WF-802 Series HomeMesh MoCA-to-Ethernet adapter product line. CIG is based in Shanghai with U.S. headquarters in Santa Clara, CA. With CIG's gigabit MoCA adapter, the subscriber's home coax cables can be turned into a wired home network by bridging traffic between a device's Ethernet port and coax network. The CIG WF-802 Series MoCA adapter can be used to connect existing modems or routers to multiple WiFi access points spread around the home to increase wireless coverage and performance. Other Ethernet-equipped devices like over-the-top (OTT) video systems, game consoles and SmartTVs can be connected to the network via MoCA.
MaxLinear's MxL3710 multi-gigabit MoCA 2.5 solution has been selected for use in Zinwell's ZMW-D391 dual-band concurrent, multi-gigabit MoCA-to-WiFi adapter. The Zinwell adapter is intended to allow operators to use existing coax cables inside the home as a wired data backbone to deploy multiple access points for whole-homewireless video and data coverage.
The ZMW-D391 uses MaxLinear's MxL3710 single-chip MoCA 2.5 IC. The IC supports the MoCA 2.5 profile D standard, providing a minimum of 2.5 Gbps of MAC throughput and is backward interoperable with previous versions of MoCA. The MxL3710 also has an enhanced mode that provides up to 3 Gbps of MAC throughput when the network consists of other products using MxL371x chips.