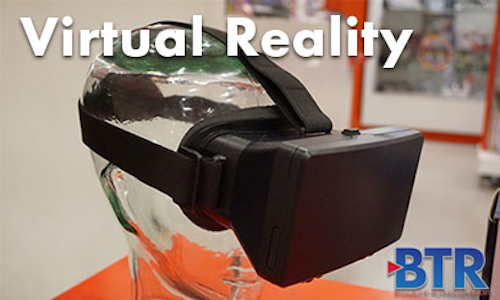 While virtual reality might not be reality, it is reality that virtual reality (VR) was a real topic at INTX and a hot one at that. Really confused? Take a look at some of the news and discussion that came out of the show.
Adobe (NASDAQ:ADBE) has expanded VR and augmented reality (AR) capabilities within its Adobe Primetime video platform, with ad insertion, digital rights management (DRM) and playback. Integrating across the Adobe Marketing Cloud allows brands to tap into Adobe Analytics.
Citing a Diffusion Group study, Adobe noted that the AR and VR global user base is projected to reach 275 million by 2025 with annual shipments rising to 70 million from 5 million in 2016. Today most VR video content is not monetized, and once users grow accustomed to free and ad-less content, it is hard to change their expectations.
With Adobe Primetime, companies will now be able to monetize VR/AR via a variety of scenarios. With sponsored playback, viewers are brought into the front row at an event, such as a concert, and branding can be integrated into the environment through physical objects and signage.
Ad insertion can happen using pre-roll, mid-roll, and post-roll for 360 and virtual cinemas. Adobe Analytics will allow brands to understand how the viewer is reacting, including where and what they are looking at. And, with Adobe Primetime, brands can insert or replace objects in a VR environment. Ads can be targeted so that if a viewer is interested in a car, the viewer would be transported into the interior of it to watch content. Advertisers could be based on engagement level.
Meanwhile, as for VR devices, ABI Research says that forthcoming standalone models will drive growth in the category and will overtake mobile VR in terms of revenue despite lower shipment numbers ($4.48 billion in 2021 for standalone and $1.11 billion for mobile). The report referenced a recent announcement by Samsung that it would build a standalone successor to its Gear VR and like-minded products that are imminent from Apple (NASDAQ:AAPL) and Google (NASDAQ:GOOG). Adobe says it will address a "largely untapped portion of the VR market, hitting a sweet spot for consumers with low cost, efficient performance, and ease of use."
ABI says standalone devices should see a CAGR of $95.4% through 2021, which is higher than mobile VR devices. They're expected to cost between $300-500 initially, which is higher than mobile-reliant products like Gear VR, but lower than tethered devices like the Oculus Rift, which also rely on expensive PCs or game consoles.
Other research firms also got in the VR mix at INTX. The Interactive Broadband Consulting Group, (IBB Consulting) has found that movies and TV have widest appeal across age groups for consumers interested in VR (50%). Approximately 54% of consumers interested in VR think it is here to stay. Less than one-third of people interested in VR have tried it, but more than three quarters say they are willing to spend on VR gear. About 18% said they would pay more than $250.
While overall men expressed almost two times the interest in VR compared to women, interest balanced out among middle-aged respondents (35-54). Almost 40% of respondents said they would watch ads in exchange for free content if they were "cool and relevant." As for content distribution, 55% said they would access through Internet video providers, 41% gaming platforms, 29% wireless providers, 28% app stores, 26% cable or satellite providers, and 17% social networks.
"Initially, IBB predicts that the VR market winners will be companies that can break down the barriers to entry with an end-to-end play," said Jefferson Wang, senior partner, IBB Consulting.
And Parks Associates said that currently 2% - or 2.3 million - broadband households in the United States own a virtual reality headset. About 5% of U.S. broadband households plan to buy a VR headset in 2016. Parks said the initial market will be gamers, who will seek VR's better immersion, sound, graphics and ability to include more players.
"The mass market is more likely to adopt mobile VR, which will be less expensive and uses a tool - the smartphone - that the majority of U.S. consumers own," said Barbara Kraus, director of research, Parks Associates.
As these devices become part of more households, they will emerge as a new way to experience content streams and a new interface for other connected devices throughout the home. Parks recommends that consumer electronics companies developing VR headsets provide simple methods for adding multiple content streams while diving the user tools to personalize the experience.
From the provider side, VR poses a challenge to bandwidth availability and often demands hundreds of megabits per second. ARRIS (NASDAQ:ARRS) demonstrated at INTX how it can enable the network to deliver a consumer-ready VR experience in under a minute - performing multi-gigabit, high-speed data transfers across networks. The demo showed the ARRIS Racing team garage at a NASCAR track. Separate screens showed videos being downloaded and viewed simultaneously.