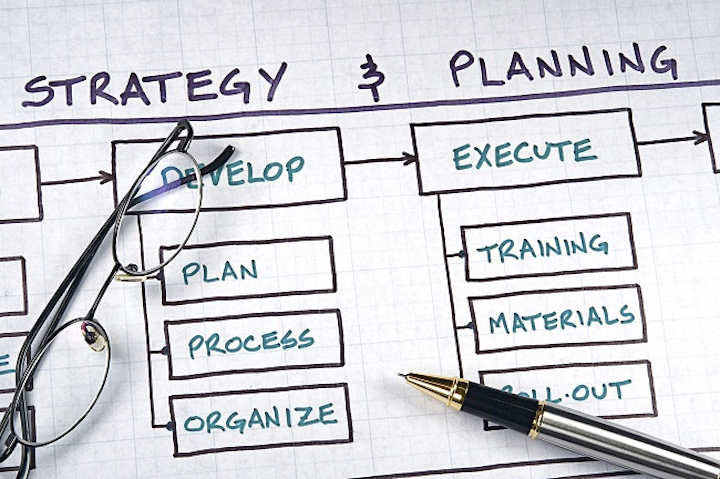 With the roll out of DOCSIS 3.1 in full swing, it may be easy to forget that further network evolutions should follow right behind. Many operators, interested in Full Duplex DOCSIS 3.1 (FDX) and Distributed Access Architectures (DAA), have resisted this temptation and begun to make their roll out plans for these next-generation DOCSIS technologies in the midst of their DOCSIS 3.1 deployments. Such multi-tasking certainly requires a fair amount of organization and discipline. Fortunately, the fact that the preparation for DOCSIS 3.1 helps set in place the stepping stones toward FDX and DAA enables a potential domino effect as the necessary hardware, software and tools for these next-generation DOCSIS iterations begin to reach the market.
DOCSIS 3.1 to DAA
Operators, particularly in North America and Europe, have moved quickly to DOCSIS 3.1, particularly now that the supply of the requisite cable modems has begun to catch up with demand. Comcast served as the deployment pioneer in the Americas and now offers gigabit broadband to 90% of its customer base primarily via DOCSIS 3.1. Catching up, Charter Communications expects to have similar DOCSIS 3.1 enabled services available to nearly all its footprint by the end of this year and Cox plans to reach that milestone by the end of next year through a combination of all-fiber and DOCSIS 3.1.
Smaller operators have adopted DOCSIS 3.1 as well. WOW! says it now delivers gigabit services, primarily via DOCSIS 3.1, to 95% of its footprint, while Atlantic Broadband, Grande Communications, Mediacom Communications and Midco, among others, have deployed the technology aggressively in the United States. Rogers Communications and Videotron have done the same in Canada.
For most of these operators, the preparation for DOCSIS 3.1 included the installation of additional fiber resources to enable nodes to move closer to the customer. Forward-thinking operators have adopted a "fiber deep" approach that will support, either immediately or eventually, a "Node+0" architecture in which amplifiers between the node and the subscriber become unnecessary. Fiber deep architectures will help operators fully unlock the potential of DOCSIS 3.1, said Doug Jones, principal architect - broadband access at CableLabs, during the June 2018 SCTE∙ISBE LiveLearning Webinars™ for Professionals. That potential includes an eventual move to 1.8-GHz Extended Spectrum DOCSIS 3.1 (see figure).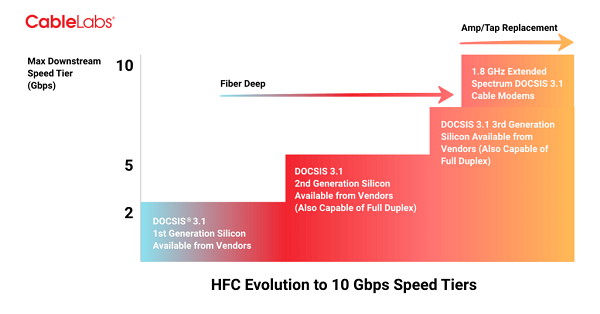 DOCSIS 3.1 should progress through several generations. (Source: CableLabs)

Fiber deep also sets up operators for DAA. As discussed in the March 2018 Special Report "Operators will have options for Distributed Access Architectures," DAA reduces headend complexity, size and power requirements by distributing functions into intelligent remote nodes located between the headend and the customer. The remaining headend or hub equipment communicates with the remote node via pseudowires over a 10 Gigabit Ethernet digital fiber link. The switch to digital transmission enables an increase in the transmission performance over the final coax connection to the customer, a benefit for the deployment of DOCSIS 3.1 and FDX. The rearrangement of functions invites the introduction of virtualization and the benefits of software-defined networking (SDN) to the access network as well.
CableLabs has targeted two primary versions of DAA, named after the functions that move to the remote node, as part of its Distributed CCAP Architecture program. Remote PHY, which sees the CCAP PHY functions, including the modulation of DOCSIS and video signals, shipped to a remote PHY device (RPD), is first out of the gate. (The "CCAP-core" retains the remaining functions in the headend; these include Ethernet conversion, tunneling and routing for DOCSIS frame transmission and DOCSIS MAC functions.) CableLabs has released a series of Remote PHY specifications beginning in 2015, with the most recent set (including version I10) announced this past May.
A wave of RPDs, CCAP line cards and software has ensued, with initial deployments reported in the networks of Midco in the U.S. and Telia (supplied by Teleste and Cisco) and Stofa (ARRIS) in Europe; Com Hem of Sweden is reported to have received Remote PHY equipment (from WISI Communications) as well. Additional deployments that remain unreported – as well as a host of field and lab trials – are likely. Cisco, for example, claims to have shipped DAA building blocks, Remote PHY nodes and CCAP line cards among them, to more than 60 customers in 25 countries.
Meanwhile, CableLabs this past December began work on the second main variant of DAA, Remote MACPHY. Here both the MAC and PHY functions move to the remote node. The functions that remain -- routing, switching, and controller functions -- don't need a CCAP-core; the controller functions are cloud-ready, which invites virtualization (see "Virtualization: Building specs for remote MACPHY"). As described by Jon Schnoor, lead engineer at CableLabs, during last March's webcast, CableLabs plans to create a virtual MAC core for SDN environments. For headend and hub requirements, specifications will cover a MAC Manager for the network's management plane, an SDN Controller for Layer 2 and 3 control plane needs and a DOCSIS Controller for the DOCSIS control plane.
Other key pieces of the upcoming Remote MACPHY specifications include a Remote MAC Device (RMD) that would incorporate the RPD. CableLabs also envisions a Remote MAC Core (RMC) that could remain structurally separated from the RPD; this would remove the MAC function from the headend/hub but still enable the MAC function to be shared among multiple RPDs.
With CableLabs' Remote MACPHY work expected to take a year at least, DAA deployments will focus on Remote PHY in the near term. Once Remote MACPHY products reach the market, however, operators will have a wide variety of network options at their disposal. DAA can support both DOCSIS 3.1 and FDX; the link between the headend and the remote node could be a standard point-to-point Ethernet link or use PON gear (with a remote optical line terminal, or R-OLT, supporting the remote MAC and/or PHY functions). Tom Cloonan, CTO – network solutions at ARRIS, described 10 DAA variants during the March webinar.
FDX marks the spot
Fiber deep and DAA set the stage for the deployment of FDX, which will enable HFC plant to support symmetrical 10 Gbps. Well, almost: Jeff Howe, vice president, systems engineering at ARRIS, stated during the June 2018 SCTE∙ISBE webinar that a third major building block, echo cancellation for noise mitigation between overlapping upstream and downstream spectra, also should be added to the network before FDX deployments begin. Other essentials include the obvious – FDX-capable hardware – as well as gateway architecture in the home to mitigate the potential power problems splitter/combiners can cause to power-sensitive FDX transmissions. Operators also will have to migrate their spectrum plans to accommodate FDX spectrum between 108 and 684 MHz, he added.
As far as that obvious part is concerned, Howe predicted that cable modem vendors will offer firmware upgrades to fielded "FDX ready" DOCSIS 3.1 cable modems as well as purpose-built FDX alternatives. The former likely will provide limited FDX capabilities but get operators rolling in the right direction – as soon as the capability is available and the necessary building blocks are in place.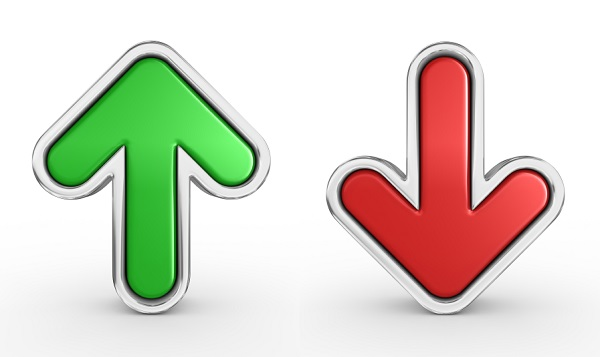 Full Duplex DOCSIS 3.1 promises symmetrical 10-Gbps transmission. But steps need to be taken to prepare for it.

Building block development and implementation await the full set of FDX specifications. CableLabs issued physical layer FDX specifications in Fall 2017 and announced MAC layer support this past January (see "Progress report: Full Duplex DOCSIS 3.1"). In the CableLabs blog that described the MAC layer milestone, Karthik Sundaresan, principal architect, network technologies at the organization, wrote that additional specification steps include FDX-relevant work in operational support systems (OSS) and support within Remote PHY. Nevertheless product development has begun, particularly in the silicon realm; last year's SCTE Cable-Tec Expo saw FDX technology demonstrations as well. Development has progressed sufficiently to enable CableLabs to host interoperability demonstrations earlier this year. The organization plans more within the next few months.
However, the combination of the time required to put DAA and Node+0 in place as well as develop the necessary FDX hardware, firmware and software is expected to put significant deployments of the technology several years into the future. CableLabs may take steps that will provide shortcuts to FDX implementation. But forward-thinking operators should begin priming their network architectures today as they implement DOCSIS 3.1 for future DAA and FDX roll outs.
Stephen Hardy is editorial director of Broadband Technology Report.
Learn more about next-generation DOCSIS
You can now view on-demand the June 2018 SCTE∙ISBE LiveLearning Webinars™ for Professionals webcast, produced by BTR, "What's Next for DOCSIS?" With DOCSIS 3.1 in the deployment stage and the first specifications for Full Duplex DOCSIS 3.1 approved, what else is there to know about DOCSIS? Well, you'll find out if you attend this webinar, which will examine the current state of these two DOCSIS technologies as well as where things may head in the future. Register for the webinar and view it now!