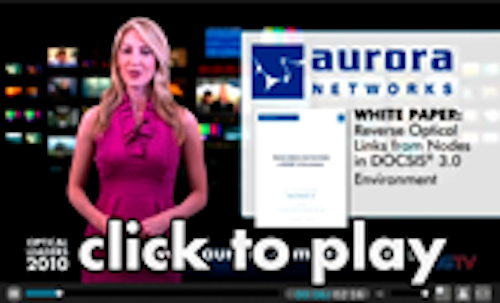 Broadband homes in the near future will put enormous demand on cable operators' networks as high-bandwidth HD and 3D content expand, download sizes increase and a constant flow of new applications and communications put pressure on both the downstream and upstream of broadband networks.
Key to future network efficiency, customer satisfaction, competition and profitability will be advanced optical technologies that allow an evolutionary approach to progressive rollouts, while maintaining the proper balance between engineering and Capex and OPEX .
Advanced Optical Leaders 2010 looks at some of the innovative products and technologies that are enabling the increased efficiency and economies of scale that will be required for operators to maintain a leadership position and stay competitive in this demanding new marketplace.
RFoG, Mobile BackHaul, Ethernet aggregation, transmission systems, passive optical networking, deep fiber delivery, powering, headend organization and DWM are just some of the topics in this special Advanced Optical Networking Leaders 2010 video report.
View the entire report by clicking the video above or click a specific company or technology below to view that portion of the 2010 Optical Leaders report.