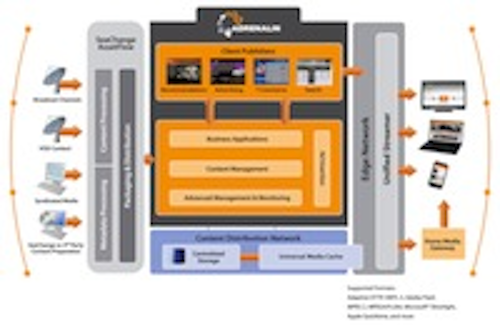 SCTE Cable-Tec Expo
Booth 1639
SeaChange International
(
www.schange.com
) has created SeaChange Adrenalin, a fourth-generation video back office that's been architected using an open service oriented architecture (SOA) to deliver tens of millions of video assets to millions of devices across multiple networks--including mobile, PC and TV--with cross promotional capabilities and integrated linear and non-linear advertising.
Adrenalin on-demand and broadcast streaming demonstrations this week at Expo, featuring set-top, iPad, Android, PS3 and other over-the-top clients, are planned to show the capabilities that cable operators will gain through an incremental transformation of the SeaChange Axiom on Demand back office. Adrenalin's first release for SeaChange Axiom on Demand software upgrade customers is scheduled for early 2011.
Other SeaChange booth demos will include on-demand and broadcast TV services to mobile, PC and set-top including content stream pause-and-resume between devices such as the iPad, Android phones and PS3; dynamic on-demand advertising insertion and multi-screen linear stream insertion; HTTP Adaptive Streaming; the VividLogic home media gateway connecting set-tops, PCs and game consoles to web and TV services; the AssetFlow multi-screen asset management and preparation solution; and a residential-based hospitality TV system.