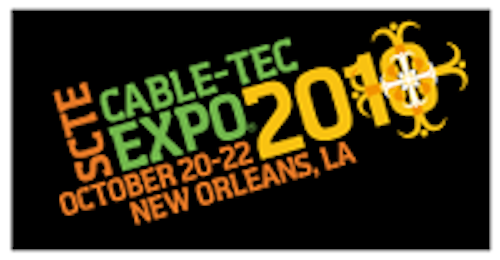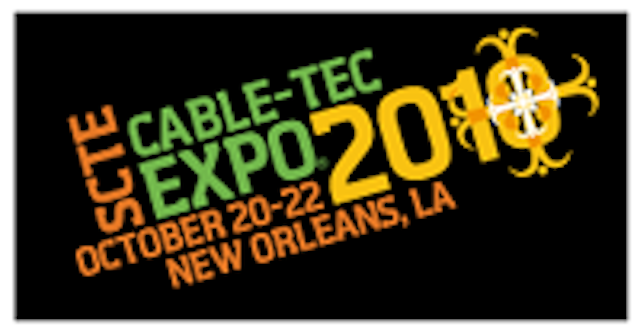 The show floor offered a wide variety of products and services, many of which also looked to the highly fluid – and exciting – future.
Infinera
[
www.infinera.com
] displayed its photonic integrated circuit, or PIC. According to Gaylord Hart, the director of the MSO market segment, the PIC combines a number of subsystems and components – 62 in all – into a single IC. These elements, Hart said, generally are separate in other systems.
The deep integration cuts costs by simplifying the optical-electrical-optical conversions and increases network flexibility by supporting an onboard digital switch. Hart said the PIC, which now is available in 100 Gbps configurations, is being used by
MidcontinentCommunications
.
Cisco
, [
cisco.com
] as usual, had a big presence at Cable-Tec Expo. The company displayed the 3G60 line card. Senior Director of Marketing John Mattson said that the card offers 72 downstream and 60 upstream channels. Eight line cards per CMTS chassis will offer 576 downstream and 480 upstream channels. The list price is $1,000 per downstream port and $1,650 per upstream port, which a base price of $23,750.
BigBand Networks
[
bigbandnetworks.com
] moved to 40:1 QAM support for its Media Services Platform. The company said that the ultra dense QAM platform increases QAM-per-port ratios without adding to power and rack space requirements. The two versions of the platform – the MSP 2800 and the MSP 1200 – support 13 RU (more than 3,800 QAMs) and 7 RUs (more than 1,600 QAMs), respectively. "Operators need a converged services platform," Ilan Kaftan, the company's VP of QAM product line management, said. "Pizza boxes can't scale."
Sencore
[
www.sencore.com
] displayed the TXS 3453 transcoder, which was introduced in April. The unit can move video from MPEG-4 to MPEG-2 and vice versa and from variable bit rate to constant bit rate and vice versa. The TXS 3453 only occupies a 1 RU space, Sencore Director of Sales Garrett Carter said.
Though it is perhaps a bit under the radar, the world of emergency alerts is evolving rapidly. It also is a complex landscape. Jim Heminway, VP and GM for
Monroe Electronics
[
www.monroe-electronics.com
], said that the company's One-Net SE platform is now CAP-ready. CAP, which is the Common Alert Protocol, is part of an attempt by the government to enable a variety of messages – text, video, voice and others – to reach cable subscribers, cell phones and other end points.
Concurrent
[
www.ccur.com
] discussed its plans for integration of technology from TellyTopia, which was acquired in late September. To this point, Concurrent has focused on high demand and high value video. The idea, said David King, chief marketing officer and SVP of video solutions, is to integrate hyper local content into the mix.
The TellyTopia products displayed at the show, according to King, were i2TV and Moveez. i2TV focuses on hyper local content creation and Moveez on bringing personal content to the Internet in a more methodical way.
Kashitj Kumar, the founder, president and CEO of TellyTopia and now VP of commercial solutions and video solutions for Concurrent, said that the platform can even be used to insert advertising in content, such as local advertising into a video of a high school football game shot by a parent.
Tektronix
[
www.tek.com
], which acquired Mixed Signals in May, said that it has added functionality to its flagship Sentry product. VP of Video Network Monitoring Eric Conley said that the new functionality prioritizes impairments by identifying where on the screen they are and other information. This enables the operator to fix problems and more effectively and efficiently manage the bandwidth vs. picture quality tradeoffs.
It's not quite ready yet, but the Hybrid Cable UPS from
Alpha Technologies
[
www.alpha.com
] will cut power demand by supplementing line power with solar energy gather by onboard panels. The UPS will be able to provide 100% of power to installations with loading of less than 250 watts, which is about 10 to 12% of the sites in the U.S., said Product Specialist Toby Peck. Annual savings likely will range from $125 to $150, though special permitting likely will be required.
Carl Weinschenk is the features editor at BGR. Reach him at cweinsch@aol.com.