Broadcom Boosts Its MoCA SoC Play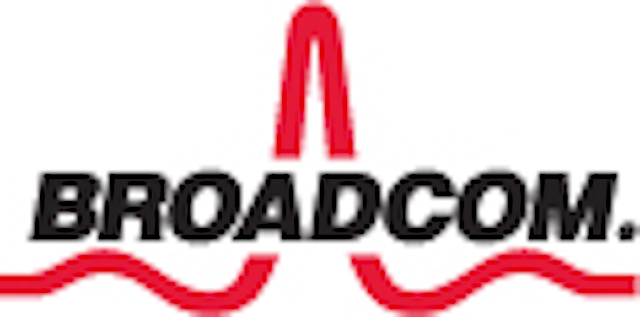 Broadcom
announced an addition to its
MoCA
-integrated product family with the BCM7408 client HD set-top box system-on-a-chip (SoC) solution. When paired with a media server or IP gateway solution enabled by Broadcom technology (such as the Broadcom BCM7420 video decoder SoC with integrated MoCA), the BCM7408 client SoC solution reportedly enables manufacturers to leverage Broadcom's connected home software suite and low cost design to lead the deployment of whole-home connected entertainment services such as multi-room HD DVR.
The BCM7408 is said to enable STB designs that incorporate the following functionality:
Integrated MoCA 1.1 enables the distribution of high quality digital multimedia content throughout the home over existing coaxial cable enabling subscribers to securely access, store and share an array of digital media content including HD programs, VOD, HD DVR recordings, Internet content, video, music, photos and VoIP
Comprehensive software support for subscriber applications that includes RVU Alliance's remote user interface technology, CEA-2014 RUI client, OCAP and Adobe Flash Platform for the Digital Home.
Integrated dynamic and efficient power management controllers that are capable of managing and shutting down unused system components in real-time



IPITEK Hails Wireless Backhaul Improvements


IPITEK introduced new features specifically tuned for wireless backhaul for its Carrier Ethernet Services Platform (MSP-CES). These new features are said to ensure a high operational robustness and increase flexibility by allowing users to select the synchronization approaches that best fit their applications.

Featuring both synch-E and IEEE 1588-2008, IPITEK's modular multi-service platform for carrier-grade Ethernet is reportedly low-cost, integrated and power-efficient. The new features also include a 10G switch module, adding a 10G capacity to backhaul rings. This integrated platform helps to meet the needs of mobile and wireless backhaul networks, which are facing bandwidth demand as a result of wireless consumer electronics and applications that go considerably beyond other bandwidth-hungry services such as Internet access, video and gaming.

IPITEK also announced the introduction of a new multi-port Digital Signal-3 (DS-3) module that complements its existing TDM module portfolio of DS-1 and channelized Optical Carrier-3 (OC-3). This new feature provides customers an application-aligned solution to provide to their consumers with capabilities that exactly match their requirements, according to the company.




CableLabs Opens 3D TV Lab


CableLabs is providing testing capabilities for 3D TV implementation scenarios over cable. These capabilities cover a full range of technologies including various frame-compatible, spatial multiplexing solutions for transmission. Examples of the systems were shown publicly at a CableLabs-organized 3D TV Pavilion demonstration held in Denver at SCTE's Cable-Tec Expo.

Based upon an RFI issued by CableLabs in March 2009, CableLabs opened its test facilities for development and support to vendors and TV designers to explore interoperability with 3D cable delivery systems.

As a result of these investigations, CableLabs has determined that many of the digital set-tops deployed by cable ops are capable of processing 3D TV signals in frame-compatible formats. Today's new generation of 3D TV receivers is expected to support these formats using an HDMI video connection. It was through this testing that CableLabs played an role in the recently announced changes to the HDMI 3D specifications to add support for the "Top/Bottom" format and enable legacy STBs to signal 3D carriage.

A frame-compatible 3D format is one that carries separate left and right video signals within the video frame used to convey a conventional (2D) high definition signal by squeezing them to fit within the space of one picture. The advantage of such a format is that it can be delivered through existing plant and equipment as if it were a 2D HDTV signal.

While the frame-compatible formats will enable support for stereoscopic 3D signaling almost immediately, work continues on an effort to define a long term solution that will enable support for 3D content that can be delivered at resolutions and frame rates as high as 1080p60 for both eyes.




JDSU Launches All-in-One Test Tool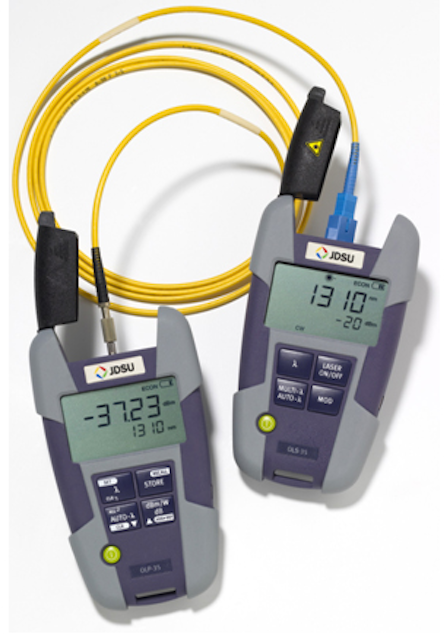 JDSU unveiled a field-interchangeable, single-slot OTDR module for the T-BERD/MTS-4000 platform. The module is said to support cost-effective deployment and support of metro and FTTx networks by combining OTDR, power meter and laser source capabilities in a single instrument.

With all the benefits of the T-BERD/MTS-4000 -- including a large trans-reflective touch screen display, visual fault locator (VFL) and inspection scope -- the metro-access (MA) mid-range OTDR reportedly adds the following benefits:
Stabilized light source and power meter option for insertion loss measurement, to help reduce the number of tools in the field
PON-optimized dynamic range for testing through splitters;
The ability to perform in-service testing - all OTDR lasers are coupled into one port so a separate port is not required for live fiber testing (a filtered version tests live fibers at 1,625 nm or 1,650 nm);
Traffic detection that will alert the user if they have connected to a live fiber and inhibit the transmission of any test pulse down the fiber; and an automated bend detection mode that enables immediate identification and location of macro and micro bends.


IneoQuest Extends Geminus Line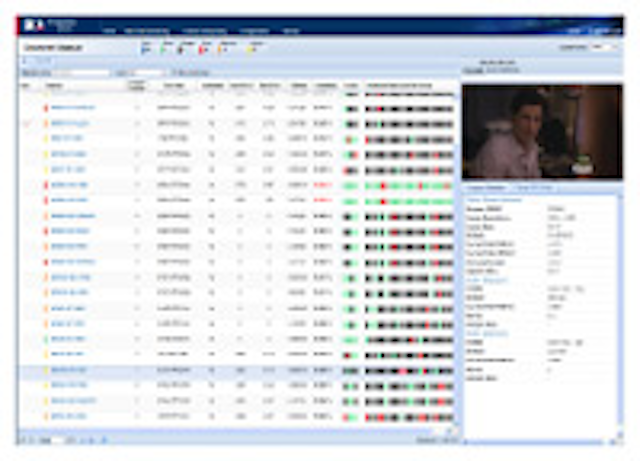 IneoQuest Technologies expanded its Geminus family of products to include the Geminus G10 Mid, offering cable ops a scalable method for monitoring and analyzing video traffic up to 5 Gb on a 10 Gb network. With a license upgrade from the base platform and no additional hardware, the Geminus G10 Mid offers a way for ops to add network monitoring coverage immediately while expanding bandwidth to meet subscriber demand for more services and remain competitive, according to the company.

Designed as a rack mount-style enclosure, housing one or two systems, the Geminus family are said to ease installation and meet NEBS requirements, making it ideal for permanent installations for either labs, commissioning systems or pre/post deployment at the headend, core or hub.

Along with 5 Gb traffic support, the Geminus G10 Mid provides simultaneous and continuous monitoring and analysis of live IP video flows, up to 1,500 in real-time and up to 96,000 MPEG transport stream elements (PIDs), with deep MPEG packet analysis for remote monitoring, troubleshooting and testing. Users can start at the Base model (3 Gb) and upgrade to other Geminus G10 platforms, including the Geminus G10 Mid, based on bandwidth demands by leveraging a license key, adding more traffic and network coverage.




Pulse RF Transformers/Diplex Filters Support D3


Pulse announced a new family of cable TV RF transformers and RF diplex filters that reportedly meet DOCSIS 3.0 design requirements for applications such as set-top boxes, cable modems and gateways. These components support frequency bands 5-65/85-1,002 MHz, 5-42/54-1,002 MHz, and 5-85/108-1,002MHz.

Pulse's initial offerings for this new family are two RF balun transformers, part CX2240NL, a transmission line transformer, and part CX2244NL, a flux coupled transformer. Also included is a new, small-package, surface mount RF diplex filter, part C6164NL. All parts have been designed for new cable technology products to electrical specifications and come in industry-standard mechanical packages. The diplex filters provide electrical RF signal management with very low RF emissions and are fully enclosed in a metal shield or enclosure.





The MPEG Industry Forum will have the first meeting of its 3DTV Working Group at CES, Jan. 9, 1-2pm at the MGM Conference Center, Las Vegas in Room 110. All interested industry participants are invited. The 3DTV Working Group includes founding members Motorola, Harmonic, dicas, NetLogic, MainConcept and TDVision.



Multicom expanded its Online Technical Resource Library - including an entirely new resource center at www.multicominc.com/stimulus. In addition, the Multicom design and engineering group has added a new collection of cross reference papers and product comparison charts.