JDSU Bolsters Rural Service Plans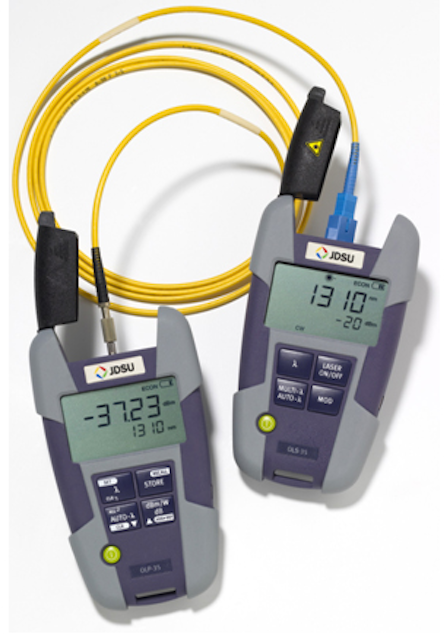 JDSU
recently launched its
Broadband@Work Across America campaign
to help raise awareness and educate rural ops on the technical issues and challenges that could impact their ability to successfully deploy broadband services in towns across the country. The campaign is based on the 2009 American Recovery and Reinvestment Act, which provides $7.2 billion to accelerate broadband service deployment to rural and underserved regions in the nation.
Some of the new products and services featured by JDSU include:



MVP-200: Now with the ability to function as both an MPEG digital video monitoring probe while simultaneously supporting the ability to do deep-packet inspection on selected MPEG Transport Streams or single program.



MSQ-900: Simple, accurate, and ruggedized QAM SLM.



T-BERD 6000A: Handheld test platform designed for all phases of the network lifecycle, from the installation to the maintenance of Access/FTTx networks and triple-play services.



HP3-60 and Fiber Essentials Tool Kit: The industry's only low-cost solution for inspecting and testing fiber networks, combining fiber inspection and optical power measurement into a single handheld unit.



Operational Process Re-Engineering Consulting Practice: the OPR practice to help cable operators overcome the obstacles associated with measuring service performance, identifying performance degradation, and delivering on the requirements of Carrier-grade SLAs.



Concurrent, FourthWall Deliver Advanced Ad Solution
Concurrent
and
FourthWall Media
announced a partnership to deliver a comprehensive, end-to-end advanced advertising solution for broadband operators. Comprised of Concurrent's media data management solutions along with FourthWall Media's ETV Platform, Ad Widgets and TV Widgets, the combined solution is said to give operators the ability to deliver advanced and interactive advertising and to monitor and manage the data from consumer interactions in real-time.
The Concurrent and FourthWall advanced advertising solution reportedly addresses a number of challenges currently facing the industry to effectively rollout targeted ads. First, it provides real-time data that allows operators and advertisers to measure ad campaign success across multiple markets. This cuts decision-making time, leads to smarter investments of advertising dollars and maximizes the ability to monetize video content.
In addition, this new partnership is designed to enable broadband operators to deliver a multitude of advanced advertising applications for VOD and ITV platforms. These applications include dynamic, targeted VOD ad insertion, telescoping to long form content, voting and polling, Request for Information (RFI), click-to-call and others.
This solution consists of an EBIF user agent and platform server, VOD and interactive campaign management, linear and interactive viewing data aggregation, and enterprise data warehousing and reporting. Based on SCTE-130 and Enhanced TV Binary Interchange Format (EBIF) specifications, the solution gives operators an end-to-end, scalable advertising solution with census-based data collection. The fully integrated solution is based upon years of development and has been designed to be forward compatible with national CAAS initiatives.
Broadcom Announces HD STB SoC Solutions With Integrated MoCA
Broadcom
unveiled a new set-top box system-on-a-chip solution enabling manufacturers and cable ops to offer the latest in interactive HDTV programming, connectivity, whole-home media distribution and advanced 3D user interfaces to the North American market. The new Multimedia over Coax Alliance (MoCA)-integrated BCM7125 and BCM7119 single-chip, multi-format HD DOCSIS(R) 2.0 compatible solutions usher in the next evolution of the connected home with advanced functionality and services such as multi-room HD DVR capabilities and advanced 3D graphics user interfaces/
It includes MoCA 1.1 support, tru2Way CableCard support, dual integrated 1 GHz cable tuners and DOCSIS 2.0 compatible modems, Broadcom's latest cable STB technology significantly reduces the power and overall system cost while enabling advanced services (i.e. multi-room HD DVR capabilities, HDTV interactivity, 3D user interfaces). The key BCM7125 and BCM7119 features include:



Flexible software support for new compelling subscriber applications that use Native UI, OpenCable Application Platform (OCAP), Adobe(R) Flash(R) Platform for the Digital Home, Digital Living Network Alliance (DLNA(R)), and DTCP-IP security. This unique and flexible software platform enables appealing interactive digital television, networked DVR functionality and IP video over DOCSIS applications.



The BCM7125 cable STB SoC includes the same functionality as the BCM7119 but adds an integrated MoCA 1.1 interface that enables service providers to offer innovative whole-home digital media distribution services over coax, which in turn, enables subscribers to securely access, store and share a wide array of digital media content including HDTV programs, VOD, DVR recordings, Internet content, video, music, photos and VoIP.



Both the BCM7125 and BCM7119 cable STB SoC solutions support DLNA that facilitates the easy sharing of digital content between DLNA-enabled devices throughout the home.



3D graphics support enables dynamic user interfaces for flipping, rotating and moving images



New Remotes From Universal
Universal Remote Control
rolled out two new remote controls: the UR5U-9000L and the UR3L-SR4.
The UR5U-9000L will be URC's new top-of-the-line cable remote. The UR5U-9000L, which runs on two AA alkaline batteries, can control up to five devices, is tru2way-compliant and possesses optional learning capability. Available in black or silver, it features 63 keys, 64 Kb of memory and red backlighting for easy use in low-light conditions.
The UR3L-SR4 is a large-button tru2way remote with multi-color keys and built-in learning capability. Available in black, it runs on two AAA alkaline batteries, can control up to three devices, and features 46 keys and 32 Kb of memory.
The UR5U-9000L and the UR3L-SR4 will ship in early 2010.
GLDS, PeakView Integrate for Workforce Management
Great Lakes Data Systems
and
PeakView Solutions
announced the development of a joint interface. This effort provides WinCable customers with fully integrated, real-time access to PeakView's workforce management (WFM) system through GLDS' new WinForce product which provides PeakView with data to needed to drive workforce efficiencies.
Studies show that an integrated WFM tool for mobile workforce management can increase productivity for a field technician from 30-90 minutes per day, primarily by eliminating calls to dispatch. This allows techs to accomplish more work daily, spend more time with customers, and reduce overtime. WinForce from GLDS will provide a scalable way of exchanging the data needed to provide these kinds of efficiencies to all GLDS customers.
How Mobile Broadband Tariffs Can Help Solve BW-Value Gap
Camiant
announced the findings of its latest study, "Rethinking Mobile Broadband Data Rate Plans" indicating that by redesigning mobile broadband data rate plans, operators will be able to help solve one of the industry's most pressing concerns - the bandwidth-value gap. The study results point to a high level of interest by consumers in alternative rate plan structures to today's traditional packages.
Key findings are:
Consumers have concerns with "Cap + Overage" style rate plans
* 62% didn't know what their usage cap was
* 76% didn't know how much bandwidth they actually used
* 39% didn't know what happened if they went over the usage cap
* 45% were very/moderately concerned about exceeding the cap
By rethinking mobile data rate plans, operators can enable users to make value decisions based more in line with operator cost as well as directly address peak bandwidth utilization and the true cost of marginal network growth. Also, since operators can offer variable and ARPU-expanding options in search of market share growth rather than simple discounts, the potential occurrence of a profit-destroying price war should be reduced.
SPATIALinfo, CCI Systems Confirm Relationship
SPATIALinfo
and
CCI Systems
announced the formalization of their long-established relationship to improve both company's ability to assist cable and telecommunication companies in implementing SPATIALinfo's network management software solutions. CCI's end-to-end design and engineering services coupled with SPATIALinfo's spatialSUITE software gives the cable industry a beginning to end solution for deploying network management solutions.
The cable industry, universities, departments of transportation and others with communication networks are aggressively pursuing options that allow implementation of robust network management software tools to design, update and manage their networks. CCI's experience in using SPATIALinfo's software solutions in acquiring, converting and populating network data saves valuable implementation time, and increases the return on investment for customers. This partnership also formalizes CCI as an authorized reseller of SPATIALinfo's software products, providing customers with a one-stop shop for implementing spatialSUITE software.